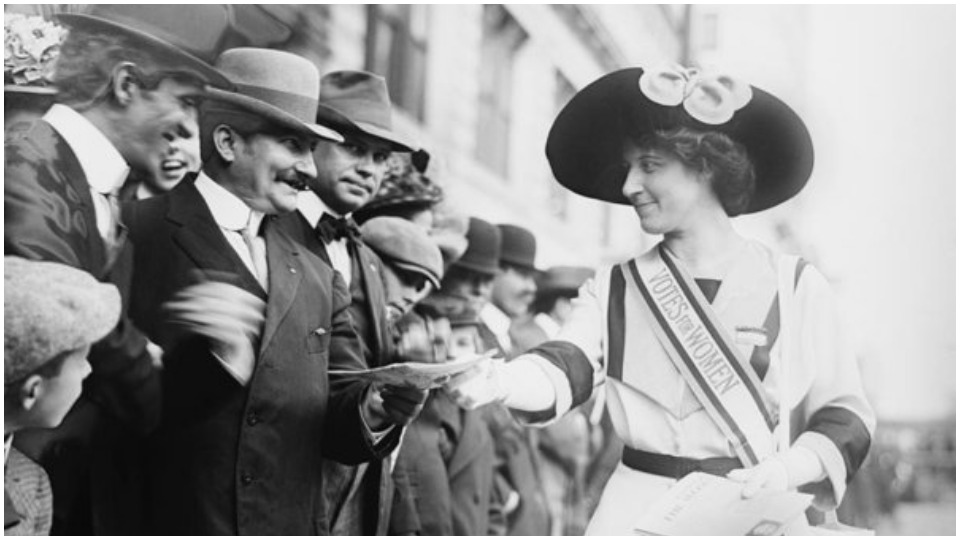 The Vote, writer-director Michelle Ferrari's history of American women's struggle to win the right to participate in elections, is more than an excellent comprehensive history. It is a compelling drama that could hardly be more timely. On the hundredth anniversary of women winning the right to vote in national elections, it is now more threatened than ever: The recent catastrophe in Georgia on election day, June 9, should serve as a national wake-up call for what's to come in November!
The suffrage (voting rights) drama is complete with steadfast heroines, life-and-death battles, and an array of complex issues which defined the nation. More than an important individual civil rights epic, the issue of suffrage was, and continues to be, a larger struggle for democracy in a nation that didn't offer democratic rights to all its citizens. The right to vote was not merely symbolic: It was the invitation to exercise power in shaping the nation's historic course. Ultimately it affected every aspect of a person's life from their material wellbeing to their public safety and health.
This drama had no greater hero than Alice Paul. Raised a Quaker under the principle that girls and boys were equal, Paul was taught that she had an obligation to work for the betterment of society. She took that lesson to heart!
Paul believed in action. With her mother she had attended meetings of the National American Woman Suffrage Association. After college, Paul worked in the field of poverty alleviation in New York's Lower East Side Settlement Houses. She studied economics and sociology at the London School of Economics, where she joined with British women's rights leader Emmeline Pankhurst to campaign for the women's vote.
Paul's militancy caused her to be arrested repeatedly and serve three jail terms in England. Her mettle was forged as the women who demonstrated were shouted down, shoved around, had their clothes torn and dead animals including rats thrown at them. Back in the United States, Paul formed the National Women's Party to advocate for gender equality. The powers that be in the U.S. were no more hospitable than those in England. Paul was jailed for seven months, put in isolation, declared a political prisoner, and force-fed when she led hunger strikes for the right to vote.
The women's movement faced a series of early 20th-century setbacks. In the face of these, the more moderate National Women's Suffrage Association was formed. This group of predominately middle-class white women favored more tactics of persuasion rather than confrontation. High-profile leaders like Carrie Chapman Catt and Harriet Stanton Blatch, pioneer Elizabeth Cady Stanton's daughter, worked through the Association to lobby President Woodrow Wilson for a national Constitutional amendment and to win state elections enabling women to vote in local elections.
Meanwhile women's roles in American culture were changing. Some of this was due to the militancy of Alice Paul, who led a six-month picket line in front of the White House. Women joined the labor force in greater numbers and became more socially and politically active.
As women gained power campaigning for the vote, right-wing elements, predominantly anti-immigrant and anti-African American, used fear as well as force to block these allied movements for equality. Women learned to choose with whom to join forces.
Ferrari does an admirable job tracking the progress and pitfalls of the movement. She uses an array of historians, commentators like Eleanor Smeal and narrators Patricia Clarkson, Audra McDonald, Laura Linney and Mae Whitman. The film is swathed in a brilliant bath of archival footage that puts the viewer in the scene. Although the breadth of the movement is on full display, a bit of strategic editing could have honed the story so that the viewer is not bludgeoned with every detail of the campaign.
One cannot help but reflect on how these victories are constantly in jeopardy of being suppressed by the same right-wing forces of greed, fear and hate that made their initial passage so difficult. Because the vote is a powerful tool in the struggle for progress, it needs to be defended now with the same courage, tenacity and strength that the women's suffrage movement showed. This lesson could not be more clear and urgent.
The Vote
PBS American Experience
Premieres Mon. and Tues., July 6-7, 2020, on PBS