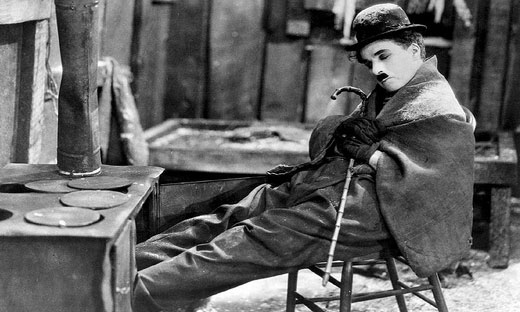 Was Charley a Red?
Probably the greatest all-round artist who ever lived and worked in the U.S. was the Englishman, Charley Chaplin. He pioneered film techniques, contributed enduring music, and was a startling dancer, acrobat, actor, high-wire artist, and roller skater! From the teens to the 1930s, he was probably the most popular and best loved person in the world. And yet, most of the people alive today barely know anything about him beyond his films, because most of his last decades were spent almost in seclusion in Switzerland where he lived quietly and did not answer the bitter red baiting accusations of U.S. politicians.
Red baiters condemned Charley Chaplin to exile by pulling his passport in 1952 while he was abroad. He could not return to tell his side of the story to the people who adored him.
The recent movie biopic paid tribute to Chaplin's many talents, but barely touched his ideas. The new play, from a book by Christopher Curtis and Thomas Meehan with music and lyrics by Christopher Curtis, goes much further into Charley Chaplin, the man behind his movie characters. Chaplin's amazing talents are hinted at sufficiently by the singing and dazzling dancing of actor Rob McClure. Using a movie screen to enhance the live performance, the musical gives a true reminder of Chaplin's actual abilities and contribution to the arts.
McClure's Chaplin is an aggressive genius. His brilliant performance covers almost all aspects of the great performer. He can't capture the warmth that Chaplin radiated (who could?), but covers the personal side of what happens to a man who succeeds at almost everything and never believes he has done enough.
Talkies replaced silent films at roughly the same time as Hitler's rise to power in Europe. Chaplin used his artistry as one of the greatest possible weapons against fascism. He made the comedy, "The Great Dictator" with himself in dual roles as a fascist dictator and an inept Jewish barber. Jack Oakie played an Italian dictator buffoon lampooning Mussolini.
The new play then goes on to portray Chaplin's role in fighting fascism by using his popularity to speak out for saving the Soviet Union. He spoke to crowds as large as 20,000 about the "second front" strategy advocated by progressives of the period. Gossip Columnist Hedda Hopper, played and sung amazingly by Jenn Colella, starts the red baiting as a personal vendetta. In this version of the story, she personally fulfills the musical theme of the play, "What' cha gonna do? (when it all falls down)."
There are parallels in this story to the one endured by singer and actor Paul Robeson. Both used their art responsibly and paid the price from imperialist reactionaries. Both lost their passports and lived out their lives separated from the great power that their abilities deserved. Robeson was trapped in the anti-communist United States, and Chaplin was exiled abroad.
For its happy ending, the story jumps to Charley Chaplin's triumphant return to Hollywood on Oscar night in 1972 where he picked up his lifetime achievement award. He doesn't mention any rancor at his treatment by the red baiters. He doesn't say whether or not he was really a communist. It's a well-worth-seeing tribute, after all, to the greatest and most responsible of artists, Charley Chaplin.
"Chaplin, the Musical"
Directed and Choreographed by Warren Carlyle
Photo: Dougal McGuire/Flickr