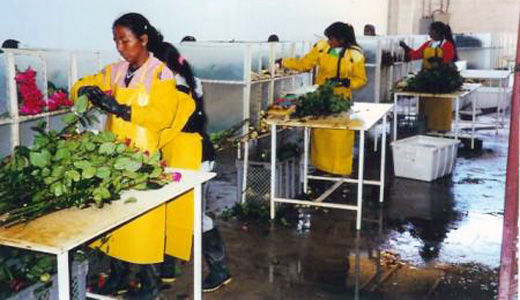 It's not what you think about when you buy flowers, but your Valentine could end up with a bouquet picked by sexually harassed women or child laborers and then sprayed, rinsed and dipped in lethal chemicals.
In the weeks leading up to Valentine's Day, which accounts for 40 percent of the annual fresh flower sales in the United States, thousands of women in Colombia and Ecuador are forced to work 80-hour weeks with no overtime pay.
The group Fairness in Flowers reports that at flower farms in Colombia and Ecuador – where most of the flowers now sold in the U.S. originate, two-thirds of the workers are women. "These women are routinely subjected to harassment and even rape from their male supervisors. They suffer eye infections and miscarriages from consistent contact with dangerous pesticides," said a Feb. 8 release put out by Change.org
Finding retailers that carry fair trade flowers isn't easy. Flower buyers are warned to stay away from companies that use a certifying agency called Florverde, which the companies claim ensures that its flower farms adhere to certain environmental standards. In reality, Florverde is a front for the Association of Colombian Flower Exporters which has almost no labor standards. Florverde certifies flowers even if forced labor is used and never considers, before certifying flowers, issues like low wages and suppression of workers' rights.The buyer should beware then when he or she makes a purchase from 1-800-flowers, the largest florist in the world. The company uses Florverde to "certify" its flowers.
A study by the International Labor Rights Forum found that in Ecuador 55 percent of the workers have been victims of sexual harassment, 25 percent of the workers had been forced to have sex with a coworker or superior and 10 percent had been sexually attacked. Many women said they had been asked out by their bosses or supervisors, who offered to improve their working conditions in exchange for sexual favors.
Many women were required to take pregnancy tests or show proof of sterilization as a condition for hiring by employers apparently aware of the dangers of chemical pesticides to their potential workers who might become pregnant.
Insect pests breed rapidly in the tropical climate that drew U.S. flower growers to Colombia and nearby Ecuador. That, coupled with competition from flower growers in Africa and China, helped contribute to unprecedented use of pesticides and fungicides and spiraling cancer rates and neurological disorders among workers.
The World Health Organization noted back in a 2005 report that chemicals used by Florverde farms, the ones that are supposedly "regulated," are among the most highly toxic chemicals that can possibly be used in insecticides.
Only 16.7 percent of the 84 farms studied respected pesticide manufacturer recommendations to prevent workers from re-entering greenhouses sprayed with the pesticides for at least 24 hours.
Carmen Orjuela told an AP reporter recently that she began suffering dizzy spells and repeated falls in 1997, while working at a flower farm outside Bogotá. During the peak season before Valentine's Day, she said her employer forced workers to enter greenhouses only a half-hour after they were fumigated.
"Those who refused were told they could leave – that 20 people were outside waiting to take their job."
On Nov. 25, 2003, more than 200 workers at Flores Aposentos, outside Bogotá, were hospitalized after fainting and developing sores inside their mouths. Authorities determined the mass poisoning was caused by pesticide-handling violations, but fined the company just $5,770.
The Harvard School of Public Health examined 72 children ages 7-8 whose mothers were exposed to pesticides during pregnancy in the flower-growing region of Ecuador and found they had developmental delays of up to four years on aptitude tests.
So when buying flowers, if they're imported look for legitimately certified fair trade flowers, not Florverde. If they're domestically grown, try to find certified organic flowers picked and shipped by organized workers.
Photo: Workers packaging flowers in Colombia