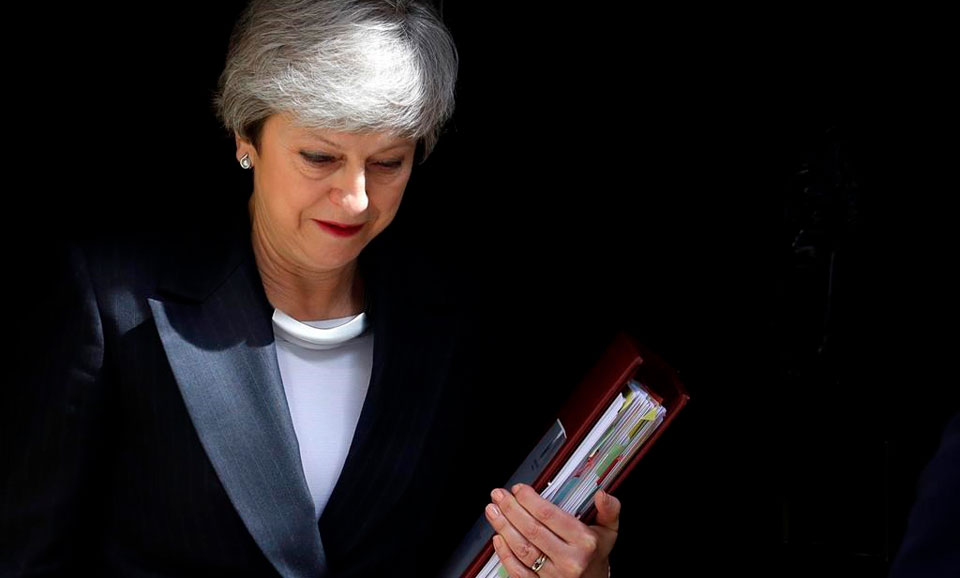 LONDON – It's the end of May, and officially the end of (Theresa) May. It was inevitable. The embattled British Prime Minister stood tearfully out front of No. 10 Downing Street and confirmed her resignation as Conservative Party leader, and of her premiership Friday.
May will quit as head of the governing Conservative Party June 7 but will stay on as placeholder prime minister until a new leader is chosen. The selection process aims to be completed by late July.
May, who became prime minister a month after the U.K. voted in June of 2016 to leave the European Union, spent over a year and a half negotiating a divorce agreement with the EU, only to have the final deal voted down three times in Parliament.
Many British lawmakers saw May as the ultimate obstacle to delivering Brexit, but regardless of who steps in to lead the next round of negotiations, the same problem will continue to exist: A Parliament divided over whether or not to leave.
May resigns amid political, and personal failure, with the U.K. scheduled to leave the EU Oct. 31—with or without Parliament signing off on a deal.
The new Conservative leader will become prime minister without a general election being held and will be accountable to deliver an orderly exit from the EU while maintaining a positive relationship with EU member states to ensure future trade deals are reached.
"I negotiated the terms of our exit and a new relationship with our closest neighbors that protects jobs, our security, and our Union," said May. "I have done everything I can to convince MPs to back that deal. Sadly, I have not been able to do so.
"It is now clear to me that it is in the best interests of the country for a new prime minister to lead that effort."
There're at least 18 candidates vying to replace May and take on the Brexit challenge. Boris Johnson, former foreign secretary, and champion Brexit supporter, is the current front-runner with his odds at 3/1, according to Bookmaker Ladbrokes.
European Commission President Jean-Claude Juncker praised May for her efforts and said the EU would "equally respect and establish a working relationship" with any new British Prime Minister, but that the EU would not renegotiate the current Brexit deal.
"We have set out our position on the withdrawal agreement and on the political declaration," said EU spokesperson Mina Andreeva.
Tweeting shortly after May's resignation announcement, Labour leader Jeremy Corbyn said: "Theresa May is right to resign. She's' now accepted what the country's known for months: she can't govern, and nor can her divided and disintegrating party.
"Whoever becomes the new Tory (Conservative) leader must let the people decide our country's future through an immediate General Election."
Robert Griffiths, General-Secretary of the Communist Party of Great Britain also released a statement on May's resignation, saying:
"Theresa May's decision to sack herself as Tory leader and write her own redundancy notice as Prime Minister underlines the urgent need for a General Election. The Tories have never governed in the interests of the working class and peoples of Britain and shown themselves to be incompetent as well as cruel and callous.
"Only a left-led Labour government will begin to address dire problems of poverty, precarious employment, the lack of affordable housing, deteriorating local services, climate change and the quest for international peace with justice."
Griffiths went on to stress the CPB's position that the Labour party must have a plan to leave the EU and negotiate future mutual relations on a basis that will enable a left-led government to fulfill its progressive manifesto commitments."
Catch up on all of People's World's Brexit coverage here.
Click here to watch May's full speech.