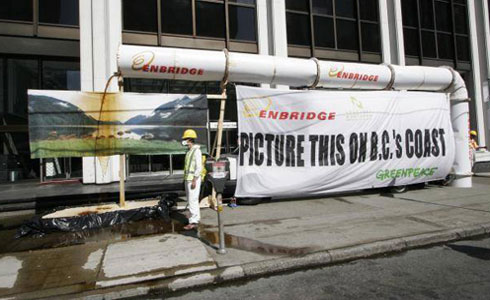 On June 19, 1,450 barrels of crude oil spilled from a pumping station on a pipeline operated by the Enbridge company. It sloshed onto farmland near Elk Point, Alberta, Canada, becoming the third spill in the area this month. Environmental groups now share a sense of heightened concern over Big Oil's increasing stronghold on Canada, and the risk factors involved.
The culprit pipeline (called the Athabasca Pipeline) was promptly shut down, but restarted on June 26. Enbridge, whose lines carry the majority of Canadian oil exports to the U.S., said that a piece of malfunctioning equipment on the pipeline caused the incident, which soiled a portion of farm territory and has potentially put wildlife nearby at risk.
The spill was the third after two other prior leaks in June, both of which crews are still working to clean up. The first incident happened on June 7, when a pipeline owned by Plains Midstream Canada ruptured, spewing oil beneath Jackson Creek, which ends in a reservoir. Residents living downstream from the nearby, interconnected Red Deer River thus feared that their water supply was at risk. The Alberta government is still monitoring water in that river for signs of taint.
Local resident Chris Huhn said that he and other residents havea feeling of deja vu, as a previous oil spill of 125 barrels occurred there in 2008. "I just hope this beautiful lake isn't going to be wrecked with this terrible spill," he remarked. "I know we need oil, but at what cost? This is our drinking water and we're gambling with it."
The second incident – on June 18 – involved an oil leak of more than 22,000 barrels from a Pace Oil & Gas Ltd. well in a more remote corner of Alberta. Though the company managed to keep the spill quiet because of its location, it is considered one of the most problematic and severe oil disasters in North America in recent years.
To environmental activists, these incidents are extremely worrying. Even more unsettling to many is Enbridge itself, as this newest spill comes at a time when the corporation has been lobbying to build the $5.4 billion Northern Gateway Pipeline, which would carry oil from the Alberta tar sands to a port in Kitimat, British Columbia. Along the way – as it stretches 700+ miles through pristine wilderness and territory of First Nations tribes – it would put the natural habitat and wellbeing of hundreds of animal species at risk, including otters, whales, seabirds, and bears.
To exacerbate concerns, the federal government is currently speeding up the reviews of Big Oil and mining projects. On June 18, Prime Minister Stephen Harper passed legislation that cut environmental review departments left and right, and – in some cases – fired workers including scientists as part of what is being called a "streamlining process."
"It's ironic that [around the same time] that the House passed the budget bill that significantly rolls back environmental laws, there was a major oil spill in Alberta," said Nathan Lemphers, senior policy analyst with the Pembina Institute, an environmental think-tank.
Simon Dyer, also with the institute, remarked, "Given the significant number of pipeline spills in recent months, Alberta should conduct a review of the integrity of its pipeline system. Pipeline spills are inevitable, but the risks can be reduced through stronger regulation and practices."
David Akis, writer for Canada's Chronicle Journal who works in the retail industry, noted that in addition to Big Oil tearing the environment apart beneath its barrels of spilled crude, it is also stripping dollars out of communities and small businesses. "I have seen a huge drop-off in local spending," he said. "If Canada wants job growth, Big Oil has to be brought in line. Take away over a billion in oil subsidies and regulate them. Their ridiculous profits placed back in the people's hands could put a huge number of Canadians back to work.
"Millions upon millions of dollars" are being put in the hands of oil corporations, "hurting most retail businesses and, most of all, families who have to struggle to survive at the expense of Big Oil profiteering."
Activists also seem to agree that Alberta pipelines are doing nothing for jobs in any field, including manufacturing. "Right now, 95 percent of the oil is in Alberta, but 75 percent of the manufacturing jobs are in Ontario and Quebec," said economist Robyn Allan. "If you have a policy that deliberately supports Alberta at the expense of Eastern Canada, then you're stretching the national fabric. The jobs are not there; the benefits to Canada are not there."
Photo: Greenpeace sets up an example model of what the environment might look like exposed to another Enbridge oil "accident." greenpeace.org