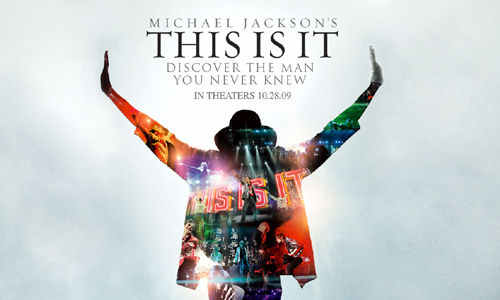 "This Is It"
Directed by Kenny Ortega
2009, 112 min., PG
My family had planned a movie day and it was a big debate between me, my husband and three sons about which movie we would see. I was happy when my husband came home saying his friend was raving over the new Michael Jackson documentary, "This Is It," and how he needed to check it out. Two of my sons still weren't too thrilled over the choice to see the movie. I believe they were burnt out from all the MJ information through the media. My other son loves to dance and pick up new dance moves any way he can, so he was excited like I was.
I have been a die-hard MJ fan since he hit the airways at age 8. My friends and family called me and gave me their condolences when Michael died as if he was my husband, because my close friends and family knew I was in mourning.
"This Is It" hit number one in the box office over the weekend and I see why this movie was well received. The movie was full of passion, love and excitement and revealed the hard work and dedication Jackson and the whole crew put into the preparation for his upcoming tour that unfortunately never came to pass.
The movie starts off with young dancers from Australia, Russia and various places around the world who looked barely in their 20s. I never saw such passion as what these guys expressed and what it meant to be able to dance with "the" Michael Jackson. As the dancers talked about how much it meant for them to be a part of this event they were so emotional, some could barely talk, they were crying at the thought of the grand opportunity.
The dancers were told they were an extension of Jackson, and that is exactly what they did. They had his moves down to a "T." You could tell they have practiced all their lives for that special role. Now Michael, a 50-year-old man, was keeping up with his young dancers with such ease you just know dancing is what Michael Jackson was put on this earth to do. As a huge MJ fan it was fulfilling to be able to see his final performance, even if it was just the rehearsals.
The whole documentary was rehearsal tapes in preparation for the big London concert that was suppose to launch several days after his actual death. It was supposed to be his final curtain call. His singing and amazing dance moves were awesome to watch. Michael rehearses some of his famous songs including "Thriller," "Billie Jean," "Man in the Mirror," "Heal the World" and "Smooth Criminal." This concert seemed to be designed as viewing mini live videos, with amazing special effects and back drops. The performance of "Thriller" really came to life.
This documentary focused on the excitement the musicians and dancers felt with this experience of a lifetime to perform with "The king of pop." It also displayed how Michael Jackson appeared to be easy to work with, very humble and had a love for the world, the environment and mankind. He says several times, "It's all about love."
This movie did not go into anything about his personal life. His death was not even mentioned because we all know how that story ends. It was just pure entertainment for all who loved Michael, the entertainer.
My husband and I both agreed that Michael was the best entertainer of our lifetimes and I am glad my children were also able witness him as a performer.