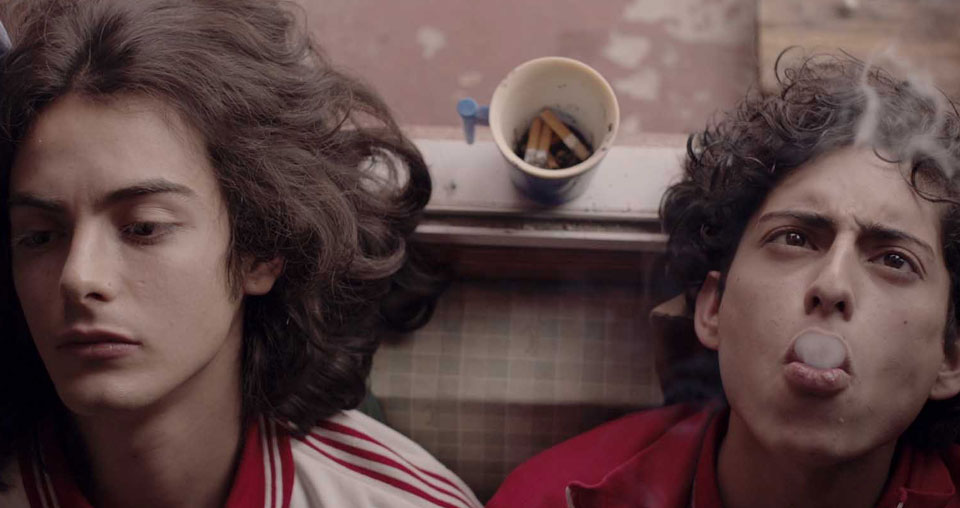 What I loved about director/co-writer Hari Sama's This is Not Berlin (Esto no es Berlín) is that it immersed me (and I suspect most grinning Gringos and other non-Mexicans) into a world I'd never encountered before. Set in Mexico City in the mid-1980s, Sama depicts the punk rock scene, counterculture and gay "subculture" of the Mexican capital of that era. It reminded me of the ultra-cool Andy Warhol "Factory" world in Manhattan during the 1960s and 1970s, with the kind of wild parties that Rico Salvatore Rizzo, aka Ratso (Dustin Hoffman), walked out of in 1969's Midnight Cowboy, denouncing the revelers as "wackos, they're all wackos."
In Berlin's ode to youthful rebellion, 17-year-old Carlos (Xabiani Ponce de León) is a middle-class aspiring artist struggling against alienation, trying to find himself and where he belongs. Along with his friend Gera (José Antonio Toledano) and his older sister Maud (a wannabe sister), they stumble into a hip demimonde of drink, drugs, sex and punk rock that revolves around a legendary, underground nightclub—a sort of Studio 54 for the acolytes of punk music called the Azteca. (The portentous title may hearken back to a pre-Columbian Mexico, before colonialism and Christianity.)
The young rebels also find themselves at demonstrations and fighting their parents, teachers and the police, as part of their cultural revolution against Mexico's middle-class mores. It's to the barricades, amidst lots of generation gap angst. Marina de Tavira (who was Oscar nominated for Best Supporting Actress for portraying the mother in Roma) plays Carlos and Maud's mamacita, who may not be as un-hip as she appears to her kiddies.
Sama's film, which has been making the festival circuit—including Sundance, Tribeca, and Outfest (where I recently saw it, coincidentally sitting beside the director)—is also extremely stylish. In an organic synthesis of content, Berlin has an exceedingly original, bold form.
While the relationship between the buddies Carlos and Gera reminded me of the friendship in Alfonso Cuarón's 2001 Y Tu Mamá También, Berlin is unique. Sama's look back at Mexico City decades ago is totally different, however, from Cuarón's in Roma, although both depict tableaux of street fighting against repressive authorities. And like this year's Elton John biopic Rocketman, Berlin notes that people of different sexual orientations can remain amigos, no matter their gender and identity.
This is Not Berlin, which has already theatrically opened in New York, opens Fri., Aug. 23 in Los Angeles and Miami. This audacious, bold, colorful film is for moviegoers who like to see the world with fresh eyes. The almost two-hour movie is in Spanish, with English subtitles. The trailer can be seen here.
Ed Rampell is co-presenting the 400th Anniversary Anti-Slavery Cinema Commemoration 12 noon-10 pm, Sun., Aug. 25 at the L.A. Workers Center.