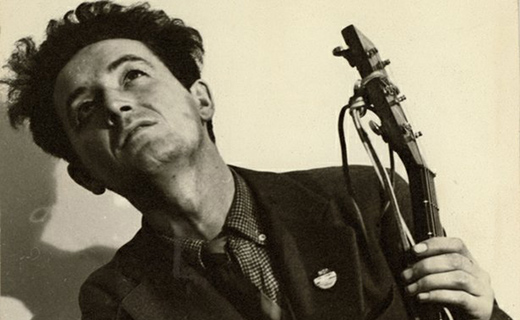 Woodrow Wilson Guthrie was born on Bastille Day, 1912, and some say that revolution was his birthright. Few before him, or since, can lay claim to the mastery of protest music as honestly as Woody. Though he battled the ravages of Huntington's disease in his later years and lived only into middle age, his time remains eternal. And his life story is the stuff legends are built on.
75 years ago, on February 23, 1940, Woody completed work on an acerbic song of fight-back he then sang as "God Blessed America for Me." Later, upon further reflection, Woody shifted its emphasis to include an embrace of the nation's beauty and promise as much as it damned its inequity. "This Land is Your Land" has, through the decades, come to be seen as the ultimate folk revival song, indeed, our second national anthem. A closer examination of it, though, reveals the revolutionary core.
"I have decided long ago that my songs and ballads would not get the hugs and kisses of the capitalistic experts." – Woody Guthrie
The hot, dry plains of Okemah, Oklahoma, bore witness to the birth of Woody Guthrie. The area's spacious straight configurations and windy hills shaped his formative years, spent in the company of the high-lonesome sounds of rural white America, the church and blues music of African American culture, and the customs, dialects and plight of Native Americans. With the introduction of basic guitar, harmonica and mandolin skills, Guthrie dealt with the pains and poverty of his young, tragic life through music.
His mother, Nora Guthrie, shared her gift of voice with young Woody and exposed him to an important repertoire. Sadly, she developed Huntington's symptoms during his childhood, culminating in what Woody perceived as a surrealistic madness, but not before he'd learned the ballads, old-time and popular songs that had sustained her.
As a young man, moved by the early influences and the times about him, Woody began composing new lyrics to traditional music. He referred to this borrowing of familiar tunes as "the folk process." Most of his repertoire can be traced to the lonely melodies that remained with him. But the new songs that grew reflected the hardship and insistent survival of working people. This body of work was social commentary, inspirational and prideful. In this regard, Woody stands as our prototypical protest singer.
Leaving the Dust Bowl
In the 1930s, Guthrie was among the many who climbed out of the western states' disastrous Dust Bowl; he brought with him original songs that catalogued the sights and emotions of the day: "So Long, It's Been Good to Know You," "I'm Blowin' Down This Old Dusty Road," "Talking Dust Bowl Blues," among many more. Once in California, Woody soon learned that it was no land of milk and honey. However, instead of toiling in fruit orchards, he became a radio performer, offering his old-timey and topical music to the southerners who'd migrated to the West Coast. While the station manager tried desperately to hold Woody to the country standards, somewhere in the mix appeared an original called "Mr. Tom Mooney is Free." This 1939 composition told of the recently pardoned labor activist, a cause célèbre in left circles, who'd been wrongly imprisoned for 22 years.
Through radical journalist Ed Robbin, whose own radio program aired just after Woody's, Guthrie was invited to a Communist Party dinner to welcome Mooney home. Backwoods, lanky and unkempt, Woody stood out in sharp contrast to most Party cultural workers – at that time, largely academic poets or modern classical composers. Yet almost immediately Woody walked into the role of "a Communist Joe Hill," that had been called for by Daily Worker columnist Mike Gold months prior.
Actor/activist Will Geer, also based in Los Angeles at the time, saw Woody's potential, and the two began working in tandem at events for the Southern Tenant Farmers Union and other left-wing labor organizations. Several months later, Geer was on Broadway starring in "Tobacco Road" and alerted Woody to the opportunities in New York for progressive artists.
New York City calling
During the winter of 1939-40, Woody made his way across country. This strange odyssey coincided with a terrible winter storm in which Woody initially attempted to drive. After his car broke down, determined Woody made his way to a bus station, but with resources so low he only got as far as Pennsylvania. Stepping off the bus in the midst of a raging white-out, his attempt to walk the highway became an impossible task. Near frozen, Woody was rescued by a forest ranger who put him up for the night and bought him a bus ticket to New York. Surely the irony was not lost on Woody the revolutionist that a member of the "establishment" authority had saved him, preserving the man as well as his future repertory of protest anthems.
Throughout the journey, Woody had continually heard the hit Kate Smith record of Irving Berlin's "God Bless America" on juke-boxes and radios, a droning soundtrack. The song's passive sentiment of calling on the blessings of a higher power during the brutal Great Depression agitated him. Woody believed that the nation's ills required some very human activism to evoke change and repair. It occurred to him that this song required a response.
Not long after arriving in New York City, Woody moved into a shabby room in Hanover House, 43rd Street and 6th Avenue, near the then aptly-named Hell's Kitchen. He engaged in prolific songwriting each day in this period, performing in Bowery bars for change every evening. But the surging echoes of Kate Smith's flag-waver just wouldn't let up, inspiring his first sketch of "This Land is Your Land," then called "God Blessed America":
This land is your land/This land is my land/
From California/to Staten Island/
From the redwood forest/to the Gulf Stream waters/
God Blessed America for Me.
Reviewing Woody's handwritten lyric, one notes where he eventually scratched out modifications: "Staten Island" wouldn't remain long, soon afterward altered to "New York Island." But the important change of course is in the title, heard at the end of each verse. It's believed this change occurred during the throes of World War II's home front struggle. In addition to the familiar verses most of us sang in grade school or camp, there were two others that indicate Guthrie's defiantly socialist viewpoint. When he ultimately recorded the song (there were three versions he laid to vinyl), he never resurrected the satirical edge. Neither did he record the revolutionary lyrics in most versions. But for what it's worth, Woody's changes on that original manuscript never deleted these radical statements:
Was a big, high wall there/that tried to stop me/
A sign atop it said /'Private Property'/
But on the other side/it didn't say nothing/
That side was made for you and me.
One bright sunny morning/In the shadow of the Steeple/
By the Relief office/I've seen my people/
As they stood hungry/I stood there wonderin' if/
God Blessed America for Me.
Several years later, Woody would comment, "Singing and working and fighting are so close you can't hardly tell where one quits and the other begins." One can assess that his original penchant for populism had grown into revolutionary fervor. Woody's career as a musician was based on the larger needs of our society, even when his own family had to pay the terrible price of his "rambling." Living on various coasts, performing for union meetings or in honor of progressive political candidates, offering songs about the poor in Manhattan and then the construction of Grand Coulee Dam, singing for those wandering out of the South or rallying against Hitler, Woody laid down the foundation for the generation to come. He said, "I learned all I could from the speeches of William Z. Foster, Mother Bloor, Gurley Flynn, Blackie Myers. I heard them all and played my songs on their platforms."
By 1940, Woody joined forces with Pete Seeger in the Almanac Singers. The Almanacs, as a group, joined the Communist Party, part of its New York office's cultural section. Woody's guitar had by then been adorned with the hand-painted epitaph THIS MACHINE KILLS FASCISTS, a slogan which held immense metaphoric power.
In this time he also founded an interracial quartet with Leadbelly, Sonny Terry and Cisco Houston, a veritable super-group he named the Headline Singers. This group unfortunately never recorded. The material must have stood as the height of protest song: Woody named it in opposition to a producer who advised Woody to "stop trying to sing the headlines." Woody told us that all you can write is what you see.
Following service in the Merchant Marines, during which time he struggled against Uncle Sam's segregation of the troops, Woody returned to cultural work. He made a series of records for Folkways including the brilliant concept albums, "Songs for Sacco and Vanzetti" and "Struggle." He also became a columnist for the Daily Worker and created an endless archive of songs, articles, sketches and visions in his down time.
These post-war years found Guthrie relatively stable and living in the Coney Island section of Brooklyn with his wife Marjorie Mazia and their children. But it would not be long before Huntington's disease would drain him of the songs and even some of the fight.
Woody died in 1967, after a slow, painful descent into the illness he'd feared all of his life. But his legacy of empowering a nation through song remains unshakeable.
John Pietaro is a writer, musician and cultural organizer from Brooklyn, N.Y. See his website.