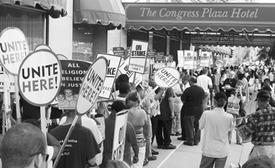 CHICAGO — Four years after 150 employees walked off the job at the historic Congress Plaza Hotel to protest cuts in wages and health benefits, workers continue to picket, saying they are holding out for a fair contract.
Their spirits soared as 2,000 labor and community activists from all over the upper Midwest joined them June 15 on the picket line and at a spirited rally in front of the Michigan Avenue hotel.
"This strike belongs to all who believe in justice," Dennis Gannon, president of the Chicago Federation of Labor, told the crowd after a band sent by the Chicago Federation of Musicians paused in its rendition of "When the Saints Go Marching In."
Four years ago, management slashed room attendants' pay from $8.83 to $8.21 per hour with no raise allowed until 2010. The standard housekeeper wage in Chicago is now $13.20 an hour. The hotel also drastically reduced health care benefits and eliminated pensions, triggering the strike.
"This has necessitated a complete change in lifestyle for our family," said striker Danny Surnash, who was born in Jamaica. "How can they be so heartless and have so little sympathy?" he asked the crowd, adding, "People have to pay rent and send the kids to school — we will do what is right and we are going to stand out here as long as it takes."
Henry Tamarin, international executive vice president of the striking union, Local 1 of Unite Here, received thunderous applause when he told the crowd, "Every worker in this great city and around the country owes a debt of gratitude to these strikers — hotel workers everywhere are making better wages because of the battle these workers are fighting."
Unite Here took its battle for the Congress Hotel workers into the electoral arena this year, and succeeded in dumping anti-labor 2nd Ward Alderman Madeline Haithcock, who had received $5,000 in campaign contributions from the hotel.
"Just wait until this hotel comes to us for a variance because they want to put a luxury park or a pool on the roof," said Robert Fioretti, the labor-backed candidate who defeated Haithcock. "I know they have violations in there — we'll fine them for everything!" he declared as the crowd roared its approval. The hotel is located in the 2nd Ward.
The Congress Hotel, which opened in 1893, has catered to presidents, foreign dignitaries, opera performers, stage and media celebrities, and business travelers. The strike has obviously affected the full range of hotel services.
Hotel customers interviewed by this reporter on June 15 were not happy with conditions. "This is really awful about what the hotel is doing," said Michael Bowman from Kansas City, Mo. "If I had known, I wouldn't be here. I'll never come back again."
As he made his way through the demonstrators after checking out, Bob Epstein of Ann Arbor, Mich., said, "When I arrived yesterday is when I became aware of the strike, and I made immediate arrangements to move to the Hilton on the next block."
Said Joan McGinty, "We paid $1,150 to stay in a dirty, stinking hotel with lousy customer service. The carpets needed replacing and were dirty. I want all my money refunded."
Hotel security wouldn't let the World enter the building on the day of the demonstration. Two days later this reporter did gain access, and found many unsanitary and dangerous conditions.
The hotel's seventh floor was out of use and the lights were off. Even so, the floor was accessible to customers by both stairs and elevator.
Fire extinguishers were missing from two fire extinguisher boxes on the tenth floor.
A customer on the third floor showed the World three full garbage bags leaning against the soda vending machine and a 3-foot by 2-foot piece of wallpaper hanging from the top of a doorway. She said she had to keep her toilet seat up to catch drops from a leak in the bathroom ceiling and management had not responded to her complaints.
This reporter asked at the front desk to see the hotel manager. After two minutes a security staff member emerged and said, "Kindly leave or I will have to call the police."
jwojcik @pww.org