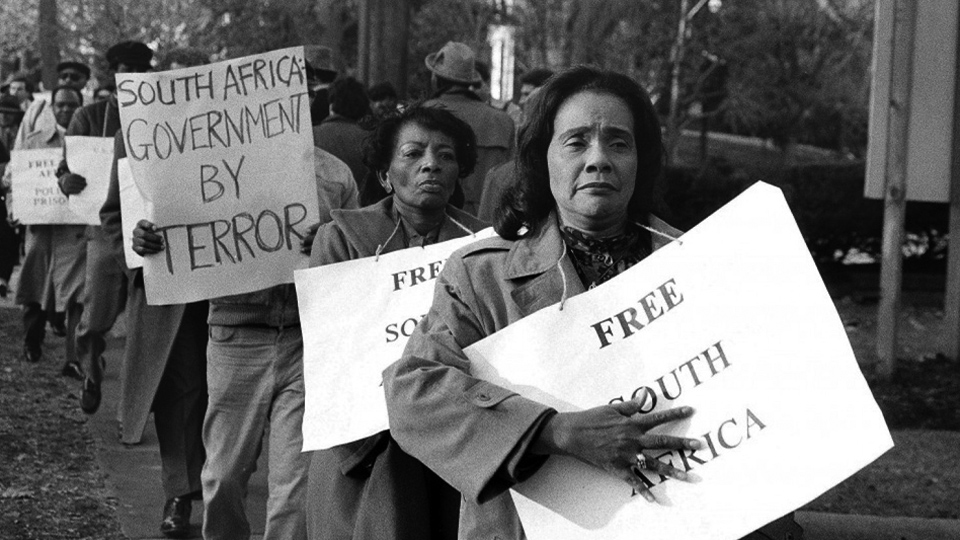 Coretta Scott King was born 90 years ago on April 27, 1927, in her parents' home in Marion, Ala., the third of four children of Obadiah and Bernice Scott, with her paternal great-grandmother Delia Scott, a former slave, presiding as midwife. She was married to the Rev. Dr. Martin Luther King, Jr. from 1953 until his assassination in 1968.
Ms. King was an author, activist, and civil rights leader in her own right, and the mother of four children. In her early life, she was an accomplished singer, and she often incorporated music into her civil rights work. She was often referred to as "First Lady of the Civil Rights Movement."
King played a prominent role in the years after her husband's death when she took on a leadership role in the struggle for racial equality herself and became active in the women's movement. She founded the King Center and worked to make his birthday a national holiday. Her support was eagerly courted by numerous political figures.
The Scott children attended a one-room elementary school five miles from their home and were later bused to Lincoln Normal School, nine miles away and the closest black high school in Marion, due to racial segregation. Coretta's mother Bernice drove the bus for all the local black teenagers. Coretta became the leading soprano for the school's senior chorus, directed her church choir, and graduated as valedictorian in 1945. She enrolled at Antioch College in Yellow Springs, Ohio, and studied music. She also became politically active, joining the local chapter of the NAACP and the college's Race Relations and Civil Liberties Committees. She was denied the opportunity to perform her second year of required practice teaching at Yellow Springs public schools for her teaching certificate, owing to racial discrimination.
Coretta won a transfer scholarship to the New England Conservatory of Music in Boston, and it was there in 1952 that she met Martin Luther King, Jr. They married on June 18, 1953, on the lawn of her mother's house, the ceremony performed by Martin Luther King, Sr. After completing her degree in voice and piano, she moved with her husband to Montgomery, Ala., in September 1954, where he became the pastor of Dexter Avenue Baptist Church.
Thrust into the forefront
"Before long," Ms. King said, "we found ourselves in the middle of the Montgomery bus boycott, and Martin was elected leader of the protest movement. As the boycott continued, I had a growing sense that I was involved in something so much greater than myself, something of profound historic importance. I came to the realization that we had been thrust into the forefront of a movement to liberate oppressed people, not only in Montgomery but also throughout our country, and this movement had worldwide implications. I felt blessed to have been called to be a part of such a noble and historic cause."
Ms. King sacrificed her dreams of becoming a classical singer and threw herself into church work, motherhood, and the civil rights movement. From that time on the young couple lived lives of constant threats, intimidation, violence and arrest, but they both felt inextricably committed to the freedom struggle. They gained the support of the Kennedy family—President John and Attorney General Robert—in the early years of JFK's administration, at the same time recognizing his reluctance to get involved openly with civil rights.
Author Michael Eric Dyson has called her "an earlier and more devoted pacifist than her husband." Although Ms. King would object to the term "pacifism," she was an advocate of non-violent direct action for social change. In 1957, she was a founder of The Committee for a Sane Nuclear Policy (SANE, now called Peace Action).
In April 1962, King served as delegate for the Women's Strike for Peace Conference in Geneva, Switzerland. Regarding the August 1963 March on Washington, she said, "It was as though heaven had come down." In early November of that year she went to a Women's Strike for Peace rally in New York, joining the march from Central Park to the United Nations Headquarters. The march was timed for the group's second anniversary and celebrated the successful completion of the Limited Nuclear Test Ban Treaty. Days later, President Kennedy was assassinated.
Among the acts perpetrated against the Kings was intense surveillance of their movements by the FBI under J. Edgar Hoover, who orchestrated a scheme to send Ms. King compromising tapes of her husband's dalliances outside their marriage, but Hoover was unable to destroy the couple's partnership.
Coretta Scott King worked hard to pass the Civil Rights Act of 1964, and participated in the 1965 march from Selma to Montgomery. She criticized the sexism of the civil rights movement in 1966, saying, "Not enough attention has been focused on the roles played by women in the struggle. By and large, men have formed the leadership in the civil rights struggle but…women have been the backbone." Her own husband limited her role in the movement, and expected her to be a housewife.
The King couple had already publicly identified as opponents of the Vietnam War. She spoke in San Francisco while her husband spoke in New York at the major anti-Vietnam war march on April 15, 1967. She participated in a Women's Strike for Peace protest in January 1968 in Washington, D.C., with over 5000 women. In honor of the first woman elected to the House of Representatives—who voted against both world wars in 1917 and 1941—the group was called the Jeannette Rankin Brigade.
His spirit will never die
Martin Luther King, Jr. was shot and killed in Memphis, Tenn., on April 4, 1968. She learned of the shooting from a call by Jesse Jackson. The next day Ms. King arrived in Memphis to retrieve her husband's body and decided that the casket should be kept open during the funeral at Atlanta's Ebenezer Baptist Church. She said her husband had told their children, "If a man had nothing that was worth dying for, then he was not fit to live." She spoke of his ideals and said that while he may be dead, "his spirit will never die."
On April 8th, Ms. King and her children headed a march with striking Memphis sanitation workers that her husband had planned to carry out before his death. Speaking to the crowd in front of Memphis City Hall, she said that despite MLK's being away from his children at times, "his children knew that Daddy loved them, and the time that he spent with them was well spent." She soon made the decision to assume a position of leadership in the civil rights movement, broadening her scope to include "the three great evils of racism, poverty and war." She published her memoir, My Life with Martin Luther King, Jr., in 1969.
Ms. King attended President Ronald Reagan's signing of the legislation establishing Martin Luther King, Jr. Day. Reagan called her to personally apologize for a remark he made during a nationally televised conference, when he said we would know in "35 years" whether or not King was a communist sympathizer. Reagan clarified that the files had been sealed off until the year 2027. Ms. King accepted the apology and pointed out that the Senate Select Committee on Assassinations had not found any basis to suggest her husband had communist ties.
Among the many causes that Coretta Scott King embraced was her long-standing opposition to apartheid, participating in a series of sit-in protests in Washington, D.C., that prompted nationwide demonstrations against South African racial policies. She spent ten days in South Africa in September 1986, meeting with opposition leaders such as Allan Boesak and Winnie Mandela, whose husband Nelson Mandela was still imprisoned.
She was a vocal opponent of capital punishment and the 2003 invasion of Iraq, and an early supporter of lesbian and gay civil rights. In August 1983 in Washington, D.C., she urged the amendment of the Civil Rights Act to include gays and lesbians as a protected class. She affirmed that gays and lesbians had "always been a part of the civil rights movement."
In 1998, speaking in Chicago, Ms. King called on the civil rights community to join in the struggle against homophobia and anti-gay bias. "Homophobia is like racism and anti-Semitism and other forms of bigotry in that it seeks to dehumanize a large group of people, to deny their humanity, their dignity and personhood," she said. "This sets the stage for further repression and violence that spread all too easily to victimize the next minority group."
When some black pastors criticized her support for same-gender marriage, she called her critics "misinformed" and reminded them that MLK's message to the world was one of equality and inclusion. "Gay and lesbian people have families, and their families should have legal protection, whether by marriage or civil union. A constitutional amendment banning same-sex marriages is a form of gay bashing and it would do nothing at all to protect traditional marriage."
She became vegan in the last ten years of her life.
Established in 1968 by Coretta Scott King, The King Center in Atlanta is the official memorial dedicated to the advancement of the legacy and ideas of Martin Luther King, Jr.
King was hospitalized in April 2005, a month after speaking in Selma at the 40th anniversary of the Selma Voting Rights Movement, and was diagnosed with a heart condition. Later, she suffered several small strokes. On January 14, 2006, she made her last public appearance in Atlanta at a dinner honoring her husband's memory. Later that month she checked into a rehabilitation center in Rosarito Beach, Mexico, and died there on January 30, 2006, of complications from ovarian cancer. She was 78 years old.
Upon the news of her death, both the U.S. Senate and the House passed resolutions in honor of her legacy.
Coretta Scott King was the first African-American to lie in state in the Georgia State Capitol. Her funeral was attended by some 10,000 people, including four of five living U.S. presidents. Pres. Jimmy Carter and the Rev. Joseph Lowery delivered funeral orations, and were critical of the Iraq War and the longtime government wiretapping of the Kings. She was temporarily buried on the grounds of the King Center until being interred next to her husband.
Among the many tributes Coretta Scott King received were honorary degrees from Princeton and Duke Universities, as well awards from both of her alma maters.
In 1970, the American Library Association began awarding a medal named for her to outstanding African-American writers and illustrators of children's literature.
In 2004, King was awarded the prestigious Gandhi Peace Prize by the Government of India.
Carmen Ejogo played Coretta King in both the 2001 HBO film Boycott and the 2014 film Selma.
Adapted from Wikipedia and other sources.