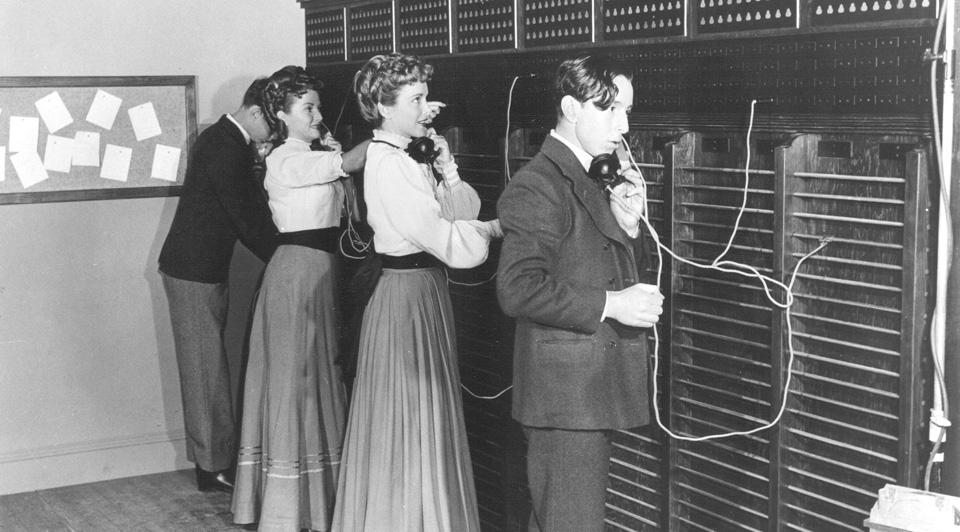 September 1 each year is Emma M. Nutt Day.
Never heard of her?
Emma Mills Nutt, born in 1851, became the first woman telephone operator in America on September 1, 1878. She loved her job and worked at it for at least 33 years, ending with her retirement sometime between 1911 and 1915, the year of her death.. A few hours after Emma started working, her sister, Stella Nutt, became the world's second female telephone operator, making the pair the first two sister telephone operators in history. Unlike Emma, Stella only remained on the job for a few years.
This special day, conveniently leading up to Labor Day on Monday, honors the world and work of telephone operators. It was a highly important job for many decades, although in recent years most of such positions have been eliminated by automation in telephone systems.
In truth, no one quite knows how this commemoration in her name came to be. According to lore, Emma was "very thankful that my first name was not Imma."
Emma Nutt started working for the Edwin Holmes Telephone Despatch Company (better known as the Boston Telephone Dispatch Company) in Boston, Mass. In January 1878 the company had started hiring boys as telephone operators, starting with George Willard Croy. Boys, reportedly including Emma's husband, had been very successful as telegraphy operators, but their attitude, impatience, and behavior such as pranks and cursing, were unacceptable for live phone contact, so the company began hiring women operators instead.
The customer response to Emma's soothing, cultured voice and patience was overwhelmingly positive, so boys were soon replaced by women. Within a short time, nationwide, a woman's voice was the voice you heard if you dialed the operator.
Nutt was hired by Alexander Graham Bell, who is credited with inventing the first practical telephone; apparently she changed jobs from a local telegraph office. She was paid a salary of $10 per month for a 54-hour week. Reportedly, she could remember every number in the telephone directory of the New England Telephone Company.
Following the invention of the telephone in 1876, the first telephones were rented in pairs which were limited to conversation between the parties operating those two instruments. The use of a central exchange was soon found to be even more advantageous than in telegraphy. Small towns typically had the switchboard installed in the operator's home so that she could answer calls on a 24-hour basis. In 1894, New England Telephone and Telegraph Company installed the first battery-operated switchboard in Lexington, Mass.
Early switchboards in large cities usually were mounted floor to ceiling in order to allow the operators to reach all the lines in the exchange. In those workplaces, the operators were boys who would use a ladder to connect to the higher jacks. By the 1890s this system failed to keep up with the increasing number of lines, and Milo G. Kellogg devised the Divided Multiple Switchboard for operators to work together, with a team on the "A board" and another on the "B." These operators were almost always women until the early 1970s, when men were once again hired. Cord switchboards were referred to as "cordboards." Conversion to Panel switch and other automated switching systems first eliminated the "B" operator and then, years later, the "A." Rural and suburban switchboards for the most part remained small and simple. In many cases, customers came to know their operator by name.
As telephone exchanges converted to automatic (dial) service, switchboards continued to serve specialized purposes. Before the advent of direct-dialed long-distance calls, a subscriber would need to contact the long-distance operator in order to place a toll call. In large cities, there was often a special number, such as 112, which would ring the long-distance operator directly. Elsewhere, the subscriber would ask the local operator to ring the long-distance operator.
To be hired as an operator, a woman had to be unmarried and between the ages of seventeen and twenty-six. She had to look prim and proper, and have arms long enough to reach the top of the tall telephone switchboard. In order to convince families to allow their daughters to go to work, telephone companies stood in loco parentis. The chief toll operator maintained a maternal attitude toward her "girls."
Like many other American businesses until well into the 20th century, telephone companies discriminated against people from certain ethnic groups and races. For instance, African-American and Jewish women were not allowed to become operators.
Today, the Communications Workers of America is the principal union representing the workforce in telecommunications and information technology, the airline industry, news media, broadcast and cable television and other fields.
Happy Labor Day!
Sources: Chase's Calendar of Events, Holiday Insights, Wikipedia, Telecommunications History Group.