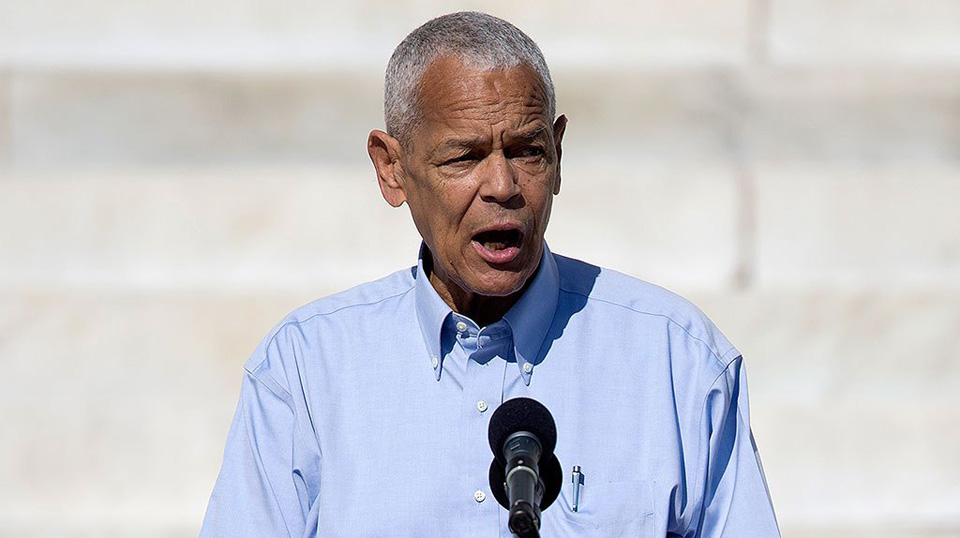 Civil rights leader Julian Bond was elected to the Georgia House of Representatives, which refused to seat him in January 1966 because of his civil rights activities and political views. Born in 1940, Bond had been a leader of the 1960 sit-ins in Atlanta and also a leader of the Student Nonviolent Coordinating Committee (SNCC). In Bond v. Floyd, decided on December 5, 1966, the U.S. Supreme Court unanimously ordered him seated, which occurred 50 years ago on January 9, 1967.
The Court said: "Just as erroneous statements must be protected to give freedom of expression the breathing space it needs to survive, so statements criticizing public policy and the implementation of it must be similarly protected."
Bond went on to serve 20 years in the Georgia legislature. When he retired from the Georgia Senate, he had been elected to office more times than any other black Georgian.
He attended Morehouse College, an all-black college in Atlanta, where he began his long career as a civil rights activist. He helped organize the Committee on Appeal for Human Rights, which staged nonviolent protests that led to the integration of Atlanta's theaters, lunch counters, and parks.
On Easter weekend 1960, Bond joined other college students in Raleigh, N.C., to form SNCC, and became its communications director. He edited its newspaper, the Student Voice, and participated in numerous voter registration drives throughout the South. In 1961 Bond left Morehouse to dedicate more time to the movement, becoming the editor of a new protest magazine, the Atlanta Inquirer..
In 1965 Bond officially entered the political arena and won a seat in the Georgia House of Representatives. However, his outspoken objection to the Vietnam War prompted the legislature to deny Bond his seat. Three times voters in Bond's district elected him as their representative only to have the legislature ignore their wishes. Bond case went to the Supreme Court, which ruled in his favor. In 1971 he returned to Morehouse and graduated with a degree in English. He was later awarded 21 honorary degrees from various colleges and universities
Bond served in the state house until 1974, when he was elected to the Georgia Senate. During this time Bond also served as president of the Southern Poverty Law Center, a civil rights law firm and research organization headquartered in Montgomery, Ala.
Bond retired from the state senate to run for Congress in 1986. He lost a fiercely contested election to his longtime friend and fellow civil rights activist John Lewis, who is still serving.
After ending his political career, Bond taught history at the University of Virginia in Charlottesville, and was a visiting professor at American University in Washington, D.C. In 1998 he became chair of the board of directors of the NAACP. Aside from numerous articles in national publications, his autobiographical book A Time to Speak, A Time to Act appeared in 1972.
Bond died at 75 in 2015.
Watch an interview with Julian Bond here.
Sources: Today in Civil Liberties History, New Georgia Encyclopedia.