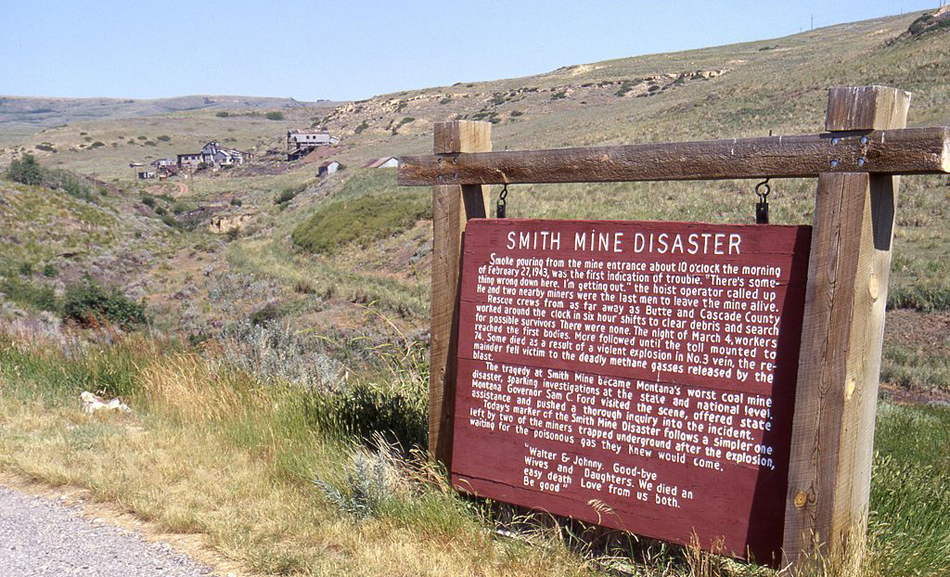 Seventy-five years ago, on February 27, 1943, an explosion at the Montana Coal and Iron Company mine, near Red Lodge, the county seat for Carbon County, killed 74 workers. It was the worst mining disaster in Montana's history and the 43rd worst in the United States, according to the National Institute for Occupational Safety and Health (NIOSH).
The small communities of Washoe and Bearcreek, Mont., consisted almost entirely of mine workers and their families. Many of them worked in the company's Smith Mine #3. On this cold Saturday morning, 77 men were working in the mine when, at 9:37 am, a huge explosion rang out. The people of Washoe and Bearcreek heard the roar and then the long, wailing siren that followed.
The exact cause of the explosion is not known, though some of the company's miners claimed methane gas had built up in some abandoned shafts and was ignited after a cave-in. Various reports noted that men were allowed to smoke in the mine, and that fuses for blasting were lit with matches.
Of the 77 workers in the mine, only three made it out alive: As told in the book "Red Lodge Saga of a Western Area" by Shirley Zupan and Harry J. Owens, three miners were rescued from the Smith No. 3 mine disaster. The victims died either directly from the blast or from suffocation when oxygen levels in the mine dropped. One rescue worker also died soon afterward.
Virtually every household in Washoe and Bearcreek was touched by this tragedy. The mine never reopened. A list of those who died and the three who survived can be found here.
A report from the United States Bureau of Mines stated that 30 of the men were killed instantly by the explosion, and the remainder died either from injuries sustained in the explosion, or through suffocation from carbon monoxide and methane gas. The explosion was deep underground and was powerful enough to knock a 20-ton locomotive off its tracks a quarter of a mile from the blast origin.
All of the bodies were removed from the mine. A highway plaque near the mouth of the mine recalls a note left by two of the dying miners: "Walter & Johnny. Good-bye wifes and daughters. We died an easy death. Love from us both. Be good."
A book on the disaster by journalist Susan Kushner Resnick, titled "Goodbye Wifes and Daughters," is told through the eyes of women who lost their husbands, fathers, sons, livelihoods, neighbors and homes, yet managed to fight back and persevere.
There are also memorials in the cemeteries in Bearcreek and Red Lodge.
Sources: This Day in History and Wikipedia.