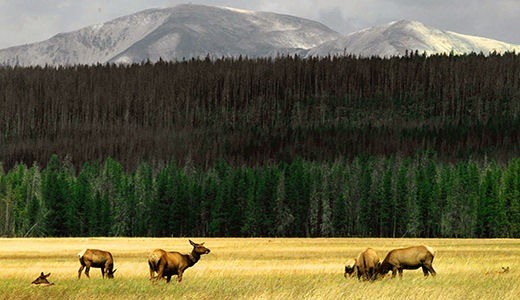 The National Park Service (NPS) was founded on August 25, 1916, when President Woodrow Wilson signed the National Park Service Organic Act into law, to "conserve the scenery and the natural and historical objects and wildlife therein, and provide for the enjoyment of the same in such a manner as will leave them unimpaired for the enjoyment of future nations." In 1916 the NPS was in charge of just 35 parks and monuments.
Today's NPS counts 408 parks, monuments, and other protected sites, including iconic landmarks like Mount Rushmore and the Grand Canyon, and the most recent – and one of the smallest – the Stonewall Inn in New York City's Greenwich Village, site of the spontaneous 1969 revolt against another routine police raid on an LGBTQ bar that launched a sexual revolution. Another new national monument designated by President Obama is that honoring Chicano labor leader César Chávez in Kern County, Calif. "We've designated new monuments and historic sites that better reflect the story of all of our people," said Obama.
The 1916 legislation had been heavily promoted by conservationist and Sierra Club member Stephen Mather, who was subsequently appointed as the first director of the NPS. According to a bronze plaque at Utah's Zion National Park, Mather "laid the foundation" for the agency, "defining and establishing the policies under which its areas shall be developed and conserved." National Parks enjoy continued high visitation, contributing $29.7 billion to the economy and supporting 277,000 jobs – and far more if you include those employed in all the service industries  such as lodging and restaurants in park environs.
The NPS centennial could prove the right time for careful reflection, as young people experience an increasing disconnect from nature. The NPS has launched a "Find Your Park" campaign designed to connect more kids with these public lands, especially those national parks that are closest to where they live. First Lady Michelle Obama hosted a video in connection with the movement, noting her own family's connection to the new Pullman National Monument in Chicago.
At the same time, national parks face dual attacks, in the form of legislation meant to destroy them, and climate change, which could pose a similar threat.
Despite a declared commitment to conservation and protection, a lack of consideration for national parks is also evident amongst Congress, as these places continue to be plagued by financial burdens. According to the National Parks Conservation Association, the NPS is currently operating under a nearly $12 billion maintenance backlog, which has caused facilities and park infrastructure to age. Park roads and bridges alone account for at least half of the backlog, according to National Parks Traveler. Although the NPS has been called "America's best idea," many Republicans in control of Congress display contempt for our national parks, constantly demanding encroachments on public lands by fossil fuel developers, ranchers and other commercial exploiters.
Unless the composition of Congress changes soon, it does not appear as though the word "bipartisan" will be used in coming discussions. Rep. Don Young, R-Ark., introduced legislation last year that would make preserving lands and monuments a thing of the past. Called H.R. 330, the bill would amend the 1906 Antiquities Act to block the president from designating new national monuments without congressional approval and an "extensive environmental review." It would also require the president to get similar approval for marine monuments.
"Americans value national parks," said Alex Taurel, deputy legislative director for the League of Conservation Voters. "But this legislation would attack the century-old law that has helped protect them. By introducing it, Rep. Young has proven how out of step with the American people he is." Given recent polling data demonstrating that 70 percent of voters support the efforts of President Obama to protect new monuments for future generations, those words appear to ring true.
Finally, national parks must contend with the ever looming portent of climate change. A new report has shown that up to one quarter of the total combined land area of national parks was especially vulnerable to global warming's effects, factoring in elements such as wildlife relocation and dislocation.
"We already established that climate change and habitat loss affect national parks, but this scientific study links these negative effects and identifies just how much of the landscape is at risk," said National Park Service director Jonathan B. Jarvis. "The good news is that the study also identified areas of biodiversity that are refuges and wellsprings for species."
Part of the chaos caused by the changing climate is a steady increase in wildfires, and that is a complex issue in and of itself. Every season numerous fires burn across the U.S., with an infamously memorable blaze occurring in Yosemite National Park in 2013. And much like the National Park Service, the U.S. Forest Service has experienced crippling funding cuts and limited access to safety equipment. The agency now spends more than 50 percent of its budget on firefighting alone, and scientists say the fires are only going to get worse.
With so many attacks on all sides, the National Park Service's best bet is to renew interest in the lands it has helped protect, so that the fightback on the part of environmentalists and conservationists will be that much greater. The 2016 elections offer an opportunity to realign the White House with a more environmentally committed Congress.
At this year's Stanford University Commencement exercises on June 12, filmmaker Ken Burns, who recently produced a 12-hour documentary about the NPS, told the graduates: "Travel. Do not get stuck in one place. Visit our national parks. Their sheer majesty may remind you of your own 'atomic insignificance,' as one observer noted, but in the inscrutable ways of Nature, you will feel larger, inspirited, just as the egotist in our midst is diminished by his or her self-regard."
Reposted from August 25, 2015, with edits for updating.
Photo: A herd of elk graze in a meadow at Yellowstone National Park. | AP