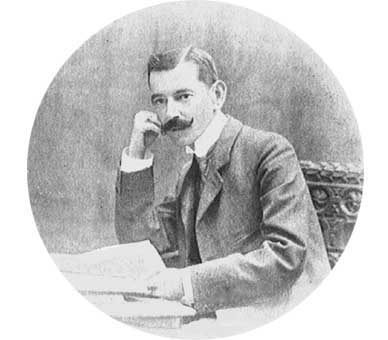 José de Diego was a statesman, journalist, poet, lawyer, and advocate for Puerto Rico's independence from Spain and from the United States who was referred to by his peers as "The Father of the Puerto Rican Independence Movement." He was born 150 years ago, on April 16, 1866 (although some sources say 1867).
José de Diego y Martínez was born in Aguadilla, P.R., son of Felipe de Diego Parajón, a Spanish army officer, and Elisa Martínez Muñiz, a boricua (indigenous Taíno term for a native of Puerto Rico). After his primary and secondary education in P.R., de Diego went to Spain, where he graduated from the Polytechnic College of Logroño. There he collaborated with the newspaper El Progreso, founded by a fellow boricua, which attacked the political situation in their homeland, still a Spanish colony. After various arrests he was forced to leave Spain and return to the island.
With his popular romantic poem "A Laura" ("To Laura"), de Diego became known as the father of the modern Puerto Rican poetry movement, and published at least four books of poetry.
De Diego returned to Spain and studied law in Barcelona, graduating with a doctorate in 1892. He then returned to P.R. to advocate for its autonomy from Spain. The 1876 Spanish Constitution created a centralized state, ending the ancient system of autonomies and commonwealth kingdoms. Many in the wealthier regions, such as Catalonia, Galicia, the Basque provinces, Cuba, Philippines and P.R., sought to reinstate it. This movement coincided with the growth of republican sentiments seeking to abolish the monarchy.
De Diego set up his law practice in Arecibo and founded the newspaper La República. He also co-founded the Autonomist Party in 1887 and envisioned the establishment of a confederation of Spanish-speaking islands in the Caribbean which would include the Dominican Republic and Cuba, known as the Antillean Confederation. In 1897, the Spanish Parliament granted the Charter of Autonomy to P.R., becoming the first Spanish Autonomous Region. Luis Muñoz Rivera became the president of the autonomous province and de Diego was named Sub-Secretary of Justice and Government. Puerto Rico's autonomy, however was short-lived, for it, along with Cuba and the Philippines, was invaded by the United States in 1898.
José de Diego, together with many republican intellectuals, initially saw the American occupation with a positive attitude. They thought they would become full Americans. He changed his heart once the occupation started and he saw the undisguised racism of the U.S. military. On June 5, 1900, President William McKinley named de Diego to an Executive Cabinet under U.S.-appointed Governor Charles H. Allen, but he resigned from the position in order to pursue the island's right to govern itself.
In 1904, he co-founded the Unionist Party and was elected to the House of Delegates, the only locally elected body of government allowed by the U.S., over which de Diego presided from 1904-17. The House of Delegates, subject to the U.S. president's veto power, nevertheless voted for Puerto Rico's right to independence and self-government and against U.S. citizenship. None of these measures were honored in this new era of U.S. global expansionism.
José de Diego opposed the Jones-Shafroth Act, which would impose U.S. citizenship upon the citizens of P.R., because the act represented an impediment to independence as a final status solution and because the judicial and executive branches would still be controlled by the U.S. The Jones-Shafroth Act, however was approved and signed into law by President Woodrow Wilson on March 2, 1917, conveniently in time to draft Puerto Rican men into the armed forces during World War I. Because of de Diego's strong resistance to accommodationists in his party who sought more autonomy that would in theory lead to independence, he became known as the "Father of the Puerto Rican Independence Movement."
De Diego founded the Colegio de Agricultura y Artes Mecánicas de Mayagüez, now known as University of Puerto Rico at Mayagüez. He traveled throughout the Caribbean and Spain seeking support from his "hermanos de la misma raza" (siblings of the same race) for Puerto Rico's independence. After a short but painful illness he died in New York City on July 16, 1918. His remains were returned to P.R. and are buried in San Juan, where his tomb in a prominent section of the Santa María Magdalena de Pazzis Cemetery features his bust.
José de Diego's memory is honored in Puerto Rico with his birthdate observed as an official holiday, as well as by schools, avenues, and a highway named for him. The central plaza in his hometown of Aguadilla is named in his honor, plus there are schools with his name in Chicago, Brooklyn, and Miami.
The independence movement in Puerto Rico has never achieved majoritarian status, although the issue arises from time to time in the United Nations Decolonization Committee. Its designation as an "associated free state" has enabled U.S. investors to take advantage of labor codes that do not apply to the continental states. But now investors seeking cheaper labor have largely fled the island, and Puerto Rico faces both bankruptcy and massive emigration to the U.S. mainland.
Adapted from Wikipedia, El Boricua and other sources.
Photo: Library of Congress