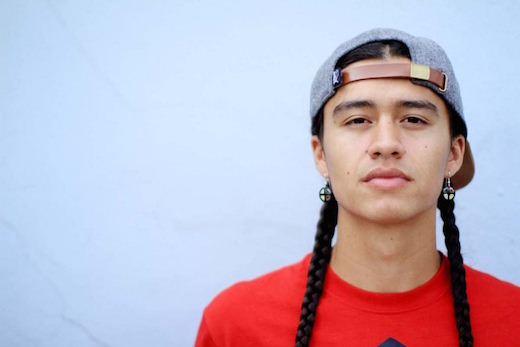 Aboriginal legends reveal ancient secrets to science
Scientists are beginning to tap into a wellspring of knowledge buried in the ancient stories of Australia's Aboriginal peoples. But the loss of indigenous languages could mean it is too late to learn from them.
The Luritja people, native to the remote deserts of central Australia, once told stories about a fire devil coming down from the Sun, crashing into Earth and killing everything in the vicinity.
The local people feared if they strayed too close to this land they might reignite some otherworldly creature.
The legend describes the landing of a meteor in Australia's Central Desert about 4,700 years ago, says University of New South Wales (UNSW) astrophysicist Duane Hamacher.
It would have been a dramatic and fiery event, with the meteor blazing across the sky. As it broke apart, large fragments of metal-rich rock would have crashed to Earth with explosive force, creating a dozen giant craters.
The Northern Territory site, which was discovered in the 1930s by white prospectors with the help of Luritja guides, is today known as the Henbury Meteorites Conservation Reserve.
Read more at: http://www.bbc.com/news/world-australia-32701311
Tulalip movers and shakers form Native youth council
Native youth across Indian country are assembling to make a difference in their communities. They are known as the Gen-I movers and what they say will be heard by top-level leaders in Washington D.C. The goal is to get youth involved in their communities and to remove barriers to education and health opportunities, while growing leaders for future generations.
Generation Indigenous was announced at the 2015 United National Indian Tribal Youth (UNITY) midyear conference. Issued by President Obama this call to action, "is the first step in engaging a broad network of people interested in addressing the issues facing Native youth and creating a platform through which Native youth can access information about opportunities and resources, and have their voices and positive contributions highlighted and elevated."
Read more at: http://www.tulalipnews.com/wp/2015/05/20/tulalip-movers-and-shakers-form-native-youth-council/
Tlingit-Athabascan actor Martin Sensmeier confirmed for featured role in upcoming Denzel Washington movie
I won't add too much commentary to this news piece, but one of my "Man Crush Mondays," Martin Sensmeier (Athabascan and Tlingit) recently joined the all-star ensemble cast of the remake of The Magnificent Seven. In the movie, Martin plays Red Harvest.
This is a pretty big deal-he has a featured role in a mainstream, big-budget movie featuring Denzel Washington, Chris Pratt, Ethan Hawke and a pretty vicious cast. Also, the film is directed by Antoine Fuqua, the director of another Denzel classic Training Day.
Read more at: http://indiancountrytodaymedianetwork.com/2015/05/23/tlingit-athabascan-actor-martin-sensmeier-confirmed-featured-role-upcoming-denzel
In honor of Memorial Day: Memorials honoring our fallen Native warriors
Since the first arrival of Europeans onto Turtle Island and in connection to the conflicts that first arose in association, Native Americans – with the inclusion of American Indians, Alaskan Natives and Native Hawaiians – have enlisted and volunteered for the armed services at a higher rate than any other ethnicity.
According to government officials during World War II, if all other races had enlisted at the same rate as American Indians, selective service and the draft would not have been necessary.
Considering those soldiers, sailors, marines and airmen and women that have served and tragically did not return home to their families, here are some of the memorials honoring our fallen Native warriors across the country.
Read more at: http://indiancountrytodaymedianetwork.com/2015/05/25/honor-memorial-day-memorials-honoring-our-fallen-native-warriors-160477
Indigenous rapper Frank Waln thinks Americans should know their history
Sicangu Lakota hip-hop artist Frank Waln was born and raised on the Rosebud Reservation in South Dakota, where his experiences growing up would eventually inform his work. As both a rapper and an activist, Frank campaigns on issues including indigenous visibility, climate change, and environmental racism. Last year, he joined the cast of MTV's Rebel Music: Native America, one segment of a recurring program highlighting the stories of artists who wield the power of their work for a greater good.
When The FADER called Frank last week, he was parked on the side of the road in North Dakota, on his way to the White Earth Indian Reservation in Minnesota, where he was due to perform at a banquet for people recovering from alcohol addiction and substance abuse. You can catch him on Rebel Music, whose second season is back on the air this month.
Read more at: http://www.thefader.com/2015/05/15/rebel-musics-frank-waln-speaks-about-indigenous-visibility-and-power-through-art
Photo: via Fader/Matika Wilbur/CC