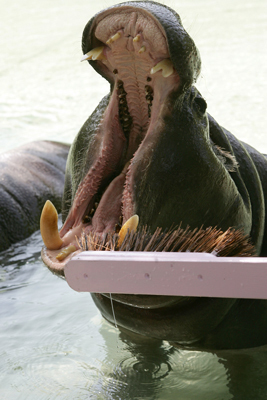 IRS fires estate tax auditors
There's more than one way to skin a cat.
National Treasury Employees Union activist Sharyn Phillips, a veteran IRS estate tax lawyer, told The New York Times that the Bush administration's elimination of more than half the IRS workforce that audits estate and gift transfers is "a back-door way for the Bush administration to achieve what it cannot get from Congress, which is repeal of the estate tax."
The 157 tax lawyers along with 17 support personnel will lose their jobs over the next 70 days. It can hardly be claimed that the firings are a cost-cutting move: for each hour each estate tax lawyer works they find an average of $2,200 owed to the government.
Just six years ago, the Internal Revenue Service reported that 85 percent of large taxable gifts it audited shortchanged the government, the Times reported.
Maximum rage on minimum wage
Working people are taking matters into their own hands to raise the minimum wage rates, says AFL-CIO President John Sweeney. With Republicans in Congress blocking an increase to the federal minimum, activists in at least 19 states are working at that level.
In the battleground states of Missouri, Ohio and Arizona, hundreds of thousands of signatures are being collected to put measures to raise those states' minimum wages on the ballot. Montana, Colorado and Nevada are also candidates for ballot initiatives.
In California, Pennsylvania, Massachusetts and North Carolina, the focus is on bills in the state legislatures to do the same.
Meanwhile, members of Congress who oppose raising the federal minimum are facing the organized wrath of their constituents. Actions this month commemorate the 10 long years since Congress last raised the standard. In Stillwater, Minn., members of Working America went to the town's Lumberjack Days Parade on July 23 to talk to voters about Rep. Mark Kennedy (R) who voted for a pay raise for Congress, but against a raise for the country's lowest paid workers.
In Ohio, activists gathered outside the Cincinnati office of Rep. Steve Chabot (R) and the Columbus office of Rep. Deborah Pryce (R) to dramatize how their votes against raising the minimum hurt working families. In Florida, Republican Reps. Mike Bilirakis in Tampa and Clay Shaw in West Palm Beach were confronted by activists on their party's opposition to raising the federal minimum, while in Albuquerque, N.M., Rep Heather Wilson (R) had to answer to voters, as did Rep. Melissa Hart (R) in Alison, Pa.
JwJ urges: 'Hang up on Verizon Wireless'
Two thousand call center workers in Maine, New York and New Jersey lost their jobs in the years from 2000 to 2004 when Verizon Wireless shut down workplaces with growing numbers of union supporters and moved them to "right to work" states, Jobs with Justice charged.
JwJ says that Verizon Wireless has refused to abide by the agreement it made with the Communication Workers to remain neutral in union organizing efforts and is instead using endless litigation to prevent employees from making use of the agreement.
On the other hand, at Cingular Wireless, which is honoring its agreement for employer neutrality and a card-check procedure, more than 17,000 workers have joined CWA in the last year, JwJ says.
Healthy progress for 676
The Paducah Labor Council in western Kentucky became the state's fourth council to endorse HR 676, legislation proposed by Rep. John Conyers (D-Mich.) that would establish a single-payer health care system in the U.S. "We are very strongly for this and would like to help in any way we can," said Council President Jeff Wiggins, a member of Steelworkers Local 9447, who works at a Brazilian-owned minimill in Calvert City. The San Francisco Central Labor Council followed Paducah's example, voting unanimously to endorse 676. Soon after, the Ohio State AFL-CIO became the fourth state federation to endorse the bill when all 589 convention delegates voted to endorse July 19.
According to the website of Health Care Now, HR 676, the U.S. National Health Insurance Act, would allow the United States to reduce its almost $2 trillion health care expenditure per year while covering all of the uninsured and everybody else for more than they are getting under their current health care plans.
This Week in Labor is compiled by Roberta Wood (rwood@pww.org).