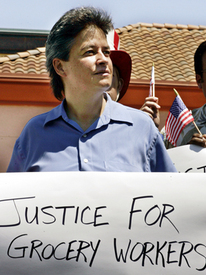 Teamsters adopt reforms on diversity, sexual orientation
Teamster convention delegates voted to add a new provision to their union's constitution prohibiting discrimination on the basis of sexual orientation at their June convention. "We are committed to the development of an organization which values and encourages the participation of women, individuals of various sexual orientations, and members of racial, cultural and ethnic groups in the policy making and leadership roles at all levels," the new clause said. Seven thousand delegates, retirees and guests attended the convention.
NLRB upholds N.C. rubber worker charges
In a bittersweet victory, tire workers at Continental Tire's Charlotte, N.C., plant received word that the National Labor Relations Board had ruled that their employer broke the law when it relocated production this month after refusing to bargain in good faith with their union, the United Steelworkers. Continental has carried through its threat to cease production if it was not granted $32 million in concessions, but it refused union requests for documentation of the need.
According to the union, the hourly work force is being reduced from nearly 1,100 in July 2005 to less than 100, leaving intact a minimal operation in order to avoid paying pension and insurance obligations required by the contract's plant closure language.
"Our members do not view this as a victory," said USW Local 850 president Mark Cieslikowski. "A victory would be achieving a contract with long-term job security. We see these charges as validation of our statements that the company presented us with an unjustified 'take it or leave it' proposal." Under the NLRB's procedures, the company has the right to request a trial of the evidence against it.
Tire negotiations go round
In other rubber industry news, the USW announced that Goodrich/Michelin has been selected as the "target company" for 2006 master contract negotiations. The purpose of such pattern agreements is to provide a level playing field for employers when it comes to the cost of labor, according to a statement from the union. The expiration date for the current three-year pact is July 22. Also expiring on the same date are contracts with Goodyear/Kelly-Spring-field/Dunlop and Bridgestone-Firestone. Overall, 14,000 of the 70,000 USW-represented tire, rubber and plastics workers are involved.
Auto bosses globalizing
Billionaire investor Kirk Kerkorian, General Motors' largest single shareholder, has suggested that the automaker "immediately and fully explore" the possibility of a partnership in which French automaker Renault and Japanese automaker Nissan would buy a "significant minority interest" in GM, Reuters reported.
GM is in the midst of a job-cutting drive that will close 12 plants and eliminate 30,000 autoworker jobs.
DHS workers have rights too
Employees of the Department of Homeland Security have a right to bargain collectively, a federal appeals court ruled June 27. DHS personnel rules implemented by the Bush administration in 2005 which restrict that right are "utterly unreasonable" and "bizarre," the U.S. Court of Appeals for the District of Columbia Circuit declared. Colleen Kelley, president of the National Treasury Employee Union, said that the court decision established that the Bush administration personnel system changes at the DHS are illegal attacks on collective bargaining rights.
Federal employees have been under attack by the Bush administration on many fronts.
Unionized federal employees will have to rely on favorable job reviews by their supervisors in order to get their annual pay raises if a bill now in the Senate goes through. The bill's author is Republican Sen. George Voinovich (Ohio) who chairs the Senate federal workforce subcommittee. Jacqueline Simon, public policy director at the American Federation of Government Employees, cited "highly politicized standards" to evaluate employees, the Washington Post reported.
Ralphs to pay for criminal conduct in lockout
Southern California grocery employees who stood their ground during a four-month lockout in 2003-2004 will share a $50 million settlement from Ralphs Grocery Co., the United Food and Commercial Workers union announced June 30. Ralphs engaged in conspiracy, identity fraud, money laundering and obstruction of justice when it used fake names and Social Security numbers to surreptitiously hire back hundreds of employees in the midst of the lockout, according to a 53-count indictment by the U.S. Attorney.
"I stood on the picket line for four and a half months and I still have a lot of debts, said Ralphs employee Jackie Gitmed, a member of UFCW Local 770. "Thanks to my union, I will now be getting some back pay."
Still pending are charges against individual corporate executives who may yet be indicted and California Attorney General Bill Lockyer's anti-trust lawsuit regarding the profit-sharing pact between supermarket giants Albertsons, Ralphs and Vons/Pavilions.
This Week in Labor is compiled by Roberta Wood (rwood@pww.org).