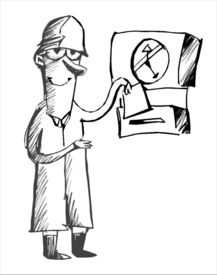 Meat packers win overtime pay
If you work in a meat processing plant, your workday starts long before you step into your place on the line. Before you lash on your arm and hand protection, you're putting on work uniforms and a whole wardrobe of safety equipment: jumpsuit, boots, hair nets, face nets, hard hats and aprons. Then it's a long walk from changing area to the work area.
According to Adelina Garcia, who has worked at Tyson Fresh Meats in Holcomb, Kan., for eight years: "The 'off the clock' work we do before and after shifts and breaks adds up to a lot of time during the work year." Garcia is one of 262 meat processors at the giant 2,500-worker facility who have initiated a class action suit against Tyson, claiming they were due wages and overtime pay under the Fair Labor Standards Act for the extra time required to put on safety equipment.
Last November, the Supreme Court ruled in IBP v. Alvarez that meat plant workers had to be paid for the time required to put on and remove protective clothing and for time to walk to and from their work stations.
The vast majority of workers at the Holcomb facility are immigrants, many of them from Latin America.
Pride at Work convenes
Pride at Work, the labor constituency group for lesbian, gay, bisexual and transgender workers, has announced its triennial national convention will be held in San Diego from Sept. 7-10. This year's theme is "There's No Turning Back: Preserving What We've Gained and Creating a Better Future." The theme reflects "workers fighting to hold onto their health care, pensions and living wages while also struggling to realize the dream of marriage equality, win comprehensive federal non-discrimination protections and end transgender inequality," a statement from the group says. The convention will provide strategizing, networking and skills-building opportunities. For more information, visit prideatwork.org.
Strike vote in aluminum
An overwhelming majority of Alcoa aluminum workers from 15 USW locals voted to authorize strikes last week if contract negotiations are unsuccessful.
Health care for both active workers and retirees is an issue, said Jim Robinson, the union's lead negotiator and director of USW District 7. "Alcoa is making record profits," Robinson said. "We believe that our members have contributed significantly to those profits and we want a contract that provides for the economic security of our members and retirees. Our slogan is 'Leave no one behind.'"
Cintas fined on living wage
Cintas Corp. owes workers and the state of California $1.4 million for breaking the city of Hayward's Living wage law, Unite Here, the union which represents laundry workers, reports.
On May 11, Alameda County Superior Court Judge Steven Brick ordered the company to pay $362,584 in interest to 219 current and former workers from Cintas' San Leandro and Union City laundries. Earlier, Brick had awarded the workers $805,243 in back pay and fined the company $258,900.
The city of Hayward contracted with Cintas in 1999 to launder city uniforms. As part of the contract, Cintas agreed to pay its employees working on the contract the city's living wage, currently $10.86 an hour. In 2003, the company was paying $8.50 an hour. Backed by the union, a group of workers sued, charging the company with failing to comply with the living wage ordinance. After Cintas made the legal claim that the city's living wage law was unconstitutional, the city of Hayward joined the case.
N.Y. NEA, AFT merge
"Teachers in New York state will have a single voice to advocate for the best public education possible for the Empire State's students when the New York State United Teachers and the National Education Association New York merge Sept. 1," says James Parker, a commentator on the AFL-CIO web log. The new combined union will be known as New York State United Teachers NEA/AFT. Delegates from both unions approved the merger in votes last month.
Paper workers unite
South African and U.S. paper mill workers are pledging to "take strong concrete steps at all levels of our unions" to rein in "unfair and high-handed" practices of South Africa-based Sappi Industries. During the apartheid era, the company was known as South Africa Pulp and Paper Industries.
The majority of Sappi's blue collar work force is represented by the USW and South African Chemical, Energy, Paper, Printing, Wood and Allied Workers union (Ceppwawu).
A loud demonstration outside the company's Boston office May 9 kicked off a USW-hosted tour by Ceppwawu representatives that visited Sappi paper mills in Skowhegan and Westbrook, Maine; Muskegon, Mich. and Cloquet, Minn.
In South Africa, Sappi refused to train black workers for higher skilled jobs or to give union recognition to maintenance and white-collar workers, says Ceppwawu. In the U.S., Sappi tries to cut health and pension benefits of workers. Health and safety is an issue everywhere, say the two unions. Sappi's policy is "blame the worker," they charge.
"It will take global solidarity to change how Sappi treats its workers," USW President Leo Gerard declared.
CLUW opposes right wing health takeaway
By a 55-43 vote in mid-May, the Senate effectively dumped a right-wing group's so-called "small business" health care bill. The "Health Insurance Marketplace Modernization Act" was renamed by the Coalition of Labor Union Women as the "Lose Your Health Benefits" bill.
Backers of the legislation claimed it would let small businesses band together to get cheaper health insurance coverage.
But the legislation would have done away with state requirements for insurers to cover specific services, CLUW said.
"Many state requirements are particularly important to women, including prescription contraceptives, mammography, cervical cancer screenings, bone density screenings, maternity care, and minimum hospital stays after mastectomy. Other requirements threatened … include cancer treatment, diabetes supplies and education, mental health care, rehabilitation services, well-child care and immunizations," CLUW said.
The National Mental Health Association, which also opposed the bill, said it would have overridden more than 1,000 state health insurance laws that currently protect consumers. Both groups said the now-sidetracked legislation would have produced huge hikes in insurance premiums.
NMHA said S 1955 would have let insurers charge more by discriminating on the basis of age, past health claims and health status. It would have prevented states from banning insurers from "cherry-picking" only the healthiest clients.
Bush zaps energy workers' pensions
It's not only under funded pensions that are under attack by the Bush administration.
The Department of Energy is forcing its contractors to terminate their employees' traditional defined benefit pension plans and switch them to 401(k) plans. Defined benefit pensions guarantee a fixed monthly payment, while under 401(k) plans workers take on the risks of the stock market.
Last month, the DOE announced that it will no longer reimburse contractors for the costs of defined benefit pension and medical plans for new employees. This action, said AFL-CIO President John Sweeney in a May 3 statement, exposes the administration's agenda to "destroy the defined benefit pension system."
IBEW says 'Lock' out privatization
Should the civilian operators of our nation's locks and dams work for for-profit private corporations?
Furthering the Bush administration's right-wing agenda, the Army Corps of Engineers is proposing that the duties of all current federal lock and dam operators be privatized. The 230 locks and dams these workers maintain 24 hours a day, 7 days a week, are scattered across 12,000 miles of inland waterways in the United States.
The IBEW, which represents many lock and dam workers, is asking support for bipartisan legislation HR 5205, sponsored by Illinois Reps. Lane Evans (D) and Roy LaHood (R), declaring these workers "inherently governmental" and not subject to privatization.
This week in Labor is compiled by Roberta Wood (rwood@pww.org). Lance Cohn contributed.