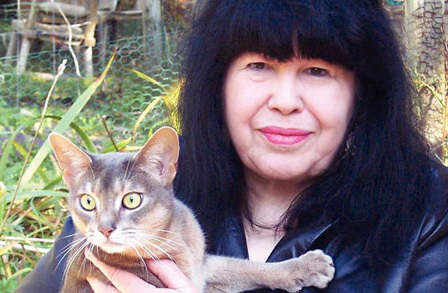 This week People's World celebrates the 80th birthday of the influential American writer Marge Piercy, born in Detroit on March 31, 1936.
Piercy has written 17 novels, including bestsellers Gone to Soldiers, Braided Lives and The Longings of Women, and the classics Woman on the Edge of Time and He, She and It. Her 19 volumes of poetry include The Hunger Moon: New & Selected Poems 1980-2010, The Crooked Inheritance, and last year's Made in Detroit. Her critically acclaimed memoir is called Sleeping with Cats. Piercey was educated at the University of Michigan and Northwestern, she has received four honorary doctorates, and is active in antiwar, feminist and environmental causes. She was a significant feminist voice in the New Left and Students for a Democratic Society.
Piercy is the master of many genres: historical novels, novels of social comment, and science fiction (He, She, and It won the Arthur C. Clarke Award for Best Science Fiction in the United Kingdom). She has taught, lectured and/or performed her work at over 400 universities around the world. "Marge Piercy is not just an author," says the Boston Globe; "she's a cultural touchstone. Few writers in modern memory have sustained her passion, and skill, for creating stories of consequence."
Her novels and poetry often focus on feminist or social concerns. City of Darkness, City of Light is set during the French Revolution. Others of her novels, such as Summer People and The Longings of Women, are set during the modern day. Woman on the Edge of Time (1976) mixes a time travel story with issues of social justice, feminism, and the treatment of the mentally ill. This novel is considered a classic of utopian "speculative" science fiction as well as a feminist classic.
Marge Piercy was born into a family that had been, like many others, affected by the Depression. Her father grew up in a small town in the soft coal mining region of Pennsylvania. They had not been living in Detroit long. Out of work for some time, he got a job installing and repairing heavy machinery at Westinghouse. When Piercy was little, they moved into a small house in a working-class neighborhood in Detroit which was black and white by blocks.
Piercy's maternal grandfather was a union organizer murdered while organizing bakery workers. Her maternal grandmother, Hannah, of whom Piercy was particularly fond, was born in a Lithuanian shtetl, the daughter of a rabbi. "Grandmother Hannah was a great storyteller. She and my mother told many of the same stories, but always the stories came out differently." Although Piercy's father was not Jewish (raised Presbyterian, but observed no religion), she was raised as Jewish and has remained so.
After completing university studies, Piercy went to France with her first husband, a French Jew who had been active in opposing the war in Algeria. Although he was kind and bright, he expected conventional sex roles in marriage and could not take her writing seriously. After that marriage, Piercy lived in Chicago, supporting herself as a secretary, a switchboard operator, a department store clerk, an artists' model, and part-time faculty instructor. She was involved in the civil rights movement.
In 1962, she married a computer scientist, with whom she moved to Cambridge, then San Francisco, back east to Boston, then Brooklyn. She researched the CIA; helped found the North American Congress on Latin America (NACLA) and did power structure research. She continued to be active in SDS, starting a "movement" chapter (MDS) in Brooklyn that was the adult off-campus SDS. In 1967, she became an organizer with the SDS regional office in New York.
Her movement community split into warring factions by the late 1960s. It had become infiltrated by violent agent provocateurs; members were wracked by a sense of futility because the war was ongoing despite the fact that they had been opposing it for eight years. Piercy got involved in the women's movement, organizing consciousness raising groups and writing articles.
In 1971 Piercy and her husband moved to Wellfleet, on Cape Cod, and built a house with a garden. She has lived there ever since, although her husband eventually felt isolated and that marriage dissolved. She knew her current husband, Ira Wood, for six years before they married in 1982. He is also a writer.
Piercy has always celebrated whatever she could find to celebrate. Her mother's family taught her early in life to enjoy what you could because trouble is never far away. Pay sharp attention to that trouble looming but don't let it taint your appreciation for life's gifts now. In her poetry, she offers gratitude for what she has been given, and bears witness to what is withheld from us or taken away.
A few short quotes from Marge Piercy:
Life is the first gift, love is the second, and understanding the third.
It is not sex that gives the pleasure, but the lover.
Never doubt that you can change history. You already have.
The pitcher cries for water to carry and a person for work that is real.
Sources: MargePiercy.com, Wikipedia.
Photo: Poetry Foundation