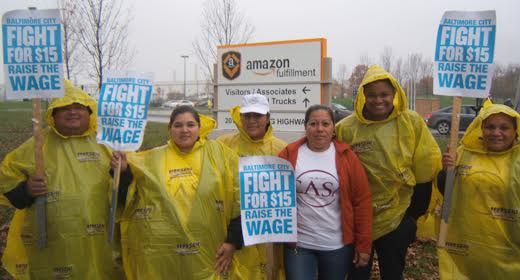 BALTIMORE – Hundreds of low-wage workers — African American, Latino, and white — marched on a picket line in the rain outside the Amazon Fulfillment Center, here, Nov. 10, chanting "Fight, fight, fight for 15 NOW!"
Sponsored by the Baltimore AFL-CIO, many unions and community organizations, it was one of hundreds of "Fight for $15 Day of Action" protests across the nation.
Flor Vargas, a housekeeper who earns $9 an hour said, "I work every day to support my family but I just can't get ahead, even earning more than the minimum wage. All of my daily living expenses keep going up but not our pay. I think Baltimore workers deserve a $15 minimum wage."
The current minimum wage in Maryland is $8.25 per hour — one dollar higher than the federal minimum wage. In 2014, the Maryland General Assembly raised the minimum wage to $10.10 per hour but it will not take effect until 2018.
Armeta Dixon, Vice President of Local 1199 Service Employees International Union, responsible for Long Term Care Facilities in Maryland and the District of Columbia was greeted by a steady stream of hospital and health care workers who arrived on a yellow school bus to join the picketline. Local 1199 distributed yellow plastic ponchos to the crowd picketing in the rain. Dixon told the People's World, "Amazon is a symbol of corporate greed. The fact that they pay more than the minimum wage is a good thing but it is still not a living wage. Even if you are earning $13 an hour, you still need a second job to support yourself and your family. We need higher pay to live."
Maryland and Baltimore City gave Amazon $43 million in "tax incentives" to open the "Fulfillment Center" here. Most of the jobs provided at the facility are part time offering low wages with no benefits and no guarantee of full time employment.
Cynthia Murray was wearing her green "Our Walmart" T-shirt as she marched with other Walmart workers employed at Walmart's store in Laurel, Maryland. She has been an employee of Walmart for fifteen years.
"We want a $15 minimum wage and full-time hours," she told the People's World. "I love my co-workers. They are like family. That's why it is important to raise the wages for all of us. I see some workers on payday. They may be able to pay the rent but can't pay for food. And they work for the richest company in the world." Walmart, with 11,500 stores in 28 countries, reported gross profits of $130 billion for the 12 months ending July 31, 2015. Yet Walmart CEO Doug McMillon groused that raising the chain's minimum wage is eating into profits.
Walmart, she said, just recently raised it's minimum wage to $9 an hour. "When they did that, other companies followed suit. We got raises for half a million workers. It is our organizing across the country. We won changes in the company's pregnancy policy for women workers," she added, and also a policy called "Open Available Shifts" Employees who have worked only one day in a week can check a bulletin board for days available in other departments and tell the manager "I need that job," she said.
Walmart workers, she said, will stage another "Black Friday" protest the day after this coming Thanksgiving to press their demand for higher pay.
John Bullock marched with a sign, "Fight for $15 NOW." He is a Political Science teacher at Towson University and a candidate for Baltimore City Council. "I'm here in solidarity with the workers," he said. "Yes, I earn more than the minimum wage. But everybody deserves a living wage. It is hard to support yourself and your family even if the minimum wage was $15. We are a nation of working poor. People work full time and they are still poor. And the corporations? They are doing well. They can pay their workers better. I love this movement. These are people struggling to correct the problem."
Photo: Tim Wheeler/PW