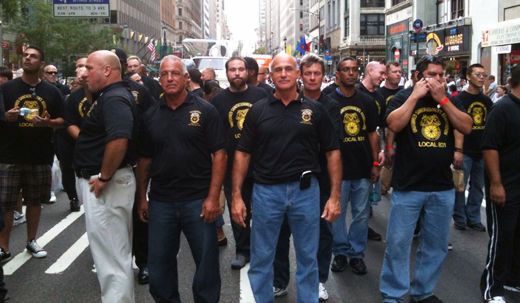 NEW YORK – On September 10, this city's main thoroughfare, Fifth Avenue, was filled for 30 blocks with thousands of union families celebrating the labor movement.
Although smaller then Labor Day marches here in the past, this one had a much more focused and militant feeling than others. Spurring it was anger as the assault on private sector labor over the past 30 years by corporate America has now shifted to public workers.
"Join New York working families celebrating a proud, strong and united labor movement," was the message from the NYC Central Labor Council.
In the crowd, Curtis Tate of Transport Workers Local 100 said, "We are here today to show our union pride and send a message to Wall Street and the fat cats that it is absolutely labor that makes this city, this great state and country run."
"I listened to the president's speech the other night," Tate said. "I think it was a good beginning, solid beginning."
"We need jobs," Tate said. "Workers' rights are human rights. Everyone is entitled to a decent paying job. It is a matter of human decency. It is a right to be able to feed your family, have medical coverage and just lead a decent life."
"I can thank the union for everything I have today," he concluded.
This is a contract year for TWU Local 100. City transport worker Joseph DePaula noted, "We are fighting to keep the benefits we have."
Randi Weingarten, head of American Federation of Teachers, was at the head of the city's United Federation of Teachers contingent. New York City Comptroller John Liu greeted people along the route. Many people left the march to get a picture with the much admired Liu. Also marching was newly elected New York Central Labor Council President Vincent Alvarez, a member of IBEW Local 3. He is the first Latino president of the council, and is expected to bring a much needed boost to unity in the labor movement and with New York's varied communities.
In the march, World War II veteran Mitch Berkowitz said, "I'm a strong union member. It makes me tear up to watch unions come alive. Wisconsin was a dramatic thing and Fifth Avenue today is another one." Commenting on Obama's speech Bekowitz said, " I liked the tone. Putting Republicans on the mat and telling the people to call and talk and tweet and all that was good to hear".
Chris Silvara of Teamsters Local 808 shared his thoughts about the march. "We are here to march in protest against this assault on the working class. We are here to say we deserve a fair share of the profits that are being generated quietly by the money class." Teamsters locals made up the largest contingents of the day.
Not everyone in the march was a union member. Peter, who works at FedEx which is non union, said "I think unions are great. I liked the president's speech. It's a good idea getting people back to work. He's got to get Congress to agree".
Many other city unions were also represented including social service workers, school administrators and electrical and construction workers.