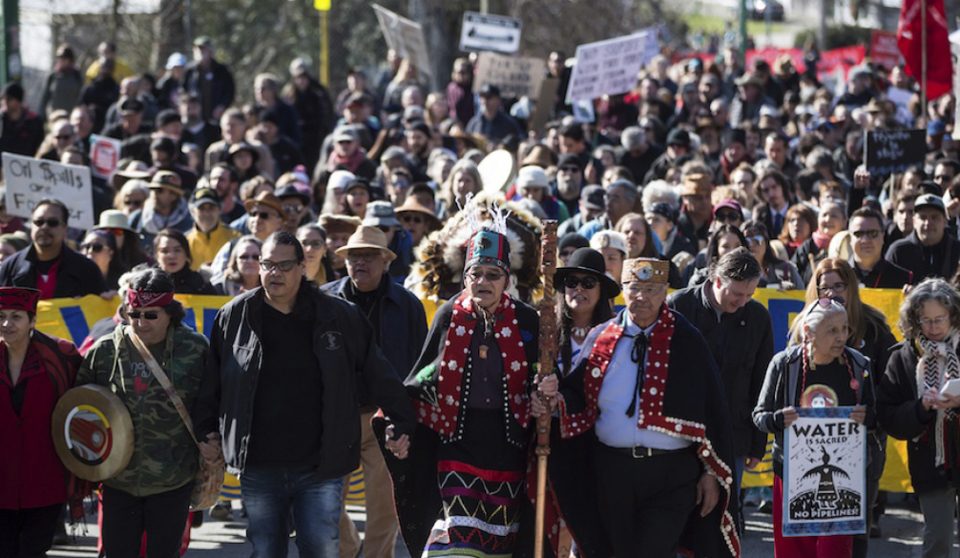 Thousands of people marched at the weekend in protest against a project to expand a pipeline and nearly triple the flow of oil from Canada's tar sands to the Pacific coast.
Indigenous leaders led the march in the Vancouver suburb of Burnaby after telling the crowd that Saturday's demonstration was a celebration of unity but they should be prepared in the future to "cross the line" with civil disobedience.
"Our spiritual leaders today are going to claim back Burnaby Mountain," Rueben George, a member of Tsleil-Waututh Nation, said before the crowd marched to the steady beat of drums and chants towards a site near Kinder Morgan's storage tank farm in Burnaby.
Many protesters carried signs that read: "Water is life," "No consent, no pipeline," and "Keep it in the ground." Others hoisted inflatable orcas and beat drums.
Canadian Prime Minister Justin Trudeau approved the project in late 2016, saying it was in Canada's best interest to ship out even more tar sands oil, the extraction of which is highly destructive to the environment.
Scientists are adamant that nearly all known oil and gas reserves must be kept in the ground if the Earth is to avoid catastrophic global warming and climate change.
Trudeau has claimed, nonsensically, that expanding the pipeline is part of his plan to reduce greenhouse gas emissions and meet Canada's obligations under the Paris climate agreement.
Kinder Morgan says it is going ahead with preparatory work at two terminals in Burnaby but still needs to obtain local and federal approvals to begin construction.
The project has drawn legal challenges and opposition from environmental groups and indigenous tribes as well as from local councils such as Vancouver and Burnaby.
It's also sparked a dispute between the provinces of Alberta, which has the world's third largest oil reserves, and British Columbia.
Hours before the march, anti-pipeline activists began building a cedar structure on public land near Kinder Morgan's tank farm.
Will George, a member of the Tsleil-Waututh Nation, said that he plans to occupy the "watch house" to keep an eye on approaching threats such as the pipeline. "This is just the beginning," he said, predicting that there would be arrests in the future.
Morning Star.