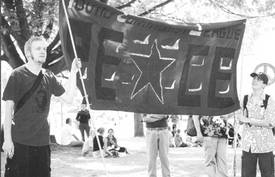 VANCOUVER, British Columbia — With over 4,000 international delegates from some 90 countries and the participation of thousands more from across Canada, the World Peace Forum 2006 opened here June 23. Dozens of panels, concerts, workshops and other events continued over the next five days.
The biggest event of the WPF came on the second day of the gathering, as an estimated 10,000 people marched in the "Walk for Peace, Justice and Sustainability" to a rally at Sunset Beach in Vancouver's West End.
The rally was headlined by "peace mother" Cindy Sheehan, who moved many to tears with her powerful call to end the violent U.S. occupation of Iraq now, before the death toll rises even higher. Sheehan, whose son Casey was killed in Iraq while serving in the U.S. military, embraced Iraqi journalist Nermin al-Mufti and said she shared the pain of Iraqi mothers who have also lost their sons and daughters to war.
Other rally speakers included B.C. Teachers Federation President Jinny Sims, anti-globalization activist Walden Bello from the Philippines, progressive Mexican Bishop Samuel Ruiz, Bev Jacobs of the Native Women's Association of Canada, and South African teachers' leader Thulas Nxesi. Buffy Sainte-Marie got the crowd to their feet with a performance of her antiwar anthem, "Universal Soldier."
At the opening plenary of the WPF, Ono Reiko of the Japanese Confederation of A- and H-Bombs Survivors' Organizations concluded an emotional address with an appeal for "No more Hiroshimas! No more Nagasakis! … No more war!"
Several U.S. mayors used the plenary to condemn the Pentagon's bloated military budget.
"I fear that my country, the United States of America, is failing to effect real leadership," said Mayor Jennifer Hosterman of Pleasanton, Calif., referring to the responsibility of mayors around the world to take action on national and international issues that affect their communities.
Greg Speeter from Cities for Peace said local officials are having to deal with issues of environmental degradation, poverty and violence "with fewer and fewer resources." Speeter bemoaned the size of the U.S. military budget versus the amount spent on environmental protection, health care and antipoverty programs.
"Thirty-one percent of the children in Chicago live in poverty," he said. "That's up from 25 percent when the Bush administration came into power. … The amount of money that Chicago spends on war each year could provide a college education for every high school graduate and build 10 schools in the city."
Vancouver Mayor Sam Sullivan, whose pro-business Non-Partisan Association majority initially opposed the city's hosting of the WPF, congratulated current City Councillor David Cadman and former Councillor Ellen Woodsworth for their efforts in creating the forum. He said, "Hearing stories of cities that have endured war was a real eye-opener for me."
Alfred Marder of New Haven, Conn., president of International Association of Peace Messenger Cities, spoke about how "millions of voices are demanding an end of the madness endangering our planet," particularly the danger posed by nuclear weapons.
Derek Corrigan, the mayor of Burnaby, B.C., urged citizens everywhere to pressure their cities to join the 1,300-strong Mayors for Peace and help create global solidarity for world peace.
Buffy Sainte-Marie and Somali-born hip-hop artist K'Naan drew a crowd of over 2,000 to Vancouver's Orpheum Theatre during the forum for a benefit concert for campaigns to eradicate the antipersonnel explosive devices that kill and maim more than 10,000 civilians each year.
Another highlight was the strong presence of the World Peace Council, which relaunched its "Peace Messenger" in newspaper format to coincide with the forum. Speakers from the WPC and its affiliated national organizations took part in a number of forums and panels, and a special seminar featuring top WPC leaders presented the long-standing antiwar group's priority campaigns on global issues. The seminar was the first major public event featuring the newly re-established Canadian Peace Congress, which is now active once again as a WPC affiliate.
Orlando Fundora of Cuba, president of the WPC, called for an end to state-sponsored torture in Guantanamo and in Iraq and asked all governments to abide by the UN Convention against Torture and Inhuman or Degrading Treatment or Punishment. Fundora, a victim of torture at the hands of former Cuban dictator Fulgencio Batista, presented his demands on June 26, the day that the UN General Assembly designates as International Day in Support of Torture Victims.
U.S. delegates included Judith Le Blanc, co-chair of the New York-based United for Peace and Justice.
For more information on the forum, visit www.worldpeaceforum.ca.
— People's Voice (Canada)
TOWN HALL May 2 – Confronting the COVID Economy: Women Fight Back