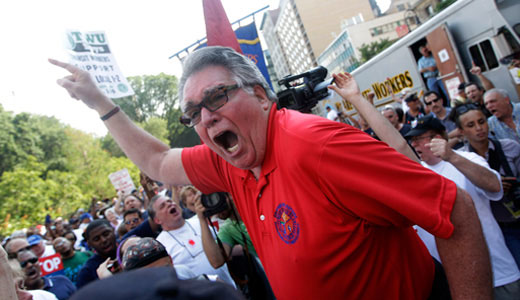 NEW YORK – A mass march of thousands from Con Ed's headquarters to New York City's Union Square, in 100-degree heat on July 17, added to the pressure on the rich utility to end its two-week-old lockout of its 8,500 union workers, members of Utility Workers Local 1-2.
The pressure was enough to force Con Ed's first concession since it locked out the workers on July 1. On July 15, it reinstated their health insurance.
Con Ed locked out the workers – right as the New York metro area suffered its worst heat wave in years – because they, and their local, refused to give in to its demands. Con Ed wants to impose shaky, 401(k) style retirement accounts on new hires. It wants present workers to take the small raises and wants to sharply raise workers' share of health insurance premiums.
Thousands marched through the broiling downtown Manhattan streets, showing solidarity with the Utility Workers. Banners from other unions, including AFSCME and UFCW, waved in the sun during the parade.
And that wasn't the last protest scheduled. Local 1-2 distributed handbills to passers-by on July 20 outside the swanky Upper East Side home of Con Ed CEO Kevin Burke, contrasting the firm's demands on the workers with Burke's $11 million paycheck and Con Ed's $1 billion in profits last year.
"This is a new level of (corporate) arrogance in the midst of the worst heat wave in decades," Communications Workers President Larry Cohen, one of dozens of union leaders who joined the Utility Workers in their protest, told his union's activists later.
"If Con Ed can lock out 9,000 workers and if that management is so confident that we" in unions "don't have the desire to be with those workers and to shut that company down, it'll be a shame on every one of us. If that company gets away with it and busts that union, none of us are safe."
The pressure pushed Con Ed, on July 19, to finally produce financial documents for union insurance actuaries to study during the weekend, the local reported on Facebook. Another bargaining session was scheduled for July 23.
"We need to keep Con Ed honest before we listen to any proposal. This is a marathon, not a sprint. Stay strong!" the Facebook post added.
Besides the mass march, the union also asked the state Public Service Commission to intervene by investigating whether Con Ed is providing legally qualified service to its customers in New York City and Westchester County.
Con Ed rejected that demand and asked the PSC to dismiss the complaint.
That prompted New York State AFL-CIO President Mario Cilento, who also spoke at the Union Square rally, to retort: "Like the proverbial ostrich, Con Ed continues to bury its head in the sand, denying that its needless lockout of workers is impacting services." The state fed also joined the Utility Workers' request for PSC intervention.
The local also ran a full-page ad in the New York Daily News, stating, in part, that "We take our jobs seriously and deserve fair wages for our dedicated service. But Con Ed wants to roll back our pay and benefits.
"Con Ed says our compensation is 'out of line' with industry standards. They've already taken away the defined benefit pensions, disability pay and reduced the health benefits for new non-union employees. Now they want us to join the millions of workers who no longer have real pension benefits…Con Ed's executive pay is 'out of line.'"
In a July 16 open letter, Local 1-2 President Harry Farrell added that "Con Edison is resorting to lies, innuendo and half-truths, now that it placed 8,500 New York families on the back of the taxpayers, by telling elected officials, the 9 million New Yorkers in its service area and the media that it is bargaining in good faith and that the union better settle for a contract that reduces our wages, increases our health care contributions 100% and takes away our pensions."
He called on Con Ed customers to protest to the firm and the PSC and to demand their elected officials, at all levels, take a stand for workers.
"We did not strike. Con Edison threw us on the street.
"Local 1-2 chose not to call a strike and Con Edison, without any warning, turned the key and locked us out in the wee hours of July 1. This action we believe places the public in great peril. Con Edison made a cynical, calculated decision to lock out its professional workforce and rely instead on geriatric office workers, retired older workers, out-of-state renegades and office managers to keep the electric, gas and steam grids operating," Farrell's open letter adds.
There are an estimated 5,000 "replacement workers" and the union notes several have already been injured on the job. Despite huge electricity demand due to the heat waves, Farrell added New York's power grid "has held so far." That's a "testament only to the men and women of Local 1-2 who built, operate and maintain the largest urban energy system in the U.S."
Photo: Harry Farrell, president of the Utility Workers Union of America Local 1-2, gets the crowd going as union members participate in a march and rally in support of locked out Consolidated Edison workers, July 17, at Union Square in New York City. Mary Altaffer/AP