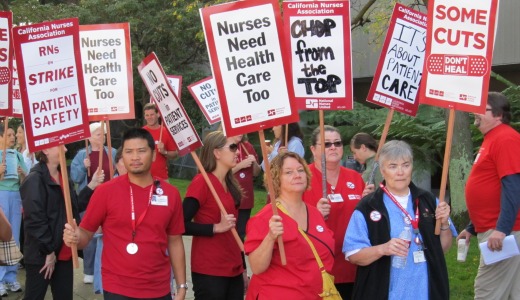 BERKELEY, Calif. – Nurses picketing Sutter Alta Bates Medical Center here Sept. 22 broke into boisterous cheers as AFL-CIO President Richard Trumka asked them, "Is anyone out there fed up with Corporate America?"
The nurses were among 23,000 of their co-workers holding a one-day strike at three-dozen Sutter Health and Kaiser Permanente facilities in northern and central California, as well as Oakland Children's Hospital.
Calling nurses "the last line of defense for patients," Trumka said nurses "have more responsibility in an hour" than executives have "in a year … Sutter's here for the profits, you're here for the patients. Sutter wants to work the system, you want the system to work for everyone."
Trumka pledged that the AFL-CIO's 12.5 million members "are not just on your side, we're at your side. We thank you for having the courage and commitment to stand up for patient care and good jobs."
The nurses' union, the California Nurses Association/National Nurses United, says that despite amassing $3.7 billion in profits over the last five years, Sutter Health is insisting on demands that would limit nurses' ability to advocate for their patients, end paid sick days, forcing them to work while sick, and slash their health care coverage and retiree health benefits.
The nurses are also protesting dozens of cuts in services at Sutter facilities, including ending breast cancer screening for women with disabilities, closing or seriously cutting back psychiatric services, ending or cutting back care for children, threatening to close hospitals in underserved areas, and shutting down home health care services.
"I've been a nurse at Sutter Alta Bates here in Berkeley for 43 years, and I've never seen such vicious takeaways," Christine McCargar said in an interview. Noting that Sutter's profits are enormous, and most Sutter top executives have had raises of over 100 percent in recent years, McCargar said nurses "would be willing to negotiate in earnest if Sutter would take off the takeaways."
A handout at the rally listed 20 Sutter executives with salaries of more than $1 million a year – four of them over $2 million. CEO Pat Fry's pay was listed as nearly $4 million.
Pennie Torres, who said she'd recently been hospitalized at Alta Bates, part of the time on life support, said as she began to recover she'd noticed that nurses and other health care workers were having to work while they themselves were sick. "Don't let others have to suffer what I did," she said.
Nurses at Children's Hospital Oakland were protesting inadequate staffing there, as well as management's efforts to cut their health coverage, which they say would make it prohibitively expensive to bring their own children for care to the hospital where they work.
Kaiser nurses were striking in solidarity with other Kaiser workers who face deep cuts in health coverage and retirement benefits.
Also on the picket line were hospital workers from other disciplines.
Among the speakers was other Sutter nurses, including one who is also a city councilman in nearby Albany, as well as area Assemblywoman Nancy Skinner and San Francisco Labor Council head Tim Paulson.
As the rally came to a close, Children's Hospital nurse, and the rally's MC Martha Kuhl told the crowd, "We struck for one day. We're prepared to go back to work at 7 a.m. tomorrow." But, she said, the hospitals "have once again chosen to squander everyone's health care dollars" by hiring "replacement workers" for several days beyond that. "They should be ashamed for that," she said.
The strikers responded, "Shame on them! When you take on one of us, you take on all of us!"
Photo: Marilyn Bechtel/PW.