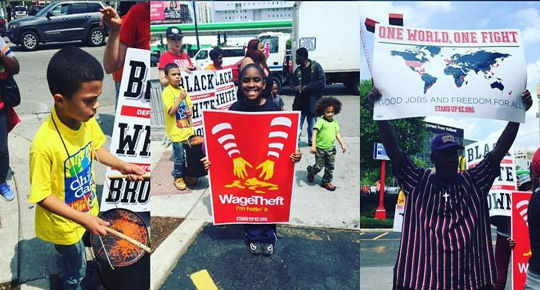 OAKBROOK, Ill. — Workers of every age, race, and gender united from across the nation to disrupt the shareholder meeting of the world's tenth largest employer with their own demands. The McDonalds corporate headquarters sits in a suburb of Chicago, Illinois. On May 25, squadrons of buses arrived in Oakbrook from which thousands of people poured into the streets and marched through the heavy rain with shouts of "15 and a Union!" Low-wage workers set up tents outside the entrance to the global corporation's central building in a torrential downpour, where they then camped out to await the arrival of the company's major investors the following morning. (story continues after video)
A large mass of working people, marched again early the next day as the meeting commenced. Crowd estimates from a variety of media sources ranged from 2500 to over 10,000. Domestic laborers, activists, youth, and people employed in various sectors of the U.S. low-wage economy spoke to People's World of the impact that poverty wages have on their lives. They spoke of what brought them together to fight for living wages and the right to a union. Many highlighted with their responses and through their chants the connection between the violence of racial oppression and the exploitation of their labor.
The #Fightfor15 is a national movement of low-wage workers fighting for a universal $15/hour minimum wage and the right to join a union without retaliation for every person in the United States. It is a movement overwhelmingly driven by women, youth, and people of color and is uniting with the movements to end police terror, racial segregation, and for immigrant justice.
Video: "Young workers gather in a circle, expressing through communal dance and music the passion of their demand for a life of dignity: "Put respect on my check!"
Photo: from slideshow below