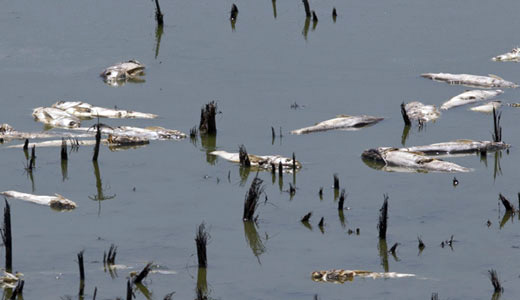 Fish are showing up dead in the thousands throughout the Midwest U.S. as the blazing summer temperatures heat up lakes and streams. The number of fish affected — including endangered species — has come as an unpleasant surprise to concerned scientists, and provides a sobering example of the damage climate change is causing.
Around 40,000 shovelnose sturgeons died last week in Iowa as water temperatures hit close to 100 degrees in some areas. That scalding heat also resulted in the deaths of carp, catfish, smallmouth bass, minnows, and the endangered pallid sturgeon. But one of the fish most threatened is the greater redhorse fish, which is also endangered, say Illinois biologists.
The amount of sturgeon found dead in Iowa's Des Moines River were estimated to be worth almost $10 million in total, according to the Iowa Department of Natural Resources.
Over in Illinois, so many fish died in one lake that the carcasses clogged a nearby power plant's intake screen. This lowered water levels to the point where the station had to shut down one of its generators.
Mark Flammang, a fisheries biologist with the Iowa DNR, remarked, "It's something I've never seen in my career, and I've been here for 17 years. I think what we're mainly dealing with here are the extremely low flows [of water] and the unparalleled heat."
As for exactly how many fish were killed altogether, Dan Stephenson, a biologist with the Illinois Department of Natural Resources, said that it's difficult to estimate. "We're talking hundreds of thousands, maybe millions by now," he commented. "If you're only talking about game fish, it's probably in the thousands. But for all fish, it's probably in the millions if you look statewide."
Stephenson also outlined the difference in this summer's fish deaths from normal die-offs: while the latter usually occurs in small ponds and streams, this is a large-scale event happening in all affected bodies of water.
"This year has been really, really bad," Stephenson continued. "Disproportionately bad, compared to our other years."
Aaron Woldt, Fisheries Program supervisor for the U.S. Fish and Wildlife Service, explained, "What happens is, when a body of water gets that warm, it's simply not capable of carrying a high amount of oxygen, so the oxygen levels in the water start to go down, and it starts to stress the fish."
Daryl Bauer, a Nebraska fisheries program manager who observed fish deaths in that state, took note of the unusual situation, remarking that one dry summer usually isn't enough to hurt the fish population. He worries these conditions will continue, however.
A stretch of the Platte River in the central part of the state has gone dry and left sturgeon dead, he noted. "It's a lot of miles of river, and a lot of [dead] fish," he said. "Most of those fish are barely identifiable. In this heat, they decay really fast."
The problem persists in other states as well. In South Dakota, dead fish have washed up with lesions on them, a sign that they were affected by a bacterial infection. And in Kansas, declining water levels have put younger, smaller game fish at risk.
According to Flammang, even though these fish have been around for thousands of years and are "accustomed to all sorts of weather conditions, sometimes you have conditions that occur that are outside their realm of tolerance."
Those conditions are due to global warming, and part of an ongoing drought that is reportedly affecting nearly two thirds of the contiguous 48 states. And around 1,600 counties in 33 states have been declared disaster areas. More than 3,000 heat records were broken over the past month.
James Hansen, professor of earth and environmental studies at Columbia University and head of the NASA Goddard Institute for Space Studies, said, "The probability of these unusually hot, hot spells, forest fires, and extreme droughts has increased substantially over the last few decades. They are a product of global warming, and we can see that very easily."
Photo: Dead fish float in a drying pond. Nati Harnik/AP