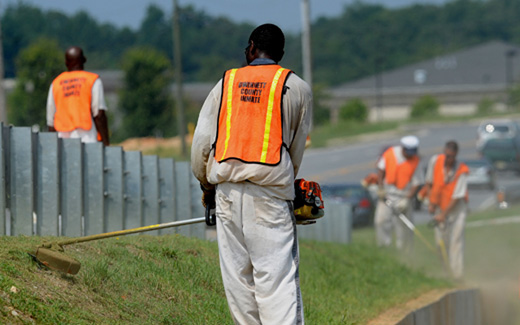 Thousands of inmates in at least seven prisons across the state of Georgia staged a one-day peaceful protest in the form of a strike for their human rights, Dec. 9. The action is aimed at the Georgia Department of Corrections and is being called the biggest prisoner strike in recent U.S. history.
According to reports from inmates using banned cell-phones behind bars, they're on strike in protest of poor living and working conditions. The action is markedly similar to an organized labor campaign and was apparently assembled largely through a network of contraband cell-phones using social media, texting and word of mouth.
It's unclear if the strike is still in effect or how long it will last.
However prisoners using cell-phones contacted reporters saying they will continue refusing to leave their cells of perform their jobs until they receive the following: better medical care and nutrition; more educational opportunities; just parole decisions; an end to cruel and unusual punishments; decent living conditions; better access to their families and a living wage for the work they do in the prisons.
One of the inmates named Mike told The New York Times, "We have to come together and set aside all differences, whites, blacks, those that are affiliated in gangs." He said that prison leaders are focused on telling inmates to remain patient, and not to consider resorting to violence. Every dormitory at participating prisons has at least one point man with a phone that can keep the other inmates in the loop, he added.
Over the years using smuggled cell-phones in prison has become commonplace, but this protest appears to be the first of its kind using phones to orchestrate a grass-roots movement behind bars, notes the Times. "The prison protest has entered the wireless age," it says.
The prisoners say they want to stop being treated like "animals and slaves" and want programs instituted to address their basic human rights.
Family members of some of the inmates say authorities have responded with violence and intimidation. Sources say tactical officers rampaged through one of the prisons destroying personal items of inmates and severely beating at least six prisoners. At another prison hot water and heat were cut off even as the average temperature remains in the 30s. Those thought to be the strike's leaders have been placed under close confinement.
Critics say the root of the problem has to do with the systemic failures of mass incarceration and utter disconnection of U.S. prisons from any notion that claims to protect or serve public interest. Georgia's prisons are known for skimpy medical care and nutrition behind its walls and there are no recreational facilities or any educational programs beyond GED. Most inmates upon their release will have no more education than they did when they went in, and will be largely excluded from Pell Grants and other kinds of educational assistance. The system potentially locks them and their families into a disadvantaged economic status for life, say critics.
Meanwhile besides being big business, the U.S. has less than five percent of the world's population, but accounts for almost a quarter of its prisoners. African Americans are one eighth of the U.S. population, but make up almost half of those locked up. And the nations prison population has increased more than 450 percent in a generation beginning in the early 1980s. Since then, the prison industrial complex has undertaken a well-documented policy of mass incarceration, focused primarily though not exclusively on African Americans, critics note.
America's policy of mass incarceration is overdue for real and sustained public scrutiny, they add. A movement needs to be built on both sides of prison walls that will demand an end to the unjust prison industrial complex and the racial disparities it enforces due to an economic system based on super-profits rather than people's needs.
Photo: Inmates on the Gwinnett County, Georgia work crew cut grass at Duncan Creek this past August. Gwinnett County stated that they hope to restore a prison inmate labor program to save the county millions of dollars in labor costs. JohnnyCrawford/AP