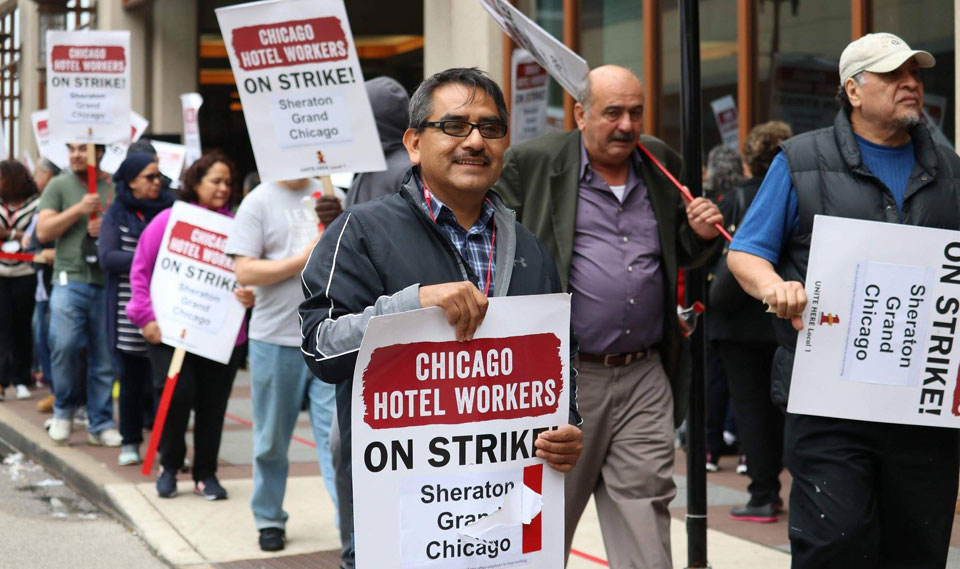 CHICAGO – Thousands of workers striking this city's 26 biggest luxury and boutique hotels for the last seven days paraded along the Magnificent Mile today, producing noise that rose up through the cavernous skyscrapers from one end of the wealthy shopping boulevard to the other.
Wave after wave of workers representative of one section after another of the city's huge multi-national and multi-racial working class participated. The Mexican workers shook their maracas vigorously only to be followed by the even louder waves of Asian workers crashing their cymbals together while the African American workers banged so hard on overturned buckets that some of them broke. If not the most joyful outpouring of determined workers ever it has become the largest strike of hotel workers in Chicago history.
"Six years ago it was the teachers, then the auto mechanics, then the window washers, now the hotel workers," said an ebullient Robert Reiter, president of the Chicago Federation of Labor, at the rally.
The strike in Chicago is part of a national uprising of hotel workers across the nation, with workers fed up over substandard wages and poor and often dangerous working conditions.
A big issue in Chicago is the attempt by the hotels to cut health benefits. Full timers often get laid off during the slower winter months and the hotels, including Hyatt, Hilton, and Marriott are seeking to deny health benefits to workers while they are laid off.
Even workers totally unaffected by those layoffs and cuts turned out by the hundreds today to support their fellow workers. "It doesn't affect me but I'm here anyway," one enthusiastically told a People's World reporter.
The huge march today started at Ogden Park Plaza and moved along Michigan Ave. up to Oak. When the strike began last Friday, 25 hotels were involved with workers at an additional hotel joining today.