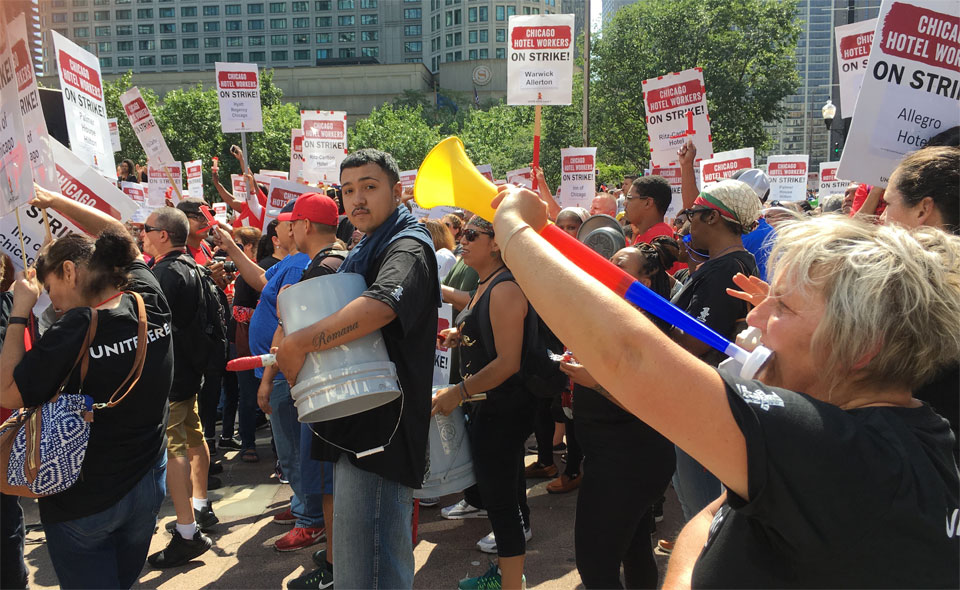 CHICAGO – There are more than 6,000 striking hotel workers in Chicago, and Thursday it felt like every last one of them was on the sidewalks of this city's Magnificent Mile in the biggest percussion orchestra this city has ever seen. Drums, whistles, cowbells, and wooden spoons on upside-down plastic garbage cans drown out the strikers own cries of "No justice, no peace."
"Make noise, that's it," said Kate Baylis, 45 who works as a room attendant at the Palmer House Hilton. Baylis was making a godawful racket banging on a muffin tin with a spoon. The muffin tin was looking the worse for the wear. She was determined to get the attention of the owners of the 26 hotels that have refused to meet the workers' demands.
"It's pretty common to get laid off during the slow times" in the winter off-season, Baylis explained. Then the workers lose their health care coverage. Baylis is not personally affected – with 20 years seniority, she doesn't face the winter layoffs – but the issue is important to her anyway. "We all coming together as one," she says.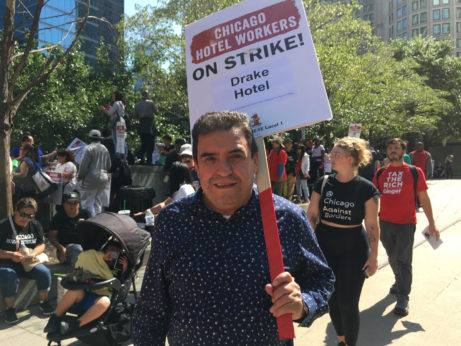 Jesus Morales, 61, a banquet server at the Drake Hotel, described two coworkers who ran into trouble when they lost their sick pay. One got hurt last December when he slipped on ice in the street, Morales told People's World. "He's broke his hand, he's diabetic. He really needed insurance, but they cut it. It's not fair," he said. "We want them to get insurance year-round."
Morales is a member of the executive board of Local 1 of Unite Here which represents the striking workers and he's on the negotiating committee. The union is also fighting for a raise in their new contract, he says. "The cost of living is up almost 3 percent," and, he points out, Chicago is a very expensive city to live in.  "The workers can't afford to live around here," Morales explains, waving a hand at the luxury hotels and boutiques where most of the struck hotels are located. The long commute costs. He has to pay $8 a day to park and it takes him an hour or more to get to work.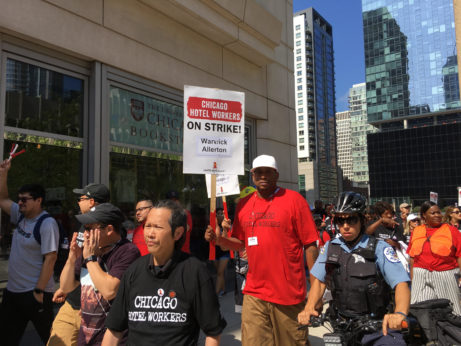 I ran into Linda, 57, who declined to give her last name, at the rally that launched the march. Linda and her co-worker, both banquet servers at the Hyatt Regency, were sitting on a wall on the plaza, listening to the speeches.  Linda is one worker who has a personal stake in the insurance issue.  With three years on the job, she had her insurance cut off when she wasn't given enough hours. "Right now, I'm on Obamacare," she said. She's paying almost $400 per month. "This is my first strike," she said with enthusiasm. "It's pretty wild!"
It was difficult to find out much more because her colleague was blowing a kids' plastic horn close by.  The co-worker declined to be interviewed. "I can't talk right now – I'm on my strike," she said, returning to her horn.
For some, the health and safety concerns are even more serious.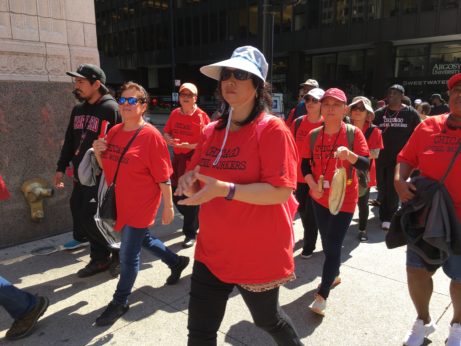 "We've lost a lot of lives," said rally speaker Roushaunda Williams, strike captain and bartender at Palmer House Hilton. "We pray to God that not another soldier has to die from being overworked." People on the march talked about their onerous workloads.
"We got pots, we got pans, we are out here. Anything we can beat on," said 39-year old Donnell Fraley. A houseman, Fraley has worked for 19 years at the Allerton Warwick, where his job entails pulling 60 to 80 heavy bags of dirty linen from the guest floors to the laundry every day. It's hard work. and Fraley thinks the hotel owners owe the workers more.
The hotel workers walkout is the latest in a wave of militant labor actions, asserted Chicago Federation of Labor President Bob Reiter. "Six years ago, Chicago teachers walked these streets," he reminded the crowd. Last year it was the auto mechanics, he said, and this summer the window washers successfully struck. "As long as it takes to get these people to listen to you, to get what you need, we've got your back," he pledged on behalf of Chicago labor.
Francisco Zamudio, 60, a cook at the Ritz Carlton, works with Chef Carlos Leon, 46, on the same team in the kitchen. They tell People's World that the workers were prepared for this. "We voted for this, all of us," Zamudio says. He had beaten so hard on the upside-down plastic trash can he carries that he broke a hole in it. But somewhere along the march, he found some tape to repair it so he could keep beating the makeshift drum. "We are out in front of the hotel every day," Leon says about his crew.   The hotel entrance is covered in round the clock shifts. Leon notes with satisfaction that the restaurant is closed down.
"We have to make noise, to make people understand we are united. Without the employees, they – the owners – they get nothing."
The workers feel they have been dealt an injustice. They've determined that the hotel owners and those guests who foolishly crossed picket lines will get no peace, and certainly very little sleep.
Michelle Zacarias contributed to this story.