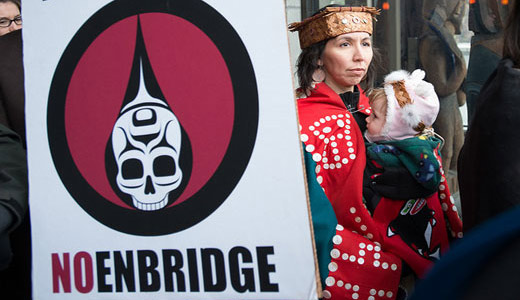 In Canada, thousands of protesters flooded the lawn of the British Columbia Legislature building in Victoria on October 22, for a "Defend Our Coast" demonstration against a proposed oil pipeline. The throng of activists consisted not only of environmentalists, but First Nations people as well, who voiced their concerns about oil projects taking place on their territory.
The target of protest was the Enbridge Northern Gateway pipeline, a project that would, if approved, transport oil from Alberta's tar sands to Kitimat, British Columbia. The pipeline poses a similar threat to that of the Keystone XL project, which itself was the subject of demonstrations in Texas this month. Many believe the Enbridge pipeline would have equally devastating consequences, like giving Big Oil a greater degree of political influence, and stunting the growth of renewable energy in Canada.
Taking part in the Victoria protest was Chief Jackie Thomas of the Saik'uz First Nation, who addressed an estimated 3,500 people. "We are demonstrating to show the strength of the support for First Nations people's rights to land and title, and the internationally protected right to free, prior, and informed consent on any development impacting our traditional territories," said Thomas.
To drive their point home, demonstrators assembled large canvas sheets that together depicted the outline of an oil tanker. When asked by Coastal First Nations executive director Art Sterritt whether, if the Enbridge project were greenlighted, they were willing to lie down before pipeline bulldozers to cause interference, the protesters responded with a collective "YES!"
Maude Barlow, chair member of the advocacy group Council of Canadians, said the demonstration showed "that you can't gut Canada's environmental legislation and try to put a price tag on the B.C. coast without a public response." That statement referred to recent cuts in the Canadian government's environmental departments and massive layoffs of top world scientists – tactics which all seem to contribute to a concentrated effort to push Big Oil at the cost of environmental safety.
"Canada's iconic coast is far too valuable to risk on tar sands pipelines and tankers," Barlow concluded, "and we pledge to defend it."
"Why would we support a [project] that would put our rivers, oceans, and life source at risk?" said Sterritt. "It's time to shut down the Northern Gateway project."
"We will be the wall that Enbridge cannot break through," Thomas had declared months prior to the demonstration. She added that the pipeline posed a terrible threat to "the natural beauty and cultural richness of the B.C. coastline."
Acknowledging Big Oil's increasing dominance within the Canadian government, author/environmentalist Tzeporah Berman remarked, "There are moments in history where it is clear that our elected leaders are failing us, and it is necessary to take a stand. Today, we are stating our intentions of defending our coast and calling on others to join us. The risk of oil spills and irreversible harm to our tourism and fishing industries from these pipelines and tankers is just too great."
Those risks that a potential oil spill might pose cannot be understated, activists feel. The Northern Gateway pipeline in particular would span remote areas, cross nearly 800 streams full of salmon, and wend its way around and through the habitats of valued and protected species of animals. Also amongst the proposed pipeline territory are various First Nations communities.
Beyond that, other activists felt that completion of the pipeline would also crush any hopes to expand clean energy jobs in the area. "We pledge to defend our coast and the mountains, rivers, forests, wildlife, and First Nations communities of B.C. against this," said Susan Spratt, west regional director of the Canadian Auto Workers. "We want long-term green jobs that will take us beyond fossil fuels – not short-term, high-risk pipelines."
Nikki Skuce of environmental group ForestEthics concluded, "People have thought about the Enbridge pipeline as a real key issue, whether it's to do with climate change, [government] bullying, cutting environmental legislation, First Nation rights, or shipping resources and the jobs that go with it overseas.
"They'll do whatever it takes to try and stop this project."
Photo: Keri Coles/Greenpeace Canada, Flickr