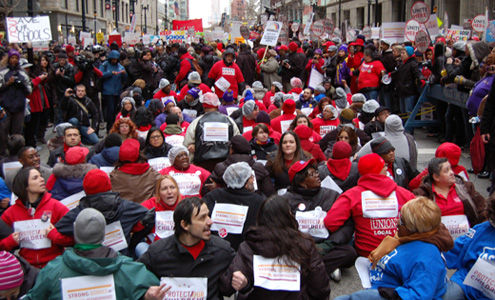 CHICAGO – "This is just the start! No more games in Chicago!" declared Jitu Brown, of the Kenwood Oakland Community Organization. "Our battle cry is, no matter what you can't have these schools. You'll have to drag us out of them kicking and screaming."
Brown was speaking to thousands of teachers, parents, students and city residents March 27 who protested the announcement by Chicago Board of Education that it will close 54 schools effecting 30,000 students.
Marchers, numbering some 7,000 circled City Hall where they directed their ire at Mayor Rahm Emanuel, who was on a ski vacation in Utah with his family when the announcement was made.
Demonstrators cheered as 150 people — teachers, school workers, parents, clergy and community activists — were arrested for blocking traffic.
"They are closing schools with names of African American icons (including singer Mahalia Jackson, Olympic athlete Jesse Owens and explorer Matthew Henson). But they want to open schools named after living billionaires," decried Karen Lewis, president of the CTU.
Lewis was alluding to privatization that is driving Chicago Public School policy.
"One set of schools for children who are learning how to become greeters and one set of schools for children who are being taught how to rule the world," she said.
"Let's not pretend that if you close schools on the South and West sides (predominantly African-American), the children effected won't be black," said Lewis. "Let's not pretend that's not racist."
Of the students affected by the closings, 80% are African American.
"This is not over until you say it's over. On your first day of school, you show up at your real school. We will file lawsuits and lobby our elected officials. But we can't do this without you," she said.
It is widely believed the closures will add to the destabilization of communities already racked by high poverty, unemployment and gun violence. Neighborhood schools often act as a stabilizing center. According to the map of the closings, some communities risk becoming "school deserts."
In addition to the disruption for students and communities, the closings will result in thousands of layoffs of teachers, support personnel, cafeteria workers, custodians and maintenance workers.
The demonstrators included members of the Chicago Teachers Union, Unite Here representing cafeteria workers and Service Employees International Union representing school custodians.
"The kids are the hope of Chicago's future. This city is in crisis when you can't have schools have recess because of escalating violence" said Shay Hillsman, a school cafeteria worker for 8 years.
"Students are being forced to choose between education and death. We may never acquire the wealth of the people who make the decisions. But we are Chicago," she said.
Also joining the demonstration was Rev. Jesse Jackson, several members of the City Council's Progressive Caucus and Rep. Bobby Rush
"We must look at the closings of schools for what they are which is the destabilization of our communities," said Rush in a statement. "The Department of Education reports and estimate $937.7 million allocated to CPS in 2013, a significant increase from last year's $827.5 million. Yet the Board's only solution is to close 53 schools."
Rush announced he would convene a congressional hearing into the impact of the closings on April 13.
Organizers are fighting on the legislative front and called for passage of bills that would place a moratorium on the closings.
The Board of Education's claim it is closing schools because of a $1 billion deficit and underutilization of facilities, has been sharply criticized by the labor unions, parents and community organizations.
Tom Balanoff president of SEIU Local 1 blasted the looting of schools by wealthy interests.
"They've said they have a $1 billion deficit, that's because they took $1 billion out of our property taxes to put it in a TIF and develop downtown," said Balanoff. "It's time to develop our communities, that's what we need."
More actions planned before the Board meets to approve the closings in May. Official hearings will be held at each school while neighborhood outreach meetings are being organized in an effort to block the closings.
Photo: Demonstrators sit down in the street to be arrested. Earchiel Johnson/PW