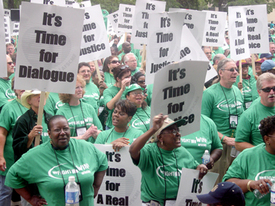 CHICAGO — Wearing union-made green T-shirts proclaiming, "We Fight, We Win," thousands of American Federation of State, County and Municipal Employees members joined Resurrection Health Care workers in a rally here Aug. 9 outside St. Mary of Nazareth Hospital. Together with AFSCME Council 31, community allies and religious leaders, they demanded that the hospital chain recognize their right to form a union.
Busloads of delegates and guests from AFSCME's 37th International Convention at McCormick Place packed the rally site, carrying signs, singing, dancing and chanting slogans.
Shirley Brown, an African American who has worked as a housekeeper at Resurrection's Westlake Hospital for the last 10 years, told the crowd that without workers like her, not even the best doctors or the fanciest equipment could heal patients. At Resurrection, she said, they spend money on marble floors for the lobbies but skimp on basic supplies she needs to do her job.
"Sometimes in our struggle I feel lonely," Brown said. "They try to scare me. They try to isolate me. They want me to feel like there's no hope. But when I look out and see this sea of green, I don't feel lonely. I feel like I have every single member of AFSCME right there with me, telling me to never give up."
AFL-CIO President John Sweeney told the crowd, "Resurrection can't fulfill its mission as a Catholic health care institution by trampling on the rights of the very people who are being asked to carry out that mission every day." He added, "We are here and we are not going away until the workers are able to form a union. The millions of AFL-CIO members are behind you."
Since 2002, nurses, housekeepers, technicians and staff of all eight Resurrection Health Care hospitals, working with AFSCME Council 31, have been leading a union campaign called "Health Care Employees Acting at Resurrection Together." They are asking management to meet with them as partners to address the quality of patient care and a fair process under which they could organize.
Resurrection's management has responded with a fierce anti-union campaign through tactics of intimidation and harassment, creating an atmosphere of fear and tension among employees.
"Shame on you, Resurrection Health Care," exclaimed AFL-CIO Executive Vice President Linda Chavez-Thompson. She told the workers, "You deserve decent wages, to be treated with dignity and respect, and to have the freedom to join a union."
William Lucy, AFSCME's international secretary-treasurer, declared, "You cannot intimidate AFSCME. You can piss us off, but there will be a union here at Resurrection and its name will be AFSCME. We do not go away, we will stay forever."
"I'm here because it's the right thing to do," Quincy Boyd, president of AFSCME Local 2730 from St. Louis, told the World. "Too many state workers are living in poverty." Boyd said an increase in the minimum wage is desperately needed. He said the rally represents "unity, solidarity and coalition," and shows that members of AFSCME really care. "It's time for justice, it's time for peace and to show the world we have a real voice," he added.
AFSCME Council 31 distributed a statement saying the workers are concerned about the "growing corporatization of the hospitals, shifting resources away from bedside care to cosmetic improvements and system expansion." The statement goes on to say, "It's time for a real dialogue about the issues that concern us, the people who do the work that keeps the hospitals running."
Gerald W. McEntee, AFSCME's international president, ended the rally saying, "Sisters and brothers! We are here today to stand with the workers in their fight to improve patient care, to put people before profits." He said it is wrong to intimidate workers who are only demanding what is right and fair.
McEntee pointed out that when frontline hospital workers speak out, working conditions and patient care both get better.
Resurrection has "allowed corporate greed to trump public need," he said. "But we are not giving up. We are proud to be here, because the workers are not backing down. I know you can take us home and Council 31 will lead the way."