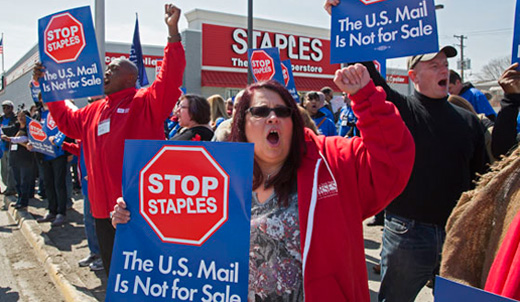 CHICAGO — "The corporate boot may be on our neck right now," stated Chicago Teacher's Union leader Kim Bowsky, to a packed Labor Notes conference, "but make no mistake about it, they have one in your size, too."
Bowsky was a leader of a large official delegation of Chicago teachers attending the left Labor Notes conference this past weekend in the Windy City.
In a major political development, over 2,000 trade union activists and friends attended the conference, which was geared toward helping unionists find ways to build coalitions and win struggles in today's difficult political climate.
Besides the Chicago Teacher's Union, official union delegations, some quite large, were present from other teacher's unions, the Amalgamated Transit Union (ATU), Teamsters, Steelworkers, the American Postal Workers Union (APWU), both major longshore unions ILWU and ILA, the Service Employees International Union (SEIU), the International Union of Electrical Workers (IBEW), the American Federation of State County and Municipal Employees (AFSCME), food and commercial workers, farmworkers, nurses and others. Some delegations were sent directly from International leadership offices.
"Our nation's postal service was set by our nation's revolution, with the guarantee, written into our constitution, that every American citizen be served equally, having access to our service," said APWU President Mark Dimondstein. "Those trying to privatize it and cut service to some are in violation of our nation's constitution."
To massive cheers, Dimondstein announced the formation of a new, four-union, postal worker's union alliance that will "promote solidarity and a common negotiating strategy for all workers in the postal service."
Hundreds then piled in buses that transported workers to a huge labor solidarity rally in downtown Chicago protesting Republican-led efforts to privatize the postal service.
This conference, organized by supporters of Labor Notes newspaper, a left labor publication, was, by far, the largest ever held. To many, it marked a growing frustration with years of "economic recovery" that has only benefited the wealthiest top 1%.
"I have attended these before," said Detroit steelworker Les Caulford, "but I've never seen anything like this. I drove in, bring some friends and literature, expecting maybe 200 to 300 delegates, maybe more, but this just shows how mad people are."
The conference report stated that there were 140 different meetings and workshops that conference participants attended. Those included fight for pensions, led by Chicago Teachers, on cooperatives, led by leaders of the Cincinnati labor federation and political independence, where broad coalitions from Lynn, Massachusetts, Richmond, California, Chicago and Seattle led discussions.
"This conference has just deepened my conviction that we must build a larger social justice movement if we are to win the fight for social justice," said Michelle Mahon a member of the National Nurses Organizing Committee.
Photo: Solidarity rally against privatization of postal services. Labor Notes.