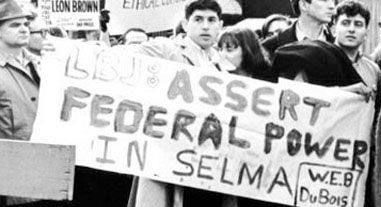 I'm very proud that my father and uncle, Joe and Dennis Mora, were both at the 1963 March on Washington, one of many demonstrations and activities they participated in during the civil rights heyday.
They went separately, my uncle on a bus organized by a Jewish organization in Brooklyn (with a "built-in governor so it didn't go above 40 mph, and needless to say, no air conditioning"); my father with other members of CORE – Congress on Racial Equality – from suburban Rockland County.
When I grew up, I followed in their footsteps – sometimes literally – attending the 20th anniversary march in 1983 and the 30th in 1993. And this year I'm going to the 50th anniversary march and bringing my 16-year-old daughter.
So I called both of them to ask three questions: Why did you go to the march? What do you remember? What do you think about the situation in terms of civil rights and the struggle against racism today?
My uncle, who has a big intellect and heart (and played a big role in the anti-Vietnam war struggle as one of the Fort Hood 3), is alas, a man of few words. So I have to be satisfied with the picture he emailed as an answer to the first question. And of course a picture is worth a thousand words – and this one beautifully captures the power of the movement and its demands.
My father, also a wonderful person and one of the millions of unsung foot soldiers of both the civil rights and the anti-Vietnam War movements, is a great storyteller. From him I got this moving, vivid memory, in answer to the second question:
"I had been to other marches before, but this one, the subject, the person – Martin Luther King – was a big draw. And though just being there was exciting enough, the more emotional thing for me was what happened as the bus drove towards the Lincoln Memorial. The streets on both sides were lined with people, mainly African Americans, cheering and clapping, shoulder to shoulder, all the way, 15-20 blocks straight. And of course on the bus we were all singing "'We Shall Overcome.'"
My uncle had a similar experience: "The reception we got as we drove down the D.C. streets made the uncomfortable ride worth it. People lining the side walks, Black & White, clapping and greeting us like liberation heroes. Bobby Zimmerman & Joan Baez not so much, but loved the UAW marchers that we met and talked to (little did I know that 16 years later I would be a member of same)." And to my last question, he said, "The legacy of slavery is long and deep-rooted, but with your actions today you are helping to extirpate that inhuman evil. Thank you for holding high the torch of freedom, and carrying it on."
So my father and uncle answered the first two questions, and the fact that my daughter and I, with their blessing, are going to the march this Saturday, kind of answers the last question about the status of the struggle today. Although there have been many advances made and historic firsts (President Obama!), our country has a very long way to go before racism and poverty are eliminated, and all people are treated equally, fairly, and with dignity.
Photo: Dennis Mora holds a sign demanding federal intervention in Selma, Ala., during the 1963 March on Washington for Jobs and Freedom. (Courtesy of Dennis Mora)