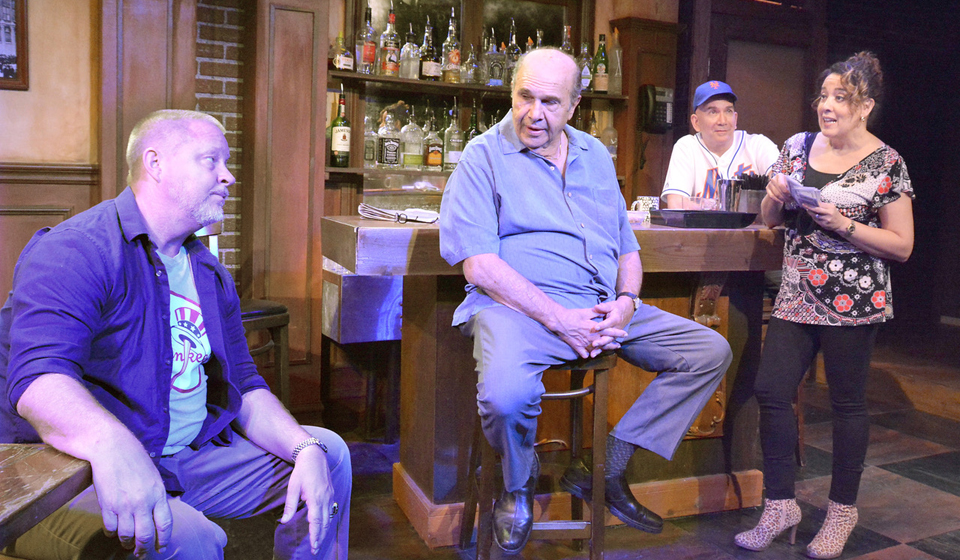 Jackie Unveiled
"At the end of the day," says playwright Tom Dugan, "when it comes to Jackie Kennedy Onassis's personal life—who knows what happened in the privacy of her own home? Jackie Unveiled is grounded in fact but it's the playwright's job to connect the dots. So I offer up this character of Jackie not as a long list of facts—but rather as a question. Jacqueline Kennedy Onassis made it all look so easy, but what if it wasn't?"
The iconic figure of Jacqueline Bouvier Kennedy is remembered for a number of reasons, among them certainly as the stoic veiled woman who took fierce charge of her husband's funeral, protected her young children Caroline and John, Jr., and carried on for 30 more years, allowing few into her inner world. Dugan gives us the "unveiled" version, at home in her elegant New York City apartment at two critical turning points: Act 1, the assassination five years later of her brother-in-law Robert F. Kennedy, and in Act 2, the 1993 prognosis from her physician; she would die the following year at age 64.
Dugan's one-woman drama Jackie Unveiled (seen March 2 in its world premiere production directed by Jenny Sullivan) stars Saffron Burrows (Amazon's "Mozart in the Jungle"), who commands every eyeball in the theatre for two substantial acts as she lurches distractedly between memory and the present day, trying to simultaneously self-destruct and self-preserve. In the end, Jackie is grateful to have lived her life "in the front row seat of history," as she says, but she paid a steep price for that ticket.
Dugan researched his subject for five diligent years, and interviewed friends who knew her. The basic outline of facts everyone knows, but the truly individual human being had to become a credible dramatic character. As is the case with any celebrity one-person show, this inevitably required shaping and balancing the known and the speculative, playing down the fashionista with the imperturbable face and bringing out the sensual, the playful, the angry and fearful sides that a world hungry for sensationalism rarely saw.
A question that always bothered me with these one-person shows is, Who is she talking to? Sometimes it's an interview, or simply an untethered reverie. Here, Dugan takes a different approach: Jackie is at the point of ending it all but needs to make an "act of contrition"—so she addresses us, the audience, as "my friends, curious souls of the future." OK, whatever.
Dugan explores her complex relationships with her parents, with the Kennedy family, with Aristotle Onassis, lighting gently and without specifics on her final 14-year romantic affair with Maurice Tempelsman, and of course with her children. She lays herself bare regarding her drinking, her pill-popping, Dr. Max Jacobson's "feelgood" injections that both she and JFK received regularly, her visit to the hospital to see JFK's dead body (described too graphically in my view), and her own medical issues. She reveals an extraordinary closeness with Bobby, JFK's younger brother, and admits to a sexual attachment. Of course, "she" is a character in a play. What are we really to believe?
As to JFK's death, of course she is angry that "they" killed him, but then goes on to recite all the putative forces behind the killing, saying in the end, "I don't even care who"—Dugan's clever way of dispatching that particular wasp nest of conspiracies.
With a mountain of material on JBK to plough through, it's tempting to pick out some prophetic-sounding concerns and ramp them up a notch. For example, shortly after the Clintons moved into the White House, Jackie met Hillary on Martha's Vineyard, and saw that the new first lady was having a hard time finding her sea legs. "Be yourself," JBK counseled HRC: "There's nothing in the world that frightens a man more than a powerful woman."
Toward the end, as her son John turns 30 and she realizes it's not her place any more to try to control him, she begs for one last dinner together to offer him her wisdom. It's about the generations of danger-courting champion Kennedys—and the examples and consequences are legion. "Stop taking risks with your life."
In the second act Jackie is working on an assemblage of photos and ephemera, "one big messy collage we call life." She holds a matchbook from one of JFK's campaigns and asks herself, "Where should I put Jack?"
In the popular memory John F. Kennedy carries some saint-like attributes, although we all know he had his full share of flaws. His widow asks a good question. And after seeing this play, we might ask the same about Jackie.
The creative team includes: Francois-Pierre Courture (scenic design); Jared A. Sayeg (lighting design); Marcy Froehlich (costume design); and Randall Robert Tico (sound design). The set looks like a realtor's "staging" of a property for sale—fake books in precious arrangements on the shelves (and no coffee table art books with which JBK was identified), vases of flowers placed just so, a TV set placed oddly with no chair or sofa in front of it, a foyer seen just offstage which serves as the actor's entrance door but which also illogically features a fireplace.
This is a tour-de-force for Ms. Burrows, a notable entry in the annals of political theatre, and a deeply intimate experience, if you'll only promise to remember, it's not living history, it's a play.
Jackie Unveiled plays Tues.-Sun. at 8 pm, and Sat. and Sun. at 2:30 pm through March 11 at the Wallis Annenberg Center for the Performing Arts Lovelace Studio Theater, 9390 N. Santa Monica Blvd., Beverly Hills 90210. Recommended for ages 14 and up. Tickets are available online, by phone at (310) 746-4000, or at the box office.
The Alamo
At the apex of this trio of world premiere reviews is The Alamo, written by Ian McRae and directed by Kent Thompson (seen March 3) in a Ruskin Group Theatre production.
The action takes place in the blue-collar Bay Ridge section of Brooklyn, mostly within the familiar walls of a rundown neighborhood bar called "The Alamo," with some scenes in the kitchen of Mary Marino (Milica Govich) and Micaela (Kelsey Griswold), widow and daughter of a firefighter who died on 9/11. That event in 2001 permanently affected the lives of the bar regulars, mostly Italian-American, who lost relatives, friends, and neighbors. The owners, Munce (Tim True) and Carmen (Eileen Galindo), are fighting to stay in business, but now their only hope resides in the new clutch of artists and gentrifiers who are moving into the neighborhood wanting to transform the bar into an entertainment hangout. The old-time locals cannot face surrendering their clubhouse, much less their neighborhood, to these young neo-carpetbaggers without a fight.
Each of these characters has their own story, and their narratives overlap in a tightly connected web with deeply shared emotional memory. Themes of nativism, racism, patriotism, war, labor unions, addiction, secrets, remembrance, heroism, sex and sexuality, commercialism, forgiveness, and escape (to California, of course) permeate the dialogue.
Joey (Bobby Costanzo), a retired NYC cop and modern-day Archie Bunker, is the central figure of the "Remember the Alamo" crowd that undecorously permits just about any passing thought to be uttered out loud. But Carmen envisions a different future, not just for the bar and the neighborhood, but for the world—one of tolerance, acceptance, and modernization. She's almost decided on a new name: The Poplar Tree (alamo in Spanish).
The totality of the play is simultaneously humorous and heartbreaking. There's not an ounce of sentimentality here, just a bunch of working-class Bay Ridge natives who are trying to secure a place for themselves in a fast-changing world they feel some sense of guilt about having created. If Joey is the ringleader of those wanting to keep things just as they are, he also has unforgettable experiences from his police officer career to justify his need for a little respect.
The Alamo was inspired by an op-ed piece called "The Hard Lessons of Iraq" by David Ignatius that McRae read in The Washington Post on the tenth anniversary of the invasion. A ten-minute solo for the Joey character won audience favor and led McRae to create the full-length drama.
"I wrote this play because I was angry about the way we became involved in war with Iraq, and lies about the WMDs," the playwright says. "Ultimately, who picks up the tab for the mistakes that our foolish leaders continue to make? I was hoping it could add something to a conversation about how we can find ways to treat each other better."
Director Kent Thompson says that the play "features vivid characters whose lives haven't turned out quite the way that they had hoped. Each of them carries scars of the past (from Vietnam to 9/11, and choices long gone)…. Ian McRae writes with such passion, compassion, and humor, about a forgotten group of people—blue-collar Americans."
McRae's language is polished to a tee, words sculpted to a perfection worthy of Michelangelo. Iraq and Afghanistan, Joey remarks, are just like Vietnam: "Only the bombs got smarter." Carmen enjoys going on a tear herself when she feels the spirit: She learned to be a cynic about religion when the nuns indoctrinated their charges about the poor "pagan babies" whose souls they had to contribute five dollars to save.
Joey and Carmen, and by association the other dramatis personae in The Alamo, join a rare club of truly memorable characters in the catalogue of American dramaturgy, and I am seriously talking about Eugene O'Neill, Arthur Miller, Tennessee Williams, Lorraine Hansberry, Tony Kushner. I predict a rich future for this play and the people who inhabit it. Other cast members include Nancy Georgini as Claudine, Kelsey Griswold as an alternate Micaela, John Lacy as Dominic, and Jack Merrill as Tick.
John Iacovelli produced the efficient and evocative scenic design, Edward Sales contributed the lighting design, Chip Bolcik the sound design, and Emily N. Smith the costume design.
A short informative video about The Alamo can be viewed here.
The Alamo plays through March 31 at the Ruskin Group Theatre, 3000 Airport Ave., Santa Monica 90405, Fri. and Sat. at 8 pm, and Sun. and 2 pm. For reservations call (310) 397-3244 or http://www.ruskingrouptheatre.com. Alternate performers may appear on any given day. There is ample free parking at the Santa Monica Airport.
The Cape and the Klan
The Group Rep's world premiere is the play The Cape and the Klan, by Tin Penavic and Ted Ryan, directed by Stan Mazin. This dramedy is based on the true story of Stetson Kennedy, a conscientious reporter who went undercover in Atlanta, Georgia, on a dangerous mission to infiltrate and expose the Ku Klux Klan in 1951, when Jim Crow was the law of the land. This occurred during the presidency of Harry S Truman, who refused to endorse the then-nascent civil rights movement's anti-lynching campaign promoted by Paul Robeson and others, for fear of alienating voters and elected officials in the solid Democratic South of those years.
What newsman Harry McCoy (Doug Haverty) realizes is that changing the hearts and minds of his fellow Americans will take the help of a powerful, famous individual. Calling on a buddy of his from World War II, he brings his story to Bob Van Meer (Matthew Hoffman), a producer of the WOR show "The Adventures of Superman," then suffering in the doldrum days of radio with the advent of TV. (It didn't help that the lead writer had just been fired for supposedly being a Commie.) Harry figures that if the Man of Steel can bring the fight against racism and bigotry to millions of nationwide listeners in a multi-episode arc, it could be the worst kind of exposure the Klan could ever want.
Of course there are obstacles: Will listeners and sponsors abandon the show, or boycott the network, on grounds that the program has been hijacked by un-American Communists?—a very real fear in those McCarthy-Red Channels times. WOR fictionalizes the Ku Klux Klan for fear of a lawsuit, so it becomes the Cult of the Flaming Cross.
The script switches back and forth between Atlanta and New York. In Atlanta we see the truly hateful face of the Klan in the persona of Grand Wizard Sam Gardner (Bix Barnaba), and we also see how murderous this animus against Blacks, Jews, foreigners and anyone "different" can turn. In a brief but deeply moving couple of scenes, Rita Walker, a Black woman (Shalonda Shaw-Reese), experiences how utterly civil white men can be, and also how insanely, irrationally vicious.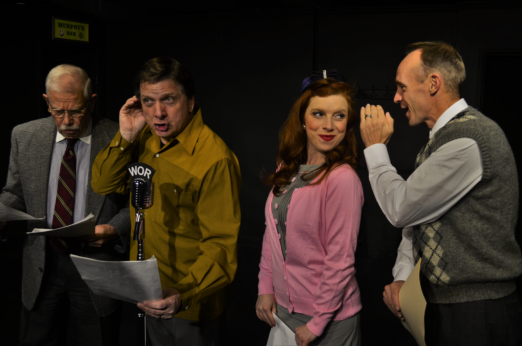 Director Mazin says in the program, "Besides the importance of the play given our present political circumstances, we as a country have discovered that the long lost ideas about bigotry and racism still not only survive, but thrive…. Pandora's box has been opened, and we all must face that fact before we can come together as a nation to heal."
The set is simple and uses a minimum of props. Stage right stands a counter at Murphy's Bar in New York City, where the "Superman" cast hang out. Center stage a single mic will broadcast the voices and sound effects of the surrounding crew members of the Superman show. Stage left doubles as a motel room in Atlanta, Ga., and the New York City living room of Bob and his wife Veronica (Natalia Santamaria).
Also appearing in the cast are Bruce Nehlsen, Timothy Roscoe, Scott Seiffert, Michael James Thatcher, and Kristin Towers-Rowles.
The historical basis is the 17-part "Superman" episode "The Clan of the Fiery Cross." Playwrights Penavic and Ryan state, "The use of popular mainstream culture can be more than entertainment. It can be enrichment. It can be enlightenment, it can be change."
The play is written in an unadorned, expository style with little room for subtlety or poetry, and none of the sure, sardonic noir sensibility of that era—strangely like the lifeless radio scripts these hapless actors are given to hyperventilate into listeners' ears. Characters are given little of the moral ambiguity which makes them interesting. Certain references are made for today's audiences, such as all of Sam's talk about making America great again, and his fear of seeing a Black man in the White House one day. If this work is to go anywhere beyond North Hollywood, a play doctor will be required to punch up the dialogue to resuscitate the patient. I do believe it could conceivably be made to zing! bam! and pow! the way the authors no doubt imagined.
Having said which, I should say, however, that the premise is charming, and the actors give it their best. It's always fun to watch radio actors and their invisible hijinks. As it stands now, I would not recommend that theatergoers necessarily "run, run, run" to the Lonny Chapman Theatre, but if you do happen to be interested in the period or the topic, you will have an enjoyable time.
The Cape and The Klan plays through March 18,  with Sat. matinees at 2:00 pm and Sun. evenings at 7:00 pm, with additional shows added Fri., March 16 and Sat., March 17 at 8:00 pm. For tickets and information: www.thegrouprep.com or (818) 763-5990. The play runs in the smaller Upstairs at the Group Rep in the Lonny Chapman Theatre, 10900 Burbank Blvd., North Hollywood 91601. This is really small theatre: Formal seating is only 32, plus a few side chairs as needed. The intimacy is sweetly precious.