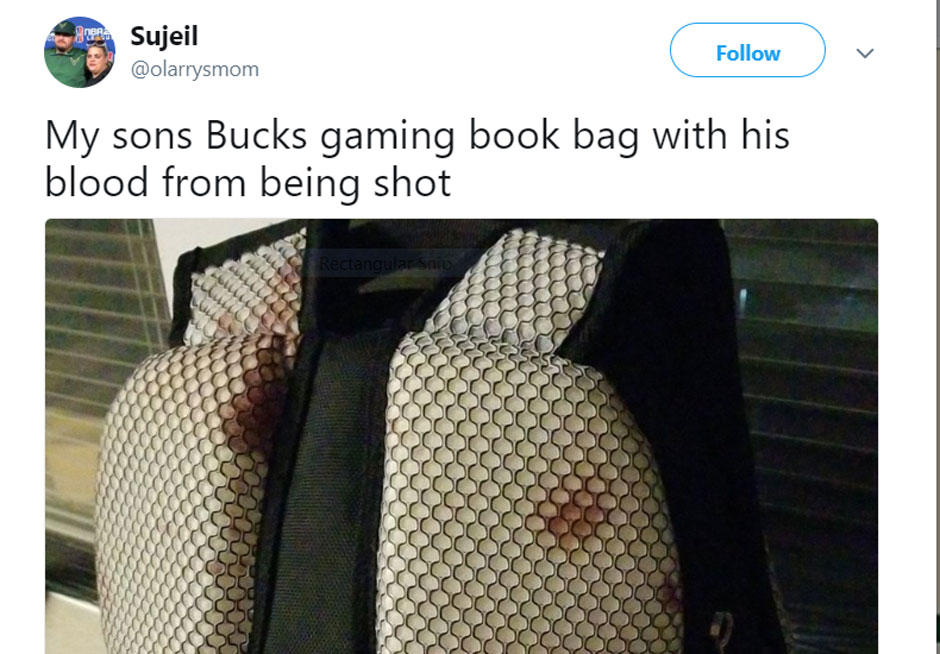 "We started to hear some screams. We looked over and there were people swarming all up and down the road, and there was on person who was lifting up his shirt and saying 'I've been shot,' and you could clearly see he was shot right through the chest…That's when we knew things were getting real."
The quote above is not a retelling of a U.S. military firefight on foreign soil. This was not a battle, nor was it part of a larger war. The scene described by Capt. Jeremy Cooke of Ladder Co. 1 took place in Jacksonville, Fl., and marks the third mass-shooting in two years in Florida.
The gunman, a 24-yeard old white male, opened fire during an e-sports video game tournament—Madden NFL 19—Sunday afternoon, killing two and wounding 11 others before turning the gun on himself.
The senseless carnage took place at the Jacksonville landing, a popular riverfront tourist spot in the heart of the city. This recent act of violence has now added Jacksonville, Florida's largest city by population and size, to the growing list of American cities touched by the horrors of mass gun violence (Orlando, Fort Lauderdale and Parkland).
The Sunday tourney was a qualifier round for eSports players, with the top two finishers earning a spot in the Madden Classic main event in Las Vegas scheduled for October, where the top prize is a cool $25,000. It was the first of four planned events.
The shooter, who nicknamed himself "Bread," flew down from Baltimore to compete for that top final spot, only to be eliminated, witnesses said.
For fans watching online through the website Twitch, gameplay suddenly stopped after gunshots could be heard, followed by someone crying out, "Oh fuck, what'd he shoot me with?"
Authorities said they received a 911 call at 1:34 p.m. alerting them of the shooting, with officers arriving two minutes later, according to the Jacksonville Sherriff's Office.
Six shooting victims — described as males in their early to mid-20s — were treated at the University of Florida College of Medicine in Jacksonville, said Marie Crandall, the attending trauma surgeon to the Washington Post. Four were struck in their torsos, while the other two were shot in the extremities. One victim is in serious condition, but all are expected to survive.'
Three other shooting victims, now in stable condition, were treated at Memorial Hospital in southeast Jacksonville, hospital spokesman Peter Moberg said.
Agents with the Bureau of Alcohol, Tobacco, Firearms and Explosives (AFT) searched the shooter's Baltimore home Sunday evening. Four agents were seen leaving the home carrying a small box and a bag and loading it all into an unmarked minivan, according to eyewitness report.
Jacksonville Mayor Lenny Curry said the city had "faced an occurrence that is all too common."
"To all those watching, I say this: Pray for Jacksonville as we deal with this senseless tragedy," he said.
Republican governor Rick Scott, who is running for Senate this year, answered questions at a press conference Sunday night outside Memorial Hospital, and often side-stepping questions about gun-control, saying there was "no easy answer for reducing the number of mass shootings.
"The first thing people are going to go to is this political fight," he said. "But let's look at this. This young man and other young men, they're not valuing life. Something is causing that. As a society, we've got to figure this out. Every parent has got to say to themselves, what can I do better?"
Parkland student David Hogg, who became a vocal gun-control advocate after 17 people were killed at his high school, tweeted to Sen. Marco Rubio (R-Fla.) on Sunday: "How many mass shootings in your state will it take for you to do something?"
Lack of security amid safety concerns
"It's very clear that we need to be more proactive for 2019 and beyond," tweeted Joey Cuellar, the tournament director for the Evolution Championship Series, an eSports event that focuses on fighting games.
With the rise of eSports popularity—a  Goldman Sachs report in 2017 valued eSports at $500 million in 2016 and anticipated market growth—concerns about player safety and working conditions has also risen; leading esports players to discussions about union organizing in a growing sports market.
As many as 41 million Americans currently consider themselves eSports viewers, according to research firm Interpret. Globally, about 258 million watched an eSports event last year, according to research firm SuperData.
"We view eSports as a key accelerant to growing the NFL as it enables new ways for young fans to engage in the sport through Madden NFL competition," Michelle Micone, NFL Senior Vice President, Consumer Products, said in early August, when the league in conjunction with Electronic Arts and ESPN announced the launch of the "Madden NFL 19 Championship Series (MCS)," the largest competition in its history.
But, some top players and industry watchers said Sunday that security hasn't caught up with the seriousness of the sport and its fans.
"Heartbreaking to hear about the shooting at the Madden event," wrote Cristian Tamas, the director of eSports programs for Twitch, the platform that broadcasts gamers' live streams. "Unfortunately, this was a matter of when not if. Security at eSport events security has been extremely poor over the years, we should've stepped it up long ago."
In December 2017, a Call of Duty World League tournament in Dallas was evacuated twice, due to bomb threats, and in March of this year, organizers of the Evolution Sports Championship series, drawing over 15,000 people, called the FBI when someone wrote online:  "mass shooting @EVO18 see you there."
Seth Abner, an XGames Gold Medalist and Call of Duty World Champion, tweeted in the wake of Sunday's shooting: "I've been saying events NEED better security. Such a damn shame that now event coordinators will respond after a tragedy happens."
Pro gamers say the pressure of competition, desire to attract a large fanbase and intense game play often lead to anxiety and mental health issues.
"In the world of competitive video games, mental health issues loom so large and come up so often that the problem somehow becomes invisible," wrote Tyler Erzberger, who covers esports for ESPN. "In a world where one day you can go from playing in your bedroom to the next being criticized by millions under spotlights, mental health can't be overlooked."
And just like other athletes, they're subjected to injuries, from repetitive stress ailments to posture issues and back pain—without the benefits and protection found in collective bargaining agreements between the four major leagues and players associations.
Recently, the issue of player mental health has come into the spotlight with the NBA asking the union to turn over players mental health records.
EA Sports released the following statement following the shooting:
"Our most heartfelt sympathies go out to the families of the victims whose lives were taken today and those who were injured," the company said in a statement. "All of us at Electronic Arts are devastated by this horrific event, and we also join the community in thanking the first responders who were quickly on the scene.
"Our focus right now is on those affected, and supporting law enforcement as they continue their investigation into this crime."
That focus should also force them to take a look in the mirror and ensure all possible safety measures are in place for the players who drive their profits.
Our focus—locally, nationally and politically—should be on what more must be done to destroy stigmas associated with mental illness, along with a hard look at our nation's gun-control.
Thoughts and prayers won't do a damn thing for victims lying in pools of their own blood—and we are fools to think otherwise.