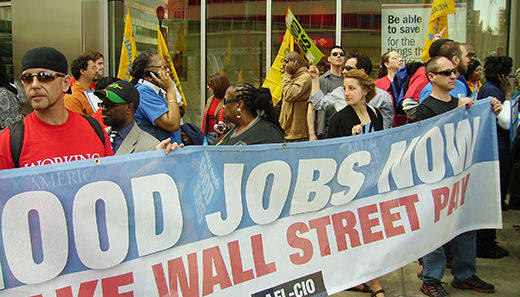 WASHINGTON – Jobs for America NOW is organizing meetings with lawmakers while they are home for the Easter recess to urge them to pass Rep. George Miller's $75 billion jobs bill that would create or save as many as one million jobs when they return to the capital.
The actions come on the eve of the 75th anniversary of the enactment of Franklin Delano Roosevelt's Works Progress Administration (WPA) that created millions of jobs during the Great Depression.
"We've got a dozen groups planning events on or around April 8, the 75th anniversary of WPA," said Germonique R. Ulmer, a spokesperson for Jobs for America NOW. "The WPA anniversary is time to speak out on the need to take big and bold action to get people back to work."
She added that Jobs for America NOW, a coalition of 60 organizations, is also planning meetings with many lawmakers during the recess to demand that they support Miller's bill that would prevent the layoff of tens of thousands of public employees by fiscally strapped state and local governments. "Many grassroots groups are setting up meetings with members of Congress while they are home during the recess. It includes events in Nevada, Maine, North Carolina, and Illinois. These meetings are an opportunity to put a human face on the unemployment crisis," she said. "It should leave these lawmakers with a sense that they have to take action when they get back to Washington." She described the Miller bill as a "left over piece of legislation" that should be enacted quickly.
Rep. Keith Ellison (D-Minn) announced he is spearheading a nationwide effort during the recess to muster the 216 votes to push the Miller jobs bill through. Ellison said passage of the measure should be a "slam-dunk" if he succeeds in lining up the lawmakers.
Ellison and Miller met with members of the National League of Cities, the National Association of Counties and some of the 60 grassroots organizations affiliated with Jobs for America NOW to win endorsements of the bill.
Like every other measure to assist the unemployed and the uninsured, the Miller bill faces fanatical Republican opposition especially in the Senate. Foes of the measure spout clichés about the federal deficit. But Ellison retorts, that "deficit spending in a recession is wise economic policy" to get the economy moving until private sector spending and investment starts generating jobs and tax revenues
.
Miller, chairman of the House Education and Labor Committee, said local communities "are having to choose between raising taxes to sustain essential services or firing more workers. We should not ask students to forgo a year of education or tell families that their safety will be compromised because local governments have to lay off teachers and police officers. This bill will quickly create jobs that we can count and jobs we can count on."
Mayor Elizabeth Kautz of Burnsville, Minnesota, president of the U.S. Conference of Mayors said, "Mayors are pleased to partner with Chairman Miller to push this important legislation. We deal face to face with unemployed citizens….all they want is good dependable jobs so they can support their families."
Unmoved by this humanitarian crisis, Sen. Tom Coburn (R-Okla) once again blocked an extension of unemployment insurance, mimicking his Republican colleague Jim Bunning of Kentucky who blocked an extension of jobless benefits four weeks ago with the tacit backing of the Republican leadership on Capitol Hill.
Photo: Ben Sears