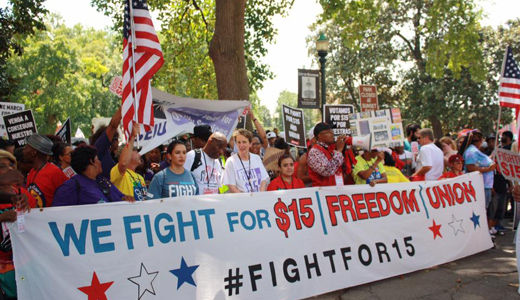 RICHMOND, Va. -Thousands of low-wage workers from across the country convened here the weekend of August 12 – 13 for the first ever national meeting of the Fight for $15 movement. Gathering in the old capital of the Confederacy, they put together an independent political platform for the 99 percent – the "Richmond Resolution."
They simultaneously made clear their intention to hold every politician responsible for upholding the demands of the people's movements – both during the election and beyond. They set September 12th as the date for the next nationwide fast food walkout.
The Fight for $15 movement is one that has grown rapidly in the recent period. In the years following the financial collapse of 2008, many politicians congratulated themselves for a supposedly recovering economy and a declining unemployment rate. The largest corporations again enjoyed huge profits, but nearly three-fifths of the jobs that returned in those first years were low-wage jobs. This was the impetus for the Fight for $15 movement, inaugurated bya national strike on November 29, 2012.
The surge in low wage jobs occurred mostly in food services and retail industries. As the second-largest private employer in the world, McDonald's became a primary target for the initial campaign, but fast food workers are not the only ones fighting back. Homecare, healthcare, childcare, and nursing home workers, janitors, nail salon workers, airport workers, adjunct faculty, truck drivers, grocery store workers, wireless workers, and security officers are all a part of the movement.
The reality facing low-wage workers
Rolanda McMillan, a McDonald's worker in Richmond, was one of the first to address the meeting. "I have been working in fast food for about 10 years. I get up around 4:30 in the morning, and try to catch the bus by 5:30 to be at work by 6. My car is down and I can't pay my rent, pay the bills, fix the car, or get the gas. No matter your race, the majority of us are struggling."
McMillan spoke of how the better-paying jobs of the past could support a family, unlike many of the service industry jobs of today. "My Dad was able to take care of my whole family all by himself. We had a house; we had a car; and we had food on the table. Here I am with a college education, and I cannot support myself. It makes me afraid for myself, my children, and my children's children."
Antoine Adams, a fast food worker from Birmingham, put the matter in simple terms: "They say a man don't work, a man don't eat. But we work and we still don't eat."
Lauralyn Clark, a homecare worker in Richmond, spoke of the symbolism of the Fight for $15 movement choosing to meet in her city. "We're here today," she said, "because this is the former capital of the Confederacy. As a Black woman, we always did the grunt work for low wages. White babies drank from our breast, but we couldn't drink from their fountains. White families relied on us to care for their elderly parents, but we couldn't ride the bus with them. We cleaned their schools, but our children couldn't attend. We cooked their food, but we couldn't sit at their table. We want to live in a country where we can earn a living wage, pay our bills, feed our children, and save for retirement."
Many of the country's largest unions, including SEIU, UAW, the Teamsters, UFCW, and the CWA, supported the event in coalition with community partners. Nearly every state in the country was represented, with each delegation showcasing their local Fight for $15 contingent.
Bringing together many movements
A $15 per hour minimum wage and the right to join a union without retaliation from employers have been at the heart of the #Fightfor15 movement from its start. But inseparable from these concrete demands, the movement also made clear in Richmond its commitment to the fight for racial justice and against police brutality.
"For me, Fight for 15 is not just about higher wages. It is also about making #BlackLivesMatter," said Miranda Yonta of New Orleans. "96 percent of low wage workers in my city are Black. Alton Sterling didn't make a living wage, so he was selling CDs when he was murdered by police. They didn't see him as a father or a husband. They saw him as a criminal, a murderer. We're here in Richmond today not just to fight for higher wages, but to continue to fight against police violence and racism."
Hertencia Petersen spoke to the convention about her nephew, Akai Gurley, who was killed by policemen Peter Liang and Shaun Landau on November 20, 2014. "While walking down a flight of steps Akai did nothing wrong; he was murdered because of the color of his skin. This must end today. All lives will matter when Black lives matter. I am standing in solidarity today with every fast food worker, every home care worker, every restaurant worker, demanding that our elected constituents hear our voices."
SEIU president Mary Kay Henry was a keynote speaker for the convention. "Southern states 150 years ago fought to maintain slavery in this country. The legacies and consequences of that slave system are still with us today," she said. "Those racist cornerstones are a major reason why we need to Fight for $15 and a union. We're not stopping until 64 million come out of poverty wage jobs."
Adriana Alvarez is a McDonald's worker from Chicago. She talked about holding elected officials accountable. "Rahm Emmanuel realized the only way to get reelected was if he raised the minimum wage. Chicago is now on a pathway to $13 by 2019. It's a step forward, and we're going to keep pushing the politicians. They have got to work for us; we're the working class. In November, when the President is elected, we are going to be out there the next day."
A national day of action to push the movement's issues is planned for November following the elections.
Moral revival
North Carolina NAACP president Reverend Barber, an African-American preacher who spoke to the Democratic National Convention in July, renewed his call for a moral revolution in the nation's values. A leader of the charge to organize the South, he spoke of what he called "the cornerstones of social progress."
"I know that many of you have felt rejected because of the kind of work you do, because you weren't born in America, because of who you love, because you're raising children out of wedlock, or you have a prison record, or you have some kind of other stain. But…the Psalm says, 'The stone that the builder rejected has become the chief cornerstone.' In other words, the rejected have power – power to come together. And when the stones that have been rejected come together, something powerful can happen."
Jorel Ware, a McDonald's worker, continued on the themes raised by Barber when addressing a rally of thousands held at the end of the convention. Standing before a monument to Confederate leaders, Ware declared, "The Robert E. Lee statue behind me represents racism, oppression, hate, and slavery… Today, the Confederacy is represented in the people that want to build walls, that don't believe in raising wages, that don't believe in unions, police officers that kill unarmed Black men, women, and even children."
"We follow in the footsteps of other great movements," Ware said, "like the women's rights movement, the Abolition movement, and the Civil Rights movement. You may not feel like Martin Luther King Jr., but do you remember Selma? I want everybody to take a look around them."
As the thousands of workers, unionists, community partners, faith leaders, and activists took note of their numbers, Jorel told them, "This is our Selma!"
Photo: Workers march in Richmond, Va. at the Fight for $15 convention on August 13. | Interfaith Center for Worker Justice of San Diego County