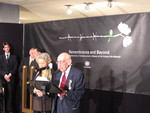 UNITED NATIONS — A candlelight vigil was held here the evening of Jan. 26, hours before the first International Day of Commemoration in Memory of the Victims of the Holocaust, established at the UN's September World Summit.
Shashi Tharoor, UN undersecretary-general, said that it was appropriate that the first event be held at the UN, because "the UN was itself established out of the ashes of the Holocaust," which, along with the rest of the horrors of World War II, drove the world to create an organization to promote peace. "The UN is itself a testimony to the victims of genocide," he added. "To remember is not enough."
The program included speakers from various nations, including Jack Polak, a death camp survivor who was liberated by the Soviet Army. Beside him was his wife, who was with him in the camps. He drew tearful applause after announcing that that weekend would be their 60th anniversary — a number significant because it has been just over 60 years since liberation.
During the program, people recited the names of hundreds of people who shared two things in common: Jan. 26 was their birthday, and they were killed in the camps.
"It is impossible to know how many symphonies will never be written, how many children will never be born," Tharoor said. "The whole world was diminished by this abomination."