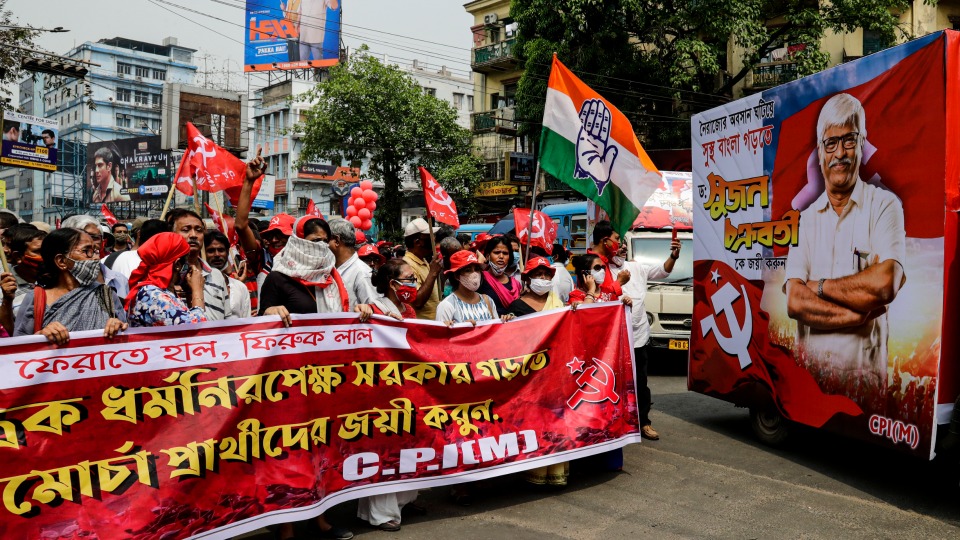 KOLKATA, India — Electoral politics in India entered a new phase in February when the Communist Party of India (Marxist) decided to form a political alliance in Bengal with the center-right Congress Party in the run-up to state elections.
The CPI (M) has fought bitterly against Congress, which it has regarded as authoritarian since its inception. More than 20,000 Communist cadres were killed by Congress supporters in the decades following Indian independence.
What drove the CPI (M) to join hands with its sworn political enemy?
The answer lies in the recent meteoric rise of Prime Minister Narendra Modi's far-right BJP-RSS Hindu nationalist movement in urban and rural India. Promoting aggressive communal politics that include a massive campaign of hate against Muslims, the Hindu right has increased its electoral strength in several Indian states, including Bengal and Tripura, where the CPI (M)-led Left Front governed for more than three decades between 1977 and 2011.
In the wake of the Communist and Left Front electoral defeats in 2010-11, a large political space opened up. A Congress on the wane nationally could not fill the void, and the Hindu right stepped in with its twin weapons of hard-line Hindutva propaganda and massive political muscle.
As the political and organizational might of the BJP-RSS peaked when Modi became prime minister in 2014, it started to use state organs of coercion—the central police force, the intelligence services, and a section of the armed forces—to consolidate its political stranglehold on the nation, treading underfoot every democratic norm and practice. A subservient corporate media played the role expected of it.
Under these circumstances, the CPI (M) has opted in Bengal for what can be seen as the beginnings of an effort to unite the major secular forces all over India. But establishing the Sanjukta Morcha (United Alliance) under the aegis of the CPI (M) with an authoritarian political outfit that carries a burden of political oppression and a history of family rule is undoubtedly open to criticism—from the political right as well as the political left.
Here, the exigencies of the political circumstances are decisive. Should the CPI (M) fail to muster courage and instead cling to the tactic of an All-India Communist-led united front of left parties, the fallout would be little short of a disaster for the people, especially the poor.
Unless a larger Communist and Left-led secular alliance is built now, the BJP-RSS could sweep everything before it and surge towards the fearful realization of its cry for "Hindi-Hindu-Hindustan."
The larger issue before the country is nothing less than its survival as a democracy.
People's Voice