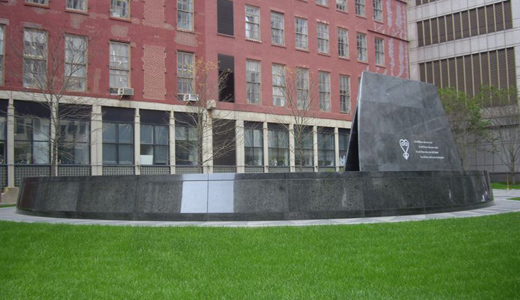 On this date in 2006, President George W. Bush signed a proclamation declaring a seven-acre plot at the corners of Duane and Elk streets in Lower Manhattan to be a national monument. For a century, beginning in the 1690s, this land served as a cemetery for both free and enslaved Africans. It is believed to be the resting place of more than 15,000 people.
At that time the cemetery was situated outside the boundaries of the settlement of New Amsterdam (now New York). Lost and forgotten because of centuries of development and landfill, this old burial ground was discovered by construction workers during excavation for a federal office building only as late as 1991. The remains of 419 people recovered at that time provided extensive insight into the lives of some of the earliest African settlers in America.
The African Burial Ground National Monument was called "the most important historic urban archeological project in the United States," highlighting the forgotten history of African slaves in colonial and federal New York City. By the time of the American Revolution, they constituted nearly a quarter of the population in the city. New York had the second-largest number of slaves in the nation after Charleston, South Carolina. Scholars and African American civic activists joined to publicize the importance of the site and lobby for its preservation. In 1993 the site was designated a National Historic Landmark and in 2006 a National Monument.
The memorial was dedicated in 2007 and included several commissioned pieces of public art. A visitor center opened in 2010 to provide interpretation of the site and African American history in New York.
Photo: Wikipedia (CC)