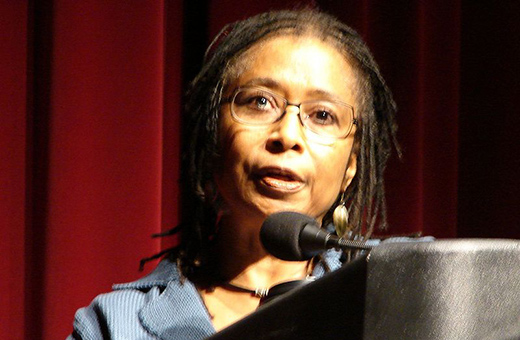 The writer and activist Alice Walker was born on this day in 1944 in Putnam County, Georgia. Her parents were a sharecropping farmer and a housemaid who firmly believed in education for her children.
After high school, Walker went to Spelman College in Atlanta on a full scholarship. There she met Rev. Martin Luther King, Jr. She became interested in the U.S. civil rights movement in part due to the influence of activist Howard Zinn, who was one of her professors. She later transferred to Sarah Lawrence College, graduating in 1965.
Continuing the activism that she participated in during her college years, Walker returned to the South, where she became involved with voter registration drives, campaigns for welfare rights, and children's programs in Mississippi. Her second novel, Meridian, is set in the civil rights struggle.
Alice Walker's 1975 article "In Search of Zora Neale Hurston," published in Ms. magazine, helped revive interest in the work of that pioneer African American writer.
In 1982, Walker published what has become her best-known work, The Color Purple. The novel follows a young troubled black woman fighting her way through not just racist white culture but patriarchal black culture as well. The book became a bestseller, adapted into a critically acclaimed 1985 movie as well as a 2005 Broadway musical.
Walker demonstrated against the launching of the Iraq War in 2003 and was arrested on International Women's Day. In an interview with Democracy Now, Walker said, "I was with other women who believe that the women and children of Iraq are just as dear as the women and children in our families, and that, in fact, we are one family. And so it would have felt to me that we were going over to actually bomb ourselves." Walker wrote about the experience in her essay, "We Are the Ones We Have Been Waiting For."
In recent years Walker has been a leading global voice against the Israeli occupation of the West Bank and Gaza.
Walker won the Pulitzer Prize and the National Book Award for Fiction in 1983 for The Color Purple. Beauty in Truth, a documentary film about Walker's life directed by Pratibha Parmar, premiered in March 2013.
Photo: Wikipedia (CC)