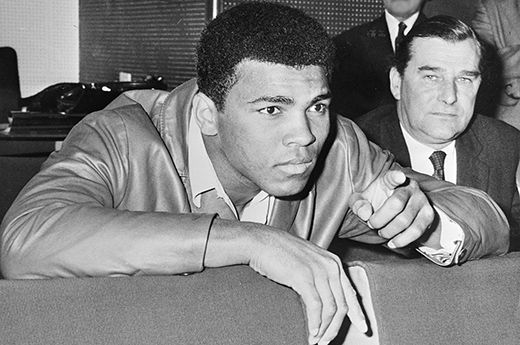 On this date in 1964, the 22-year-old, Louisville, Ky.-born Cassius Clay, later known as Muhammad Ali, became world heavyweight boxing champion by defeating Sonny Liston in a stunning upset. At the height of his athletic career Ali was well known for both his fighting ability and personal style. His most famous saying was "I am the greatest!" Ali is the only fighter to win the heavyweight fighting title three separate times – 1964, 1974, and 1978. He defended his title nine times.
Among the most recognized athletes of all time, Muhammad Ali was crowned "Sportsman of the Century" by Sports Illustrated magazine, and "Sports Personality of the Century" by the BBC. He explained his boxing style in a phrase that has caught on and found use in many parallel situations: "Float like a butterfly, sting like a bee." He was known not only for his skills in the ring: He also triumphantly proclaimed transcendent values of religious freedom, racial justice, and principle over expedience.
Ali joined the Nation of Islam and changed his name, formally converting to Islam in 1975. Three years after winning the heavyweight title, Ali refused to be conscripted into the U.S. military, citing his religious beliefs and opposition to American involvement in the Vietnam War. In a quote that made him a hero to North American people of color, he stated publicly that "No Vietcong ever called me n****r." He amplified his remarks, saying, "Why should they ask me to put on a uniform and go ten thousand miles from home and drop bombs and bullets on brown people in Vietnam while so-called Negro people in Louisville are treated like dogs and denied simple human rights?"
The U.S. government declined to recognize him as a conscientious objector, however, because he declared that he would fight in a war if directed to do so by Allah or his messenger (Elijah Muhammad). He was arrested and found guilty by an all-white jury on draft evasion charges and stripped of his boxing title. He did not fight again for nearly four years, losing a time of peak performance in an athlete's career. But on appeal, the U.S. Supreme Court overturned his conviction in 1971. As an objector to the war Ali became an icon for the antiwar movement and the counterculture generation of the 1960s and 70s.
Diagnosed with Parkinson's disease in 1984, Ali has been in gradually declining health ever since. Eager to seek out the company of a world-class athlete and hero to billions of people around the world, U.S. presidents invited him to the White House. On November 9, 2005, President George W. Bush presented him with the Presidential Medal of Freedom.
Editor's Note: The headline on this story has been edited.
Photo: Wikipedia (CC)