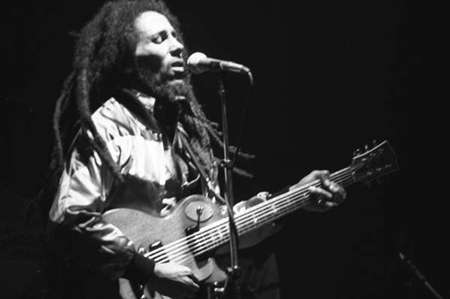 Bob Marley, the internationally famous and influential performer and promoter of reggae music, was born in northern Jamaica on this date in 1945. Today he would have been 70 years old. He died of cancer at the age of 36, in Miami, on May 11, 1981.
The pan-African consciousness, progressive political ideologies and deep spiritual convictions heard in Bob Marley's music were derived from his firmly rooted commitment to Rastafarian beliefs and its attendant lifestyle. "The combination of his own inquisitiveness and the profound depth and influence of the Rastafari movement transformed Bob Marley into an artist who reshaped reggae music and the course of world history," says Carlyle McKetty, president of the Brooklyn, N.Y.-based Coalition to Preserve Reggae Music.
Bob Marley and the Wailers released their "Catch a Fire" album in April 1973 on Island Records and won extensive international media fanfare. Tours of Britain and the U.S. followed, and Marley's life was forever changed. As one of their U.S. gigs, they opened for a then relatively unknown Bruce Springsteen in New York City. The Wailers toured with Sly and the Family Stone, who were at their peak in the early 70s, but were removed after just four dates because their riveting performances reportedly upstaged the headliner.
Following the successful "Catch a Fire" tour, the Wailers promptly recorded their second album, "Burnin," released in October 1973. Featuring some of Marley's most celebrated songs, "Burnin" introduced their timeless anthem of insurgency, "Get Up Stand Up." Another song, "I Shot the Sheriff," took Eric Clapton's cover version to the top of the Billboard Hot 100 in 1974.
Truly international stardom came in 1976 with the release of "Rastaman Vibration," Marley's only album to reach the Billboard Top 200, peaking at the number 8 spot. The stirring title cut, "Rastaman Vibration," presented a clearer understanding of Rastafari teachings to the mainstream audience that was now attentively listening to his work. Also included was "War," its lyrics adapted from an impassioned speech to the U.N. General Assembly in 1963, delivered by Ethiopian Emperor Haile Selassie I, whom Rastafarians considered a living god. "War" remains an unassailable anthem of equality, its empowering spirit embraced by dispossessed people everywhere.
After a failed assassination attempt, and in recognition of Marley's courageous efforts to bridge Jamaica's cavernous political divide, he received the United Nations Medal of Peace on June 6, 1978.
After several more albums, in April 1980 Bob Marley and the Wailers performed at Zimbabwe's official, but exclusive independence ceremony at the invitation of the country's newly elected President Robert Mugabe, reconfirming the importance of Marley's music throughout the African Diaspora and reggae's significance as a unifying and liberating force. The following evening, Marley gave a free concert for his adoring public. Later that year the band gave sold-out performances at New York's Madison Square Garden.
Hundreds of thousands of spectators lined the streets to observe the procession of cars that wound its way from Kingston to Marley's final resting place, a mausoleum in his birthplace of Nine Miles. The Bob Marley and the Wailers legend lives on. Years after his death, his music remains as vital as ever in its celebration of life and embodiment of struggle.
The official Bob Marley website can be found here.
Photo: Wikipedia (CC)