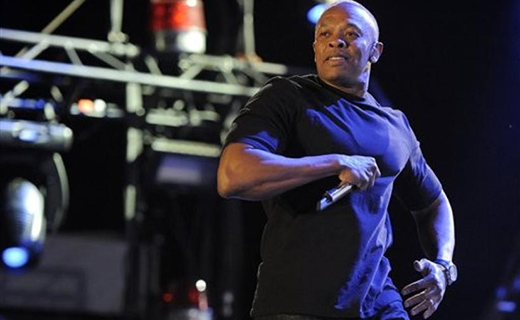 Dr. Dre, record producer and Grammy-winning rapper, born Andre Romelle Young in Compton, Calif., in 1965, turns 50 today.
Dr. Dre founded Aftermath Entertainment and Beats Electronics. He was previously the co-owner of, and an artist on, Death Row Records. He has produced albums for and overseen the careers of many rappers, including Snoop Dogg, Eminem, Xzibit, 50 Cent, The Game, and Kendrick Lamar. He was a key figure in the popularization of West Coast G-funk, a style of rap music characterized as synthesizer-based with slow, heavy beats. In 2014, Dr. Dre was ranked by Forbes magazine as the second richest figure in the American hip hop scene, with a net worth of $550 million. But Apple subsequently paid $3 billion last year to Dr. Dre for his Beats company.
Dre's career exemplifies the way explicit lyrics in rap detail the violence of street life. His 1992 solo debut The Chronic, released under Death Row Records, led him to become one of the best-selling American performing artists of 1993 and to win a Grammy Award for the single "Let Me Ride." That same year he produced Snoop Dogg's quadruple platinum debut Doggystyle.
In 1996, he established his own label, Aftermath Entertainment. His albums have won him six Grammy Awards, including Producer of the Year. Dr. Dre has also had acting roles in a number of movies. Rolling Stone ranked Dre at 56 on their list of "100 Greatest Artists of All-Time."
As recently reported in the Los Angeles Times, Dr. Dre sold his home in the Hollywood Hills, with 9,696 square feet of living space, neighboring the homes of Leonardo DiCaprio and Keanu Reeves, for $32 million. Dr. Dre also owns a four-acre Brentwood estate, another home in Malibu, and additional property for his horses.
Adapted from Wikipedia and other sources.
Photo: Wikipedia (CC)