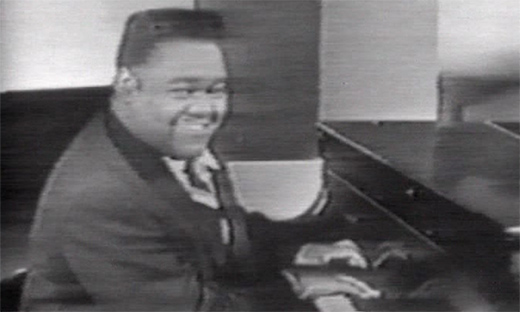 World-renowned performer Antoine "Fats" Domino was born on this date in New Orleans in 1928. Among his best known songs are "Ain't That a Shame," "I'm in Love Again," and "Blueberry Hill."
Domino released five gold (million-copy) records before 1955. He also had 37 Top 40 American hits. His music is based on traditional rhythm and blues ensembles of bass, piano, electric guitar, drums, and saxophone.
Domino was born and raised in New Orleans, from a French Creole background; Louisiana Creole French was his first language. Domino was delivered at home by his midwife grandmother. Like most families in the city's Lower Ninth Ward, Domino's family were new arrivals from Vacherie, Louisiana. His father was a well known violinist, and Domino was inspired to play himself. He eventually learned from his uncle, jazz guitarist Harrison Verrett.
Although the song had earlier been recorded by other singers, Domino's 1956 version of the 1940 Vincent Rose, Al Lewis and Larry Stock song "Blueberry Hill" reached No. 2 in the Top 40, was No. 1 on the R&B charts for 11 weeks, and was his biggest hit. It sold more than 5 million copies worldwide in 1956-57. He released a succession of singles and albums, and appeared in two films released in 1956, Shake, Rattle & Rock! and The Girl Can't Help It.
In the 1980s, Domino decided he would no longer leave New Orleans, having a comfortable income from royalties and a dislike for touring, and claiming he could not get the food that he liked any place else. His induction into the Rock and Roll Hall of Fame and an invitation to perform at the White House failed to persuade Domino to make an exception to this policy. He was awarded the Grammy Lifetime Achievement Award in 1987. In 1998, President Clinton awarded him the National Medal of Arts. In 2004, Rolling Stone magazine ranked him No. 25 on their list of the 100 Greatest Artists of All Time." By the end of his career, Domino was credited with more charted rock hits than any other classic rock artist except for Elvis Presley.
Domino lived in a mansion in the predominantly working-class Lower Ninth Ward neighborhood. When Hurricane Katrina was approaching New Orleans in August 2005 Domino chose to stay at home with his family. His house was in an area that was heavily flooded. He lost everything, and for a time he was presumed dead.
But in fact Domino was rescued by a Coast Guard helicopter. While work proceeded to gut and repair Domino's home and office, the Domino family resided in the town of Harvey, Louisiana. Many black families needed to flee the devastated city, and never returned.
President George W. Bush made a personal visit and replaced Domino's National Medal of Arts. Record companies also replaced his gold records.
Laissez les bons temps rouler, Fats! Happy birthday!
Photo: Wikipedia (CC)