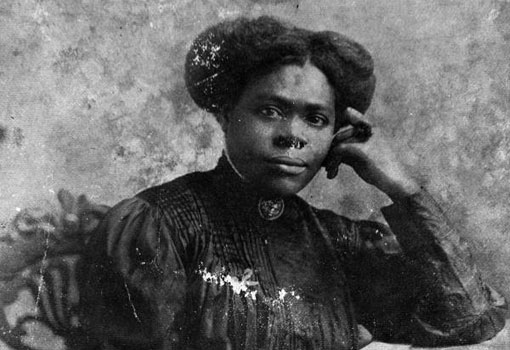 On this date in 1875, at Mayesville, S.C., Mary McLeod Bethune, the 15th of 17 children, her parents both former slaves, became the first in her family to be born free. She would become one of our nation's great civil rights leaders.
She attended Scotia Seminary on a scholarship, and then the school that later became Moody Bible Institute. After completing her studies she returned to teach at Scotia and other schools.
Bethune saw the education of women as key to uplifting all African Americans. She urged African American women to take an extra step. "Go to the front and take our right place: fight our battle and claim our victories," she said.
Bethune founded the Daytona Normal and Industrial Training School for Negro Girls in Daytona Beach, Fla., which opened on Oct. 3, 1904 with just five students. Over time the school grew to include a farm, high school, and nursing school. It became coeducational in 1929 after merging with a men's school, the Cookman Institute, and is now Bethune-Cookman University, one of the country's historically black colleges.
Bethune became active in the National Association of Colored Women and its southern chapter. In 1935 she issued a call to 28 national women leaders to found a council that would bring national organizations together with a "Unity of Purpose and a Unity of Action" to improve the status of African American women and end segregation. This was the birth of the National Council of Negro Women.
She organized African American women in the South to vote despite the Jim Crow poll tax and other racist restrictions, and worked with the Association of Southern Women for the Prevention of Lynching.
Bethune played a leading role in forming the Federal Council on Negro Affairs, which became known as President Franklin Delano Roosevelt's "Black Cabinet." When the Works Progress Administration established the National Youth Administration, Bethune became director of its Division of Negro Affairs, working to provide jobs, training and financial support for young African Americans during the Depression and its aftermath.
She was the only black woman present at the founding of the United Nations in San Francisco in 1945, representing the NAACP with W. E. B. Du Bois and Walter White. She is credited as the person who dubbed Paul Robeson "The Tallest Tree in the Forest."
Bethune died on May 18, 1955, in Daytona Beach.
She was inducted into the National Women's Hall of Fame in 1973. In 1985 the U.S. Postal Service issued a commemorative stamp honoring her.
Bethune summed up her thinking in 1954, in an article in the Chicago Defender:
"There can be no divided democracy, no class government, no half-free county, under the constitution. Therefore, there can be no discrimination, no segregation, no separation of some citizens from the rights which belong to all. … We are on our way. But these are frontiers which we must conquer. … We must gain full equality in education … in the franchise … in economic opportunity, and full equality in the abundance of life."
Photo: Mary McLeod Bethune in 1910 or 1911, when she was principal of the Daytona Educational and Industrial School for Negro Girls. State Archives of Florida, Florida Memory