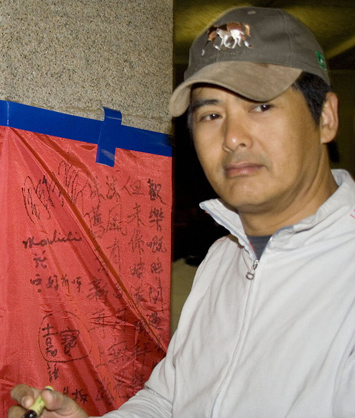 Chow Yun-fat, born May 18, 1955, turns 60 today. A popular Hong Kong actor in dozens of Chinese-language films, he has also crossed over to become a recognizable presence in the American cinema.
He is best known in Asia for his collaborations with filmmaker John Woo in the "heroic bloodshed" genre films A Better Tomorrow, The Killer and Hard Boiled; and in the West for his roles in Crouching Tiger, Hidden Dragon and Pirates of the Caribbean: At World's End. Mainly playing in dramatic films, he has won three Hong Kong Film Awards for Best Actor and two Golden Horse Awards for Best Actor in Taiwan.
Chow was born in Lamma Island, Hong Kong to a mother who was a cleaning lady and vegetable farmer, and a father who worked on a Shell Oil Company tanker. Hong Kong was a British territory until 1997. He grew up in a farming community in a house with no electricity. Each morning he helped his mother sell herbal jelly and tea-pudding on the streets; in the afternoons he worked in the fields. His family moved to Kowloon when he was ten. At 17, he left school to help support the family by doing odd jobs.
His life changed when his actor-trainee application was accepted. He signed a three-year contract with a television studio and shortly became a heartthrob and a familiar face in soap operas that were exported internationally.
After Chow appeared in the 1980 TV series The Bund, about the rise and fall of a gangster in 1930s Shanghai, he became a star throughout Asia.
But Chow aspired to a big-screen career. Success came in the 1986 gangster action-melodrama A Better Tomorrow, which became the highest grossing film in Hong Kong history at the time.
Though best known for playing honorable tough guys, whether cops or criminals, Chow has also starred in comedies and romantic blockbusters such as Love in a Fallen City (1984) and An Autumn's Tale (1987), for which he was named best actor at the Golden Horse Awards. He brought together his disparate personae in the 1989 film God of Gamblers, in which he was by turns suave charmer, a broad comedian and an action hero. This film once again broke Hong Kong's all-time box office record. His combination of tough demeanor and youthful appearance has earned him the nickname "Babyface Killer."
In 1995 the Los Angeles Times proclaimed Chow Yun-fat "the coolest actor in the world." Chow moved to Hollywood, attempting to recreate his Asian success in America. His first few films in the U.S. were disappointments. Chow accepted the role of Li Mu-Bai in the 2000 film Crouching Tiger, Hidden Dragon, which became a winner at the box office and the Oscars.
In 2007, Chow was cast as the pirate captain Sao Feng in Pirates of the Caribbean: At World's End. His part was omitted when the movie was shown in China, on the grounds that Chow's character "vilified and humiliated" Chinese people. Chow has identified with the Umbrella Movement in Hong Kong, which has sought to stave off complete political integration with the rest of China. His political stance eventually resulted in censorship by the Chinese government.
In 2008 Chow released a book of photos taken on the sets of his films; published by Louis Vuitton, proceeds were donated to Sichuan earthquake victims.
In all, Chow has appeared in over 121 films and 24 television series.
Adapted from Wikipedia.
"Chow Yun Fat for wiki" by Sliceof – Own work. Licensed under CC BY-SA 3.0 via Wikimedia Commons